PHOEBE part 2
by John Thomas Lowe
(Woodruff, S.C.)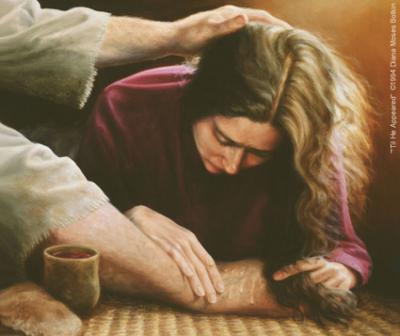 Part 2
The Third Accolade: Prostatitis—patron, benefactor, helper, succorer of many
Developing the idea of shamash, leader/minister, Paul adds prostatitis, a word targeting Phoebe's wealth and the Roman custom of patronage. In its verbal form, prostatitis can mean caring for, giving aid to, and presiding over (Moo 1996:915). As a leader/patron, she probably used her wealth to further the Gospel.
Since prostatitis appears only in Romans 16:2, it is called an hapax legomenon.
The Septuagint (the third-century B.C.E. Greek translation of the Hebrew Bible) uses prostatis several times and always in the context of leadership, responsibility, and finances. Consider these examples:
• Jaziz, a man over flocks (1 Chronicle 27:31)
• Assorted rulers who gave freewill offerings (1 Chronicle 29:6)
• Solomon's various officers (2 Chronicles 8:10)
• The high priest's officer (2 Chronicles 24:11).
No doubt Paul's Roman audience knew the word's force.
As applied to Phoebe, prostatitis carries the ideas of protecting the weak, shielding people from suffering, and "fighting the battles of the oppressed" (Deen 1955:231).
The distinction, "helper," may have started around the ninth century. By then, ecclesiastical authority was male-centered, and recognizing a woman as a leader may have been difficult.
Paul presents Phoebe as a patron, wealthy and respected, who uses her influence to help him and other Christians (Gaventa 1992:320). Quite possibly, Phoebe had agreed to finance Paul's dream of going to Spain and evangelizing the outer realms of the Roman Empire (Romans 15:24, 28).
Paul's Silence on Phoebe's Church
Paul's silence about the church affairs at Cenchrea also reinforces his esteem for Phoebe. For instance, there is no Pauline letter to the church at Cenchrea, although the nearby Corinthian congregation received two. There is no evidence that lawsuits, immoral sexual practices, or disorderly worship happened in Cenchrea; see 1 Corinthians 6:1–11; 6:12–20; 14:1–25. Phoebe received no pastoral letter of advice, although Paul mentored Timothy and Titus in new pastorates and wrote them. Romans 16:1–2 indicates that Paul considered Phoebe, a colleague.
As a first-century woman, Phoebe breaks the mold. She leads the Cenchrean congregation, has money, and generously shares it. Paul knew the church at Cenchrea was in good hands. As spiritual brother and sister, they co-labored in the Gospel.
Phoebe follows the tradition of Miriam, Deborah, the Queen of Sheba, and Huldah, all leaders who crossed the biblical stage earlier. These women show that gender neither denotes nor precludes leadership. Instead, leadership is recognized. Those being led know whom they want to follow and whom they do not.
Paul's open praise freed Phoebe from the necessity of many self-introductions. He commended her character, leadership, and accomplishments. He acknowledged her wealth, hospitality, and generosity. He seemed to chuckle publicly, including himself as one benefitting from her patronage.
Ancient travel and hospitality
Travel was difficult in the ancient world compared to today, and it could also be dangerous due to the risk of robbery, violence, shipwrecks, etc. The availability of places to stay on the road was not guaranteed, and even when present, inns, and taverns were often places of ill repute and could also be dangerous. The only viable option for most travelers was to stay with people they knew or rely on strangers' hospitality. This is why hospitality was so important in ancient culture. Paul wants to ensure that the Roman Christians will welcome Phoebe when she arrives and provide her a place to stay and whatever she needs while she is there. This is why Paul opens chapter 16 with the following words:
I commend to you our sister Phoebe, a deacon of the church at Cenchreae, 2 so that you may welcome her in the Lord as is fitting for the saints, and help her in whatever she may require from you, for she has been a benefactor of many and myself as well. (Romans 16:1-2 NRSV)
The word commend could also be translated as recommend, present, or introduce. I like the C.E.B. version, which reads, "I am introducing our sister Phoebe to you…." These words facilitate her entry into a community where she has never been and may not know anyone. They are intended to ensure that she will be welcomed.
So it is clear what Phoebe did: she traveled to Rome with the letter and represented Paul and his message to those early Christians in Rome. However, who was she? What else can we know about her? Of course, there is much we will never know about her, but we will glean all the clues from looking more closely at the three words Paul used to describe her.
Conclusion
Phoebe and Paul served as mutual ambassadors and reciprocal patrons. Paul introduced her as a woman of high standing, setting the stage for her to have a successful visit. He asked Roman believers to aid her in her visit, perhaps in a business way.
Similarly, Phoebe acted as Paul's emissary, his representative to churches he did not find but eagerly sought to visit (Romans 1:10). Phoebe introduced Paul to the Romans via his letter. She conveyed current news and individual greetings, thereby setting the stage for what Paul hoped to be his successful visit to Rome.