Pisidian Antioch, Paul's Sermon & the Reaction, Part 1, Section G
by John Lowe
(Laurens, SC)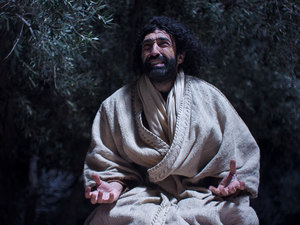 The son of Cis
Saul, "the son of Cis" is the Greek way of writing the Hebrew name "Kish." In the Old Testament it is uniformly written as "Kish," and it is regretful that this practice has not been retained in the New Testament—"There was a Benjamite, a man of standing, whose name was Kish son of Abiel. . ." (1 Samuel 9:1). So, the name of Saul's father was "Kish" in Hebrew, and "Cis" in Greek.

A man of the tribe of Benjamin
Saul . . ., "a man of the tribe of Benjamin," as was the Apostle Paul. It is natural to think of the Apostle as dwelling on the memory of the hero-king of the tribe to which he himself belonged. This is how Paul described himself—"I was circumcised when I was eight days old. I am a pure-blooded citizen of Israel and a member of the tribe of Benjamin . . ." (Philippians 3:5.). The very fact that he had so recently renounced the name and took on his Greek name—Paul—would bring the associations connected with it more vividly to his recollection.

By the space of forty years
The duration of Saul's reign is not given in the Old Testament, although Paul assigns forty years to the reign of Saul, which may be confirmed in several ways;
(a) From his wars with many nations, and his long persecution of David.
(b)From the number of high priests which served during his reign, which were no less than three; Ahiah, Abimelech, and Abiathar.
(c) From his being a young man when he began to reign (1 Samuel 9:2), and yet at the end of his reign, or at his death, he had a son, Ishbosheth, that was forty years of age—"Ish-Bosheth son of Saul was forty years old when he became king over Israel, and he reigned two years. The tribe of Judah, however, remained loyal to David" (2 Samuel 2:10).Ishbosheth was placed on the throne by Abner after his father's death
(d)Josephus says (Antiq., book 6, chapter 14, section 9) that he reigned for 18 years while Samuel was alive, and 22 years after his death.

We may conclude from this that the length of time assigned in the text is correct.


22 And when he had removed him, he raised up unto them David to be their king; to whom also he gave testimony, and said, I have found David the son of Jesse, a man after mine own heart, which shall fulfill all my will.

And when he had removed him
"And when he had removed him," either by death, or by rejecting him from being king while he was still living. Samuel gave Saul the bad news—"For rebellion is as the sin of witchcraft, and stubbornness is as iniquity and idolatry. Because you have rejected the word of the LORD, he has also rejected you from being king" (1 Samuel 15:23).This was done because he rebelled against God by sparing the sheep and oxen and valuable property of Amalek, together with Agag the king, when he was commanded to destroy everything (See 1 Samuel 15:8-23). He was put to death in a battle with the Philistines (1 Samuel 31:1-6). The phrase "when he had removed him" probably refers to his rejection as a king, and not to his death; because David was anointed king before the death of Saul, and almost immediately after the rejection of Saul on account of his rebellion when dealing with Amalek (See 1 Samuel 16:12-13).God had taken Saul away by death; for he would not permit David to be the cause of his death.

He raised up unto them David to be their king
"He raised up David," who was of the tribe of Judah "to be their king," He was raised from a very humble condition, from being a keeper of sheep, to sit upon the throne of Israel.

To whom also he gave testimony, and said
"To whom also he gave testimony, and said" to whom he gave testimony (or 'He bore witness'), I have found David; a type of the Messiah. He chose him to be king, sent Samuel to anoint him, and at long last set him on the throne of Israel.

I have found David the son of Jesse
"David the son of Jesse" lived at Bethlehem, where the Messiah was to be born, and he was not a great and well-known figure in Israel; but this is mentioned as an illustration of the distinguishing goodness of God to David.

The obvious purpose of this opening statement was, as in the case of Stephen's speech, to capture the attention of his audience by showing that the speaker recognized all the traditional glories of the people of Israel. It is possible that what we have here is sort of a concise summary of essential points, statements, or facts, relating to the removal of Saul and elevation of David to king.

It has been observed that this sentence is a combination and adaptation of two separate verses out of the Old Testament. First, "I have found David my servant" (Psalm 89:20);" and "The Lord hath sought him a man after his own heart and the Lord hath commanded him to be captain over his people" (1 Samuel 13:14).

A man after mine own heart
God took great delight and pleasure in him; in the general course of his life, and in his principles, aspirations, and plans; he was just like He wanted him to be. This expression, "A man after mine own heart" is found in 1 Samuel 13:14. In simple terms, it means a man who would not be rebellious and disobedient as Saul was, but would do the will of God and keep His commandments. This refers, without question, to the public, rather than to the private character of David; to his character as a king. It means that he would make the will of God the great rule and law of his reign, in contrast to Saul, who, as a king, had disobeyed God. At the same time, it is true that the prevailing character of David, as a pious, humble, devoted man, was that he was a man after God's own heart, and was cherished by Him as a holy man. He had faults; he committed sin; but who is free from it? He was guilty of great offenses; but he also expressed, in a degree equally outstanding, repentance (see Psalm 51); and no less in his private than his public character did he exhibit those traits which were conferred with the heart, that is, the earnest desires, of God.

Which shall fulfill all my will
In 1 Samuel 13:14, we are told that "the Lord hath sought him a man after his own heart;" and because he sought one, he found one, which was His servant David; but then what follows is not recorded there nor anywhere else, in explicit terms, concerning David—"which shall fulfil all my will."What comes closest to it, are the words of the Lord to Cyrus, "and shall perform all my pleasure" (Isaiah 44:28). Some are of the opinion that the above words are taken from here by the apostle, and applied to David, because of his concern for the building of the temple; his heart was set upon it, and he made great preparations for it according to the will of God, and he did fulfil all that God wanted him to.Saul had not done it. He had disobeyed God in a circumstance where he had received an express command. The distinguishing characteristic of David would be that he would obey the commands of God and do His will. The evidence that he did; that he maintained the worship of God, opposed idolatry, and sought to promote universal obedience to God among the people is expressly recorded in, 1 Kings 14:8-9, "I tore the kingdom away from the house of David and gave it to you, but you have not been like my servant David, who kept my commands and followed me with all his heart, doing only what was right in my eyes.You have done more evil than all who lived before you. You have made for yourself other gods, idols made of metal; you have provoked me to anger and thrust me behind your back."David pleased Godby his governing the people, subduing their enemies, settling the order of divine worship and service, and preparing things for the building of the temple; and he also had a regard for all the commandments of God, and walked in them, though he was not without his sins and weaknesses.

The person who is in harmony with God's heart, fulfils all the will of God, and does nothing out of self-interest; but if it is God's will for him to do or to suffer anything, he is ready and willing to do it; and he prays daily that the will of the Lord may be done.