Pisidian Antioch, Paul's Sermon & the Reaction, Part 1, Section I
by John Lowe
(Laurens, SC)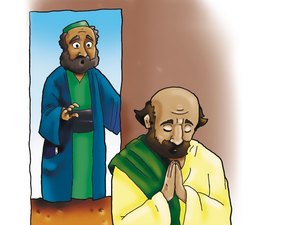 "I am not he," that is, the Messiah; which they were in such expectation of, and so inquisitive about. The apostle seems to refer to John 1:19 when the Jews asked him who he was, and he freely declared he was not the Christ; there the question is put to him by them, and here it is put to them by him; on both occasions the sense is the same, that he was not the Messiah, but he bore testimony to him.

But behold there cometh one after me
"But behold there cometh one after me," meaning Jesus, who was the Messiah. Christ began His life (as to the flesh) after John, and He began His ministry after him, and in that respect may be said to come after him. When John spoke these words, Jesus was coming after him from Galilee to Jordan to be baptized by him, and who, in a little while after that began His public ministry of the word. John was to embark first, and then Jesus after him, because he was the harbinger of the Messiah, whose coming he was to proclaim and prepare men for, and whose person he was to point out; for though He is said to be after him, He was not in any sense inferior to him: John was born into the world before Christ, yet he as the eternal Son of God was before John, was from the beginning, even from eternity; John initiated his ministry before Him, but Christ was not below him in the dignity of His person, nor in the nature and excellency of His office; and John was careful to secure the honour and glory of Christ, and to prevent any low opinion that might be attached to Him because of what he had said.

Whose shoes of his feet I am not worthy to loose
"Whose shoes of his feet I am not worthy to loose;" a well-known expression, suggesting that he was unworthy to be His servant, or even to perform the lowliest service for Him that could be imagined; so far was he from assuming any preference to him on account of his being before Him, as His forerunner. (See Matthew 3:11; John 1:20, 27.)


26 Men and brethren, children of the stock of Abraham, and whosoever among you feareth God, to you is the word of this salvation sent.

Men and brethren, children of the stock of Abraham
"Men and brethren" is how the apostle addressed those in the synagogue, who were Jews by birth; and it was very pleasing to them. Perhaps he calls them "men," not only for the reason that they shared the common nature of mankind, but because they took this name exclusively to themselves, and denied it to the nations of the world; which they may have deduced from Ezekiel 34:31—"And you my flock, the flock of my pasture, are men, and I am your God, said the Lord GOD."

He uses the most respectful and fraternal language when he addresses them as "brethren;" because they were his countrymen; and "children of the stock of Abraham," with respect to their lineage and descent, for they gloried in being the children of God, and descendants of great and godly men; men like Abraham, Isaac, Jacob, Joseph, David, etc.; to the Jews he became as a Jew.

"Children of the stock of Abraham," or rather, descendants of Abraham; you who regard Abraham as your ancestor. He means here to address particularly the native-born Jews; and this designation is used because they highly valued themselves on account of their descent from Abraham—"And think not to say within yourselves, We have Abraham to our father: for I say to you, that God is able of these stones to raise up children to Abraham. (Matthew 3:9); and because the promise of the Messiah had been given specifically to Abraham.Christ was promised and sent appropriately to the Jews.

Whosoever among you feareth God
"Whosoever among you feareth God" (Better: "those among you that fear God")is how Paul addressed the proselytes among them. (Compare Acts 13:16); however, some think the devout Pisidians, or men of that country, are mean there; but it may indicate the apostle's hope concerning these Jews, that they were men who feared God.

To you is the word of this salvation sent
"To you is the word of this salvation sent (or, sent forth)." The Apostle through the whole speech avoids, as much as possible, offending any Jewish prejudice, and he classifies himself with his hearers where the subject allows him to do so. "The word of this salvation" refers to the message of salvation. It was sent chiefly to the Jewish people. The Saviour was sent to that nation—"Then Jesus said to the woman, "I was sent only to help God's lost sheep—the people of Israel" (Matthew 15:24);and it was God's intention to offer the message of life to them first—"Then Paul and Barnabas answered them boldly: "We had to speak the word of God to you first. Since you reject it and do not consider yourselves worthy of eternal life, we now turn to the Gentiles" (Acts 13:46). "The word of this salvation" can be taken two ways; it can be applied to Jesus Christ as Savior (1), or to the Gospel message (2).

1. Jesus Christ as Savior. The Lord Jesus Christ himself, the essential and eternal "Logos;"iiChrist, who is the incarnate Word, or the Word made flesh—"The Word became flesh and made his dwelling among us. We have seen his glory, the glory of the one and only Son, who came from the Father, full of grace and truth" (John 1:14). He is the author of salvation, and he went first to the Jews, who were His people. Jesus is also called the Word in John 1:1—"In the beginning was the Word, and the Word was with God, and the Word was God."
2. The Gospel message. The Gospel is the glad tidings of salvation; and the apostle had reminded them that he was not speaking about something that belonged to others, but of things pertaining to their personal salvation. He spoke of a marvelous salvation (this salvation); of which, there has never been one that is better or greater, nor will a greater one ever be published. The Gospel, which gives an account of the author of spiritual and eternal salvation, of His person, and of His manner of obtaining it, and of the nature of salvation, and who the persons are to whom it belongs. Certainly, we are concerned for the salvation of our own souls, and if we accept or neglect this salvation, it is for ourselves we do it. Oh, I pray with all my heart that in this respect, our self-interest would prevail!

The Gospel is not a set of rules, which by complying with, men may be saved, which is true of faith, repentance, and good works, which are not terms of salvation, but either blessings, or parts or fruits of salvation. The Gospel is a declaration of salvation itself, and of it being a thing done by Christ alone; it declares him to be the only able, willing, and all-sufficient Saviour, and the salvation he has crafted at Calvary to be a great one, complete, spiritual, and everlasting; and that those that believe in him shall be saved with it.

27 For they that dwell at Jerusalem, and their rulers, because they knew him not, nor yet the voices of the prophets which are read every sabbath day, they have fulfilled them in condemning him.

For they that dwelt at Jerusalem, and their rulers
"For they that dwelt at Jerusalem, and their rulers," that is to say, both the inhabitants (or, 'common people') of that city, and the great Sanhedrim which met therehad a hand in our Savior's death: because they did not know Jesus the Saviour, whom God had raised up of the seed of David, and to whom John the Baptist bore witness—they had rejected and murdered Jesus; but, it must be understood that this does not apply to all the inhabitants of Jerusalem, and members of the Sanhedrim.

There is a contrast that can be made between the Jews addressed by Paul and the Jews at Jerusalem—the Jerusalem Jews have rejected Christ; and in consequence of their rejection, you (those Jews who were listening to Paul), who had no part in crucifying the Lord of glory, are invited to take their place. However, his words may be taken as expressing the reason why this salvation is complete and capable of being offered to them. The view which the apostle expresses here is that the more immediate guilt for Christ's death lay with the rulers and people of Jerusalem, and he lovingly hoped that the people of Antioch would not reject Jesus and the Gospel of salvation, since Antioch was a great distance from Jerusalem. The people of Jerusalem had acted out of ignorance, since they knew neither Christ the Word, nor the word (of the Gospel) concerning Christ; but in this case, ignorance was not an acceptable excuse—it was their sin, since they had the means by which they might have come to the knowledge of Christ.