POTBELLY STOVES AND THAT OLD TIME RELIGION
by Charles Robey
(Trussville)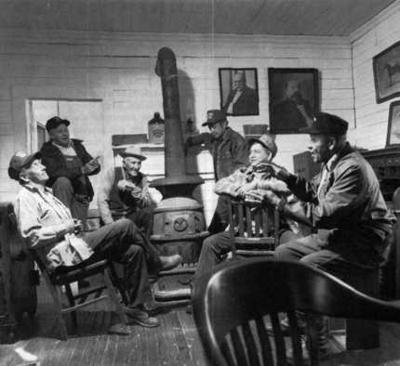 Stoke Up That Ole Pot Once More
PLEASE READ (HEBREWS 13:7-9)AS AN INTRODUCTION


You may ask, what does those antique "Potbelly Stoves" have to do with our "Old Time Religion" ? Austerely put, both demographics are representative of a simpler way of life. A life's approach deemed to mirror those nostalgic " good old days". A time in the past when you believed life was better. A time when God's word ruled our households. A time when us kids couldn't wait for Sunday school, to hear Mrs. Faith and get that big red and white striped stick candy. A time when love abounded (1 John 4:11). You see, when we think fondly about when we were younger, we often times tend to remember the good times; and forget all the bad times. Does that not parallel those old "potbelly" stove conversations, with our "old time religion" experiences ? Whether talking around that old potbelly stove concept, or worshiping together, both should encourage us to take on the spirit of Christ (Philippians 4:6-7, 10).

MOVING ON !

Hmmm. Can't you just smell the aroma as the coffee pot simmers on the cook-lid on top of that old potbelly stove? I'm ready to pull up a chair and pour myself a cup of brew. You see, it's time to rest for a spell and take a look back. Would you not like to join me as I travel back in time to visit one of the most beloved and recognizable heirlooms of our beloved country- that being the vintage potbelly stove?

There have been more governments straightened out, more families reunited and more theology theories explained, sitting by those old fashion "potbelly" stoves, than all the sand in Florida. Not to mention the numerous wild fish tales, and the like, that are too many to talk about in this brief synopsis.

My very first "potbelly" stove encounter was in the late 40's to early 50's. The time in our great country, when the more important agendas were being discussed, such as the war and bringing our soldier boys back home. A time when the more trivial phonons, as central air and heat, were literally put on the back burner.

Our potbelly stove was centrally located in the dining room, just off the two bedrooms. Each night, before bed time, Dad could be seen stoking the fire, by loading up the wood so as to have heat throughout the night. When the fire got good and hot, we kids would back up to the stove, as close as our posterior draped flannel PJ's could stand, then run and jump in bed for the night. However, before this exercise in futilely took place, according to us kids juvenile judgment, Dad and Mom would gather us all around the old "potbelly, for our nightly devotion. My prayer was always, "Lord don't let the fire go out before we get into bed".

Where else were those monumental "potbelly" stoves bequeathed ? Well, just about anywhere our public community citizenry gathered, from the barber shop, the general store, the school house, the train station, to our old country church.

One friend of mine, relayed a very interesting "potbelly" stove story, worthily noting.

"It reminded me of a childhood memory about the passing of time: My father and mother owned and operated an old fashioned country store in Blount County that was heated by a pot-bellied heater. In the winter time, during bad weather, the locals would gather 'round that pot-bellied heater to chew 'baker, talk politics, play dominos, etc.

One
day not long after Christmas when I was about 5 or 6 years old, one of those old-timers exclaimed: "Whal, I reckon another Christmas has done come and gone a'gin ..." And another feller quickly responded: "It don't matter none ... cause there'll be a nuther'un in just a few days!"
I thought to myself, "What on earth are you thinking? It will be at least 4 years before the next Christmas comes around!"
I guess some of my fondest memories centered around our old church potbelly stove. This vivid mind-set will forever be fixed in my mind. Our sanctuary was divided, with pews being located on either side of the big potbelly stove sitting in the middle isle. And running across the front of the pews, directly in front of the speakers platform, was that old fashion padded alter, which our older Deacons graciously named the "mercy seat".
Now, I realize the physical make up of that old alter was no different than any other construction. However, that old fashioned alter was very special for me, for that old alter was where I was first introduced to the Living God. I still remember that strong, but simple, evangelistic teaching, which preceded the alter call that night, "For by grace you have been saved through faith; and that not of yourselves, it is the gift of God; not of works, that no one should boast". (Ephesians 2:8-9) To that I still shout "Amen."
And once, while stoking the old church potbelly stove, I overheard one of our Deacons pray, "Oh Lord, let something happen today that's not in the church bulletin. Is that not an example of our "old time religion" ?
Many a highly charged board games, were won, lost, or debated, sitting by that old potbelly stove. I can still see Marshall Dillon and Chester Good, of "Gun Smoke", playing checkers, by the jail house old potbelly stove, with Doc Adams looking on as the referee. And what about those marathon checker games , played in Floyd's Barber shop in Mayberry USA..
I can't help but believe, if the Apostle Paul would have had the advantage of the old potbelly stove pulpit, he would have certainly used it for the glory of God (Acts 17:16-21).
The passing of time, along with that old potbelly, stove is relative to the age of many of us "old timers". Call me a dinosaur, if you must, but I still see a resemblance between that old potbelly stove and the more simpler life style, including that "old time religion". I can't help but ponder those old "brush-arbor" revival meetings where the "Amen's" and the "Hallelujah's" echoed, as the spirit led. There, I rest my case.
Although it was fun while it lasted, the old potbelly stove time has come and gone. However, that "old time religion" never changes (Hebrews 13:8). And since God never changes, the revelation we have from Him, recorded in the Scriptures (Hebrews 2:1-4), does not change. God's Word never needs to be edited or updated (2 Peter 1:21) because of changing times ( 2 Timothy 3:16).
Author's Post Script
The potbelly stove is a cast-iron wood-burning stove, round with a bulge in the middle. The name is derived from the resemblance of the stove to that of a fat man's pot belly. They were designed to heat large spaces and were often found in railroad stations or one-room schoolhouses. The flat top of the fireplace allowed for cooking of food, or the heating of water.