Practical Sanctification - Page 2 of 4 (series: Lessons on Romans)
by John Lowe
(Woodruff, S.C.)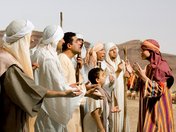 15 What then? Shall we sin because we are not under law but under grace? Certainly not!


What then? Shall we sin? The antinomian argument of verse 1 is now repeated but with a significant difference. In verse 1 the question was, Shall we continue in sin? This dealt with the principle of continuation in sin after the believer recognizes he is dead to it. But now the question is, "Shall we sin just a little?" Here he does not speak of a life-style of sin, but a person's occasional excursion into iniquity. Paul knew that this question was likely to be asked, because our societies and governments don't know any other way to restrain man, except through laws and their penalties.

Because we are not under law but under grace? Certainly not! The verse could be rephrased like this: "Because we are not under law but under grace, isn't it permissible to fall into sin once in a while?" Those who are afraid of grace insist that it gives them the liberty to sin. Paul meets this erroneous idea head-on by asking the question, then flatly denying it. We are free from the law but we are not lawless. By the Law, Paul means any and every commandment of God. Grace means freedom to serve the Lord, not to sin against Him. Paul's disgust is seen in his typical answer, certainly not! God cannot condone any sin at all.

There were some Christians who believed that they were saved by grace, however, they thought that grace needed an assist from the Law to accomplish its goal of saving a sinner, and living the Christian life. But the Christian life doesn't consist of following certain rules and regulations. Someone may ask, "Then what is the Christian life?" The Christian life is two things:
1. Being obedient to Christ. Do you love Him? That is the important thing. He says, "If you love Me, keep My commandments" (John 14:15). Identification with Christ is positional sanctification, as we have already seen in Topic 21. That is basic. But obedience to Christ is also basic and that is practical sanctification. It's just as simple as that. It is not how you walk, but where you walk—are you walking in the light, walking in fellowship with Christ?

2. Communication with Christ. It is important that we keep the communication lines with Christ open at all times. In prayer, there is two way communication—you talk to Him, and He talks to you. Therefore, spend some quiet time and listen for that still, small voice; that is Jesus.

In his letter to the Galatian believers, Paul made it clear that there are three ways in which you can live:
1. You can live by Law. To live by Law, means that you are living by a set of principals and by the old nature.
2. You can live by license. Paul was granted license (authority, permission) from the Jewish religious leaders in Jerusalem to round-up Christians and take them to prison. If you are a Child of God, you can't do as you please; you have to do as Christ pleases. You must present yourself to Him
3. You can live by liberty. When you know Jesus, you know the Truth and the Truth will set you free. You are free to serve Him, but not to sin. You live by being obedient to what the Bible says. This is practical, a great deal more practical than you may realize.

Sin. Sin can be defined as lawlessness (1 John 3:4) or the transgression of God's will, either by omitting to do what God's law requires or by doing what it forbids. The transgression can occur in thought (1 John 3:15), word (Matt. 5:22), or deed (Rom. 1:32).

Sin. Sin has also be defined as:
1. Act or thought that deliberately violates divine law and offends holiness.
2. Falling short of the mark (or missing the mark) of righteousness required of a believer.
3. Any of the various failings and shortcomings as well as lusts and evil desires to which the human race is subject as a result
of original sin.
16 Do you not know that to whom you present yourselves slaves to obey, you are that one's slaves whom you obey, whether of sin leading to death, or of obedience leading to righteousness?
Do you not know? Once again, here is something we need to know.
That to whom you present yourselves slaves to obey, you are that one's slaves whom, you obey. Every person who is living is a bond servant to someone or something. It could be that you are serving Satan himself. Because of our very nature, we are servants to someone or something.
Some viewed salvation as deliverance only from the consequences of sin and its penalty, rather than deliverance from its power as well. Paul uses the analogy of the slave market to illustrate this casual attitude toward sin, and to show that the sanctified believer dare not even occasionally fall into sin, let alone continue to commit the same sin over-and-over again. His point is, that if you start to obey sin, you are thereby admitting the mastery of sin in your life. Paul builds on our Lord's words, "No man can serve two masters" (Mt 6:24). He is saying here that the one, who is your master, is the one you are obeying. Don't say Christ is your master if you are living in sin; He is not your master. He leads you into the place of liberty. "Therefore if the Son makes you free, you shall be free indeed" (John 8:36)—free to do what? You will be free to live for Him, free to obey Him. And the Lord Jesus said, "…Most assuredly, I say to you, whoever commits sin is a slave of sin" (John 8:34). Yielding to the mastery of sin brings death; yielding to obedience to Christ brings righteousness.
Whether of sin leading to death, or of obedience leading to righteousness? The immediate effect of sin is slavery; its ultimate outcome is death. "…when desire has conceived, it gives birth to sin; and sin, when it is full-grown, brings forth death" (James 1:15). If we sell out to sin, we become slaves of sin, and eternal death lays waiting at the end of that road. If, on the other hand, we choose to obey God, the result is a holy life. Obedience to God is the measure of devotion to Him. Sin's slaves are bound by guilt, fear, and misery, but God's servants are free to do what the new nature loves. So why be a slave when you can be free?
The Greek word translated "slaves" is the same word Paul used to describe himself as a "bondservant" of Christ—"Paul, a bondservant of Jesus Christ, called to be an apostle, separated to the gospel of God" (Rom. 1:1). There are two kinds of service which are completely incompatible: sin and righteousness are alternate forms of obedience, and we must choose between them, since it is absolutely impossible to select both of them, and we can't avoid the issue even by procrastination. To each of us comes the command, "…choose for yourselves this day whom you will serve…" (Josh. 24:15). And we cannot halt between two competing claims. The character of every life is determined by the kind of loyalty that rules it, and in the moral realm there are only two possibilities: we are for either for "the good or the evil side."
In general, the meaning of this verse, and in fact of the whole chapter and to 7:6 is: Just as a change in masters makes an utter difference to the slave, since the slave always belongs entirely to whoever owns him, so entrance into Christ makes an utter difference in the believer—old things are passed away" and "all things are become new."
Now that brings us to a personal question. Is Christ really our master today? Just because you do not murder, you don't lie, you don't do other things the Mosaic Law prohibits, doesn't mean you are living the Christian life. It may mean you are living a good life, but that is all. The Christian life is one where we obey Christ.