Practical Sanctification - Page 4 of 4 (series: Lessons on Romans)
by John Lowe
(Woodruff, S.C.)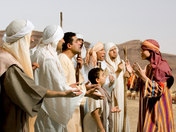 20 For when you were slaves of sin, you were free in regard to righteousness.

When they were slaves of sin, the only freedom they knew was freedom from righteousness. They didn't think of serving Christ then; they weren't interested in that. They were free from Him. It was a desperate condition to be in—bound by every evil and free from every good!

There is no middle ground: We are either sons of God or sons of the devil. We either have a divine nature, or we are controlled by the old nature which brings death. If we have received the new nature given by Almighty God when we believed on His Son Jesus Christ, then we have One within us who is greater than he who is without (1 John 4:4). Therefore, we are conquerors, victorious over the world, the flesh, and the devil. Our members are not captured by lust, but we are delivered through the power within (the Holy Ghost) who leads us into paths of right living for His (Jesus") name's sake.


21 What fruit did you have then in the things of which you are now ashamed? For the end of those things is death.

What fruit did you have then in the things of which you are now ashamed? Paul now directs a stinging question to those who would dare to practice sin. He asks what fruit (or benefit) has been produced from their sin. Did any good to yourself or others come from it; any lasting satisfaction? Paul challenges them (and us) to inventory the fruits of an unsaved life, fruits in those activities of which believers are now ashamed. Before they believed, they were not only free from Christ, they were fruitless. They did as they pleased. The only fruit was shame. Sinners can produce only bad fruit—"You will know them by their fruits. Do men gather grapes from thornbushes or figs from thistles? Even so, every good tree bears good fruit, but a bad tree bears bad fruit. A good tree cannot bear bad fruit, nor can a bad tree bear good fruit. Every tree that does not bear good fruit is cut down and thrown into the fire. Therefore by their fruits you will know them" (Matt. 7:16-20). Marcus Rains Ford has drawn up an inventory of the fruit of an unsaved life; there are seven of them:
1. Faculties (intellect) abused.
2. Affections prostrated (exhausted).
3. Time squandered.
4. Influence misused.
5. Best friends wronged.
6. Our best interests violated.
7. Love outraged—especially the love of God.

Or to sum it up in one word—SHAME. Besides the other forms of retribution brought on by sin, there is also shame. The believer is now ashamed of the things he did before he was saved. This shame pierces the soul, and weighs down the children of God, as they think how they have dishonored God, and the ingratitude they showed Him. Paul knows very well that sin always promises more than it can deliver. None of sin's fruit is worth having, and the final result of being a slave to sin is the ghastly horror of death.

For the end of those things is death. "Every sin," writes A. T. Pierson, "tends to death, and, if persisted in, ends in death (eternal death) as its goal and fruit." Throughout his letters, Paul was uncompromising in his emphasis on the consequences of doing wrong.


22 But now having been set free from sin, and having become slaves of God, you have your fruit to holiness, and the end, everlasting life.

But now having been set free from sin, and having become slaves of God. Conversion changes a man's position completely. Now he is free from sin as his master, and he becomes a willing slave to God. The result is a holy life now, and everlasting life at the end of the journey. This verse refers to that life in its fullness, including the glorified resurrection body. For those who are freed from the bondage of habitual sin and who are servants of God, you have your fruit to holiness, and the end, everlasting life. There is a drastic contrast between the outcome of the two bondages; one to sin and the other to Christ. Bondage to sin has shame as its by-product. Bondage to Christ has as its by-product the status of being positionally holy, and in the process of becoming conformed to the image of Christ.
This is biblical sanctification. Bondage to sin has as its end death. Bondage to Christ has as its end everlasting life.

It is just as natural for a sinner to practice sin as it is for water to run downhill or for the sun to rise in the morning; but it is equally unnatural for born again children of God to practice sin. They do not…because they are new creations; they have become servants of God, bondslaves to righteousness, they possess the divine nature and are indwelt by the Holy Spirit. Therefore, they live righteous and holy lives through the divine nature and the divine power that abides within their bosom. It is a life with new quality, a life touched with kinship with the life of God.


23 For the wages of sin is death, but the gift of God is eternal life in Christ Jesus our Lord.

The outcome of enslavement to sin is quite different from that of obedience to Christ. Remuneration (compensation, wage, or salary) is the principle by which we become heirs of death (both spiritual and physical). Sin always pays a wage, and that wage is a drastic one; it is bitter and frustrating. But just as remuneration is the principle by which we become heirs to death, unmerited favor (grace) is the principle by which we become heirs to eternal life. Death is earned; eternal life is purely a gift that brings peace and joy. Eternal life is in no way the wages of righteousness, because we do absolutely nothing to earn it or to be entitled to it

Here in this last verse of Chapter 6, the apostle presents these vivid contrasts:
Two masters—sin and God.
Two methods—wages and free gift.
Two aftermaths—death and eternal life.
Notice that eternal life is in a Person, and that Person is Christ Jesus our Lord. All who are in Christ have eternal life. It's as simple as that! You can only be saved by faith in Him.

You are to live by faith. You are to walk moment by moment by faith. You cannot live for God by yourself any more than you can save yourself. It requires constant dependence on Him, looking to the Lord Jesus Christ, by the power of the Holy Spirit. We quote this verse as we witness to the lost, and rightly so; but Paul wrote it originally to believers. Although God forgives the sins of His children, He may not stop the painful consequences of sin. The pleasures of sin are never compensated for by the wages of sin. Sinning is not worth it!

Our Lord. This is Paul's way of saying that the Lord belongs to us as we belong to Him. We have made Him our Lord by our act of commitment. His lordship extends to the manner in which we live our lives.

Penalty for sin. The penalty for sin is death, both spiritual and physical. The moment Adam sinned, he died spiritually: in that sense, everyone is born dead in sin—"And you He made alive, who were dead in trespasses and sins" (Eph. 2:1). Physical death is described as separation of the body and Spirit—"For as the body without the spirit is dead, so faith without works is dead also" (James 2:1)—is the ultimate result of sin. People who die in their sin (in an unsaved state) will have to face a "second death" portrayed by a "Lake of Fire"—"And anyone not found written in the Book of Life was cast into the lake of fire" (Rev. 20:15). The only escape from this second death is to receive the gift of eternal life in the person of Jesus Christ. No man or angel ever got away with sin.