PRAISE FOR JESUS PART 1
by John Lowe
(Laurens SC, USA)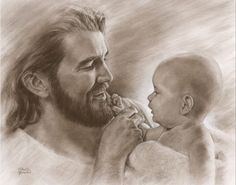 Jesus Loves me!
PRAISE FOR JESUS

(A sermon adapted from the sermons of Charles Spurgeon)

"Judah, thou art he whom thy brethren shall praise."-Genesis 49:8.

THESE words were spoken by the patriarch Jacob when he blessed his sons as he was dying; but before he finished Judah's blessing, he seemed to forget his son, and to turn his thoughts to Jesus. Jacob compared Judah to a lion and a lion's cub, and in the book of Revelation we read that one of the elders said to John, "The Lion of the tribe of Juda, the Root of David; hath prevailed to open the book, and to loose the seven seals thereof."

In the tenth verse of this chapter we have Jacob's remarkable prophecy concerning the coming of Christ, "The scepter shall not depart from Judah, nor a lawgiver from between his feet, until Shiloh come; and unto him shall the gathering of the people be." Jacob said to Judah, "Thou art he who thy brethren shall praise." Judah was greatest among Jacob's sons in several things for which he deserved to be praised; the first was the persuasiveness of his intercession. Judah seems to have been the gifted one out of the twelve sons of Jacob, and his pleading succeeded with his father when all others were powerless.

When Joseph, whom his brothers failed to recognize although he recognized them, said to them, "Ye shall not see my face, except your brother be with you," they went back home with heavy hearts, and their father firmly refused to allow Benjamin to go down into Egypt. But when all their corn was eaten up and they needed to go and buy more, it was Judah who persuaded Jacob to let Benjamin go with them.

Reuben and Levi were silent during this critical period, because they had lost their rightful position in the family after murdering some local men, and Simeon was a hostage in the hands of Joseph, but Judah was able to step into the breach, and his reasoning prevailed with old Jacob.

Friends, we are by nature like those sinful sons of Jacob, because we have offended our Father who is in heaven and it would come to nothing if we attempted to approach him as sinners without an intercessor.

But our Judah is Jesus, and He is seated at his Father's right hand; and whatever our desire or our request may be, provided it is a right one, it is sure to be granted when Jesus pleads for us before the throne.

"If any man sin, we have an Advocate with the Father, Jesus Christ the righteous."

Use your Mind's eye to look upward, and see our great High Priest appearing there in the presence of God for us; and as he points to the print of the nails in his hands and feet, and to the scar of the soldier's spear in his side, and pleads our cause, we can be certain that his plea must prevail with his Father. "Therefore, Jesus is also able to save them to the uttermost that come unto God by him, since he ever liveth to make intercession for them." If Judah was praised because his intercession prevailed with Jacob, How much more should Jesus be praised because his intercession prevails with Jehovah?

Have you any burden on your mind at this moment? Is there anything that distresses you? Have you been praying about something without getting any answers to your prayers? Then put your case into the hands of Christ. He has never lost a case, and that is more than the best of earthly lawyers can say about the cases entrusted to them.

That was a wonderful scene when Joseph said that Benjamin could not go back with his brothers, but must remain in Egypt as his servant because the silver cup had been found in his sack, and Judah pleaded with Joseph, not knowing that "the lord of the land" was his own brother. You may remember how he pictured their old father at home, who would certainly die of a broken heart if Benjamin did not return to him safely, and how, at last, he offered to take Benjamin's place if he would let Benjamin go free. Judah's plea was so effective that Joseph could no longer hold back the tears, and finally, he told them he was their long-lost brother. So, dear friends, if the great Lord of heaven and earth seems angry with you because of your sins, and he is angry with the wicked every day, put your case into the hands of the sinners' Advocate, Jesus Christ, the Son of God, and when he stands up to plead with his Father for you, he will soon bring a smile of forgiveness upon the righteously severe countenance of his Father, and you shall gladly say, "Jesus, thou art he whom thy brethren shall praise because of thine almighty power in pleading for them."

We find that, at a later period, the tribe of Judah was foremost in wisdom and skill. If you turn to Exodus 35:30, you will see that, when the tabernacle was to be erected in the wilderness, "Moses said unto the children of Israel, See, the Lord hath called by name Bezaleel the son of Uri, the son of Hur, of the tribe of Judah; and he hath filled him with the spirit of God, in wisdom, in understanding, and in knowledge, and in all manner of workmanship; and to devise curious works, to work in gold, and in silver, and in brass, and in the cutting of stones, to set them, and in carving of wood, to make any manner of cunning work." And, surely, I may metaphorically apply this description to our Judah-Jesus. What wisdom there is in him, and what skill! What is there that he cannot do?

Bezaleel could cut, and polish, and set precious stones, but Jesus can take the worthless pebbles of the brook, and transmute them into diamonds. Jesus takes "base things of the world, and things which are despised," and works such marvelous changes in them that the Lord of hosts says concerning them, "They all be mine in that day when I make up my jewels." He is a wonderful lapidary (those who cut and polish valuable stones); some of us have been upon the wheel under his hand for a long time, and we are apt to think that he has cruelly cut us but the cutting is intended to bring out our brilliance and to make us fit to shine in the diadem of the King in due time. Bezaleel was also a worker in wood, and our great Judah-Jesus came to us when we were growing wild in the forest of sin, it was his axe of conviction that cut us down, and it has been his hand of skill that has been fashioning and carving us to make us worthy to be pillars in his temple. What is there that Jesus cannot do?
Has he not wrought out for us a work which required far more skill than the erecting of the tabernacle in the wilderness, and the making of the Ark of the covenant, the veil which hung before the most holy place, the high priest's garments of glory and beauty, and all the cunning work devised by Bezaleel and his helpers?

Did he not spend his whole life in working out for us a matchless robe of righteousness in which we may even dare to stand before the all-seeing eye of God?
Angels will keep on wondering throughout eternity at the wisdom of their Lord and ours. The wisdom of his teaching is divine. "Never man spake like this man." The wisdom with which he deals with each individual case that is brought to him is matchless. He is the great Physician, and there is no, earthly doctor who has such skill as he has. Let Bezaleel, of the tribe of Judah, have all due praise, but let Jesus, the Son of God, have far more. All wisdom is to be found in him; his very name is "Wisdom." Solomon calls him by that name. The wisest of men was not at all wise in comparison with incarnate wisdom, the wisdom of God as manifested in Jesus Christ. Jesus, we bless thee, thou who hast worked out a perfect righteousness for us, thou who makest us into living stones, and then buildest us stone by stone, into the marvelous edifice of thy Church; Jesus, then art he whom thy brethren shall praise for thy wondrous wisdom and skill.

Further, the tribe of Judah had preference in presenting offerings unto the Lord. In Numbers 7:12, we read, "He that offered his offering the first day was Nahshon the son of Amminadab, of the tribe of Judah." The Lord had said to Moses, "They shall offer their offering, each prince on his day, for the dedicating of the altar," and the prince of the tribe of Judah, therefore, led the way by bringing his offering on the first day.

We know that our Lord sprang out of Judah, so he was first with his offering. "No," says someone, "Abel was first with his offering." Yes, apparently he was in the order of time, but Christ's offering was much more ancient than his, for he was "the Lamb slain from the foundation of the world." In the divine purpose, his sacrifice was offered long before the great tragedy on Calvary, and the merit of his atonement was reckoned to his people's account long before man was created, but certainly, in order of precedence Christ's offering comes first. Christ brought for his offering his own most precious body and blood, and we by faith present the same offering when we come to God in the name of Jesus. What sacrifice could we bring if Judah's Prince had not first brought his one offering by which he hath performed forever for them that are sanctified?

Did I say just now that Christ's offering had precedence? I must correct myself, for it is first, it is last, it is midst, it is the only sacrifice that can put away sin, and make us acceptable unto God; and there is no sacrifice either of prayer or of praise that we can present to God unless we bring it by virtue of Christ's own great sacrifice. Let us, therefore, praise our Judah-Jesus; let us give him our loudest hallelujahs, for he comes first to the altar, and we afterward approach it through him. Jesus, thou art he whom thy brethren shall praise for thy wondrous atoning sacrifice.