PRAISE FOR JESUS PART 2
by John Lowe
(Laurens SC, USA)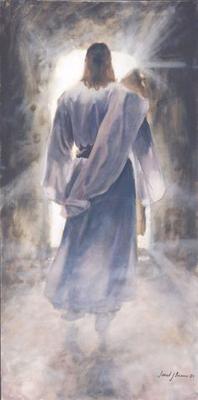 What a Wonderful Savior!
Again, I would point out that Judah was chosen by God to always lead when the tribes were on the march through the wilderness. In Numbers 10:14, we read that, when the fiery-cloudy pillar moved, "in the first place went the standard of the camp of the children of Judah according to their armies." First in the

encampment, first on the march, first everywhere was Judah's lion. The tribe of Dan brought up the rear, but the tribe of Judah always went in front; and here again let Jesus Christ be praised, for he always leads the
way.

If I descend into the Valley of Humiliation, I shall see his footprints all down the slippery steps. If I pass through the Enchanted Ground where so many fall asleep, I shall see the track of the wakeful One all along that dangerous way. If up the Hill Difficulty I have to scramble on my hands and knees, I shall see the marks of the blood drops where his hands were torn by the thorns and his feet were cut by the flints as he climbed there too. And when I go down to the river, I shall still see his footprints; and up the other side, I shall see the track of my risen Lord. All up the eternal hills I shall but follow where he leads the way; yes, and up to the very throne of God he has gone before us, clearing a way for his people, and leading them along it.

Yet once more, Judah afterward attained to the sovereignty; for David, of the tribe of Judah, was in due time proclaimed king over all Israel. We also have a King of the line of Judah, one who is mightier than David, and wiser than Solomon, and happy are we in having such a King to reign over us. Who amongst us that loves Christ would not set him up upon a high throne? Oh, that we could continually exalt him yet more and more! Let your sweetest songs be all in his praise; let your most daring deeds be done for him. Give him, ye gracious women, your alabaster boxes full of precious ointment. Prepare, your feasts, ye wealthy men, and invite him, to preside at the table!. Come, ye children, and strew branches in the way while he rides along triumphantly. Let "Hosanna! Hosanna! Hosanna!" be the joyful strain which comes from every lip and heart because Jesus reigns over us, the King of kings and Lord of lords. Do praise him, do extol him this very moment, lift up your hearts and your voices while we sing this familiar strain, —

"Jesus is worthy to receive
Honor and power divine;
And blessings more than we can give
Be, Lord, for ever thine."

II. The second part of our subject was to be THE GLORIES OF JUDAH AS SETTING FORTH THE GLORIES OF JESUS.

They are illustrated in the sentence concerning Judah that follow our text. The first of them mentions the victories of Judah: "Thy hand shall be in the neck of thine enemies." You know what it means when a man seizes his enemy by the throat, or when a lion gets its prey by the neck and shakes the very life out of it. Thus has Jesus Christ done with all the enemies of his people.

Shall I tell you again the grand old story? 'Twas one dark night when the great Shepherd was watching his flock that he heard the roaring which told him that the old lion of the pit was about to leap into the fold to rend the sheep in pieces. Then the Shepherd whispered to himself, "This is the dreadful hour and the power of darkness." Taking his place in the midst of his blood-bought flock, he waited for the next terrific roar, and as the lion sprang into the fold, he received him upon his bare bosom and began at once to grapple with him. He was wounded in his hands, in his feet, and in his side, and in the desperate struggle "his sweat was as it were great drops of blood falling down to the ground." It was a dreadful fight, which had been foreseen before the world was made, and which shall be the theme of a grateful song when the world has ceased to be. But in the end, the Shepherd rent the lion as though it had been a kid, and crying, "It is finished," he himself fell prostrate over his foe, slain, but dying only to be rise again, and live in everlasting triumph. In that dread combat, his hand was indeed in the neck of his enemy; and now he has to glory gone, leading
captivity captive, you who have been delivered by him from the old lion of
the pit may well exclaim, "Jesus, thou art he whom thy brethren shall praise."
The next thing for which Judah was to be praised was Jacob's prophecy, "Thy father's children shall bow down before thee.
"Now, who in this house is a child of God? You will not be long in answering that question when I put to you another, "Do you bow down before the Lord Jesus Christ?" Here we are, a vast multitude assembled in this Tabernacle, but we are not all the children of God by faith in Christ Jesus. We cannot all
truly say, "Our Father, who art in heaven." Our text gives us the means of knowing who are the children of God, for the great Father says to his Son, "Thy Father's children shall bow down before thee." Do you bow down before the Lord Jesus Christ? Is he your only trust? Do you rest your whole weight upon him? Do you depend for time and eternity upon Judah-Jesus whom God has anointed and appointed to be the only Savior of sinners? If so, you have proved your sonship by bowing down before your great elder Brother.
The third glory of Judah was his lion-like power. Jacob said, "Judah is a lion's whelp; from the prey, my son, thou art gone up: he stooped down, he couched as a lion, and as an old lion; who shall rouse him up?" This seems to be a picture, first of Judah, and then of the Lord Jesus Christ. As a young lion, he has gone up, and rent his prey in pieces. Sin, death, and hell he has torn asunder; and now that he is like a mighty, full-grown lion, woe be unto those who provoke him to anger, but blessed are they who have him on their side. Many of you have seen that beautiful engraving of Una the type of innocence, riding upon a lion's back, that lion, according to Spenser, protecting her from all ill. That is how every penitent soul rides, by the grace of God; the Lion of the tribe of Judah is the Guardian of every believing head. You have but to trust yourself to Jesus, and he will see to it that you are never destroyed. He will preserve and deliver you from all evil of every kind, and at last shall safely bring you where you shall see his face, and rejoice in him, for ever and ever. But woe to any of you who reject him! Woe to you who deny his Deity! Woe to you who break his Sabbaths, abhor his Word, and despise his cross! In that last tremendous day, his anger against the wicked shall be so terrible that they shall say to the mountains and rocks, "Fall on us and hide us from the face of him that sitteth on the throne, and from the wrath of the Lamb: for the great day of his wrath is come; and who shall be able to stand ?" Oh, bow before him, accept his grace, trust in his atoning sacrifice; and then, the very power which should make you tremble now will be exerted on your behalf, and cause you to rejoice for ever.
Further, Jesus is to be extolled for his perpetual sovereignty.
"The scepter shall not depart from Judah, nor a lawgiver from between his feet until Shiloh come." Judah's sovereignty came to an end, but Jesus always reigns. His kingdom here on earth has often seemed as if it were in jeopardy, but it has never been overthrown, and it never will be. In the martyr days, they sewed the Christians up in the skins of wild beasts, and cast them to the dogs; they dragged them at the heels of horses; they burned them at the stake; they stripped off their clothes, and tortured then with hot irons on every part of their body; I dare not mention all the cruelties that were practiced on the followers of Jesus, but nothing availed to shake their allegiance to their king. In all these trials they were more than conquerors through him who loved them, and who gave them the grace to endure all these things for his sake. Neither tribulation, nor distress, nor persecution nor famine, nor nakedness, nor peril, nor sword could separate them from the love of Christ, and thus his kingdom was perpetuated during even the darkest ages of its history, which in another sense were also the brightest because of the glory that the faithfulness of his followers brought to their King. His kingdom is an everlasting kingdom; "of the increase of his government and peace there shall be no end, upon the throne of David, and upon his kingdom, to order it, and to establish it with judgment and with justice from henceforth even for ever."