PRAYING LIKE JESUS/Ten Principles Of Prayer Part 1 of 2
by John Lowe
(Laurens SC, USA)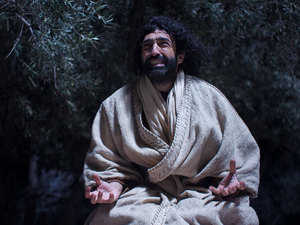 11-11-04

Matthew 6:9-13

Have you ever thought about your prayer life? Have you ever examined it and wished that you could be better at communicating with God? Have you ever just felt like there were times when your prayers were just hitting the ceiling and bouncing right back down? I wonder if you've ever stopped to consider whether there is any power in your prayers.

Illustration:

I read about a small Oklahoma town that had two churches and one distillery. Members of both churches complained that the distillery was giving the community a bad image. And to make matters worse the owner of the distillery was an outspoken atheist. He didn't believe in God one bit. The church people had tried unsuccessfully for years to shut down the distillery. So finally they decided to hold a joint Saturday night prayer meeting. They were going to ask God to intervene and settle the matter. The church folks gathered on Saturday night and there was a horrible thunderstorm raging outside, and to the delight of the church members lightening hit that old brewery and it burned to the ground. The next morning the sermons that were preached in both churches were on the power of prayer. But the insurance adjusters promptly notified the distillery owner that they were not going to pay for the damages because the fire was an act of God and that was an exclusion in the policy. The distillery owner was furious and he sued both churches claiming that they had conspired with God to destroy his business. But the churches denied that they had anything to do with the cause of the fire. The presiding judge opened the trial with these words: "I find one thing in this cause most perplexing-we have a situation here where the plaintiff, an atheist is professing his belief in the power of prayer, and the defendants all faithful church members are denying the very same power."

It seems that sometimes as Christians we pray asking God to do certain things, either in our life or the lives of others, only to be totally surprised when God answers our prayers. So where do we start if it is our goal to establish a legitimate communication with God? The bookstores are full of books that are aimed at leading one into a prayer relationship with God but, how does one know what is valid and what isn't?

I can relate to Lee Strobel when he said, and I quote: "I treated prayer as if it were a spiritual smorgasbord. I took a little of this authors ideas, a bit of advice from that pastor's sermon, applied some miscellaneous Bible verses, and mixed it with some counsel of well-meaning friends. The result was an imbalanced and half-baked prayer life that left me starving for something more satisfying"

We can find all too many sources that would endeavor to lead us into an intimate prayer life with God, but who can best describe to us the principles of proper prayer better than the master communicator Himself, Jesus, the son of God. He spent more time in successful, active communication with the Father than anyone else. If we will listen to Him, the pathway to powerful prayer will be revealed to us.

Now I want to give you The Basic Principles Of Prayer-Prayer 101. They are listed in Matthew 6:9-13.

9 After this manner therefore pray ye: Our Father which art in heaven, Hallowed be thy name.
10 Thy kingdom come, Thy will be done in earth, as it is in heaven.
11 Give us this day our daily bread.
12 And forgive us our debts, as we forgive our debtors.
13 And lead us not into temptation, but deliver us from evil: For thine is the kingdom, and the power, and the glory, for ever. Amen.

There must first be a desire to learn what you think you already know.
The disciples had prayed previously to asking Jesus to teach them the power and peacefulness of prayer. But as they circled around Jesus that day, they realized that there was something different about the way He prayed. He would not give them that day a sacred formula to be repeated over and over, but He would give them a consistent pattern for prayer. I am convinced that most Christians learned to pray in one of these ways:
1. By some other person's example.
2. By our own observations.

Now! Look at the principles
Jesus laid out for powerful prayer.
(v. 9) "Our Father" I find it interesting here that Jesus would teach us this phrase because Jesus Himself never uses that phrase. He is heard referring to God as, "The Father", "My Father", or "Your Father", because He is the true Son of God, but you and I are to refer to Him at least as "Father" and at best as "Our Father" since we are adopted into that royal family. It is a term likened to daddy or poppa.
Principle #1: We are instructed to approach Him with tenderness.
(v. 9) "In heaven" Jesus reminds us here that we are not approaching an earthly father that is limited in his capabilities or his presence. We are approaching the very Father of all creation. He is our heavenly Father and because of that we are created in His image (Gen 1:26).
Principle #2: We are instructed to approach Him with reverence.
(v. 9) "Hallowed be Your name" Not many could claim this title although it is given to us; the task of being set apart (sanctification) for service to the glory of God. Jesus is certain to remind us that our Father is free from all impurities. He is totally separated from all evil.
Principle #3: We are instructed to approach Him with respect.
(v. 10) "Thy kingdom come" It is a difficult thing to go to God in prayer knowing that you are at odds with the ministry of the kingdom. We are then simply laying before Him a monstrous hypocrisy if every day of our lives we are hindering and thwarting the advance of His kingdom.
Principle #4: We are instructed to approach Him with devotion.
(v. 10) "Thy will be done in earth as it is in heaven." In one sense the will of God is done whether we like it or not. Yet in another real sense, all believers do not always carry out the will of God. The interesting fact is that we cannot see His will done without first letting Him rule in our day-to-day lives. He must be Lord and King and we must seek to enlarge His kingdom. The whole concept then, seems to be one that is quite foreign to us. It is an appeal for us to voluntarily give up our wills here on earth so that His heavenly will might be accomplished. Philippians 2:5: Let this mind be in you which was also in Christ Jesus.
Principle #5: We are instructed to approach Him with humbleness.
Everything up to this point deals with the ATTITUDE of prayer. The following deals with the RELATION of prayer.
(v. 11) "Give us this day our daily bread." If we are in the right attitude for prayer then this next petition sets us in the right relation towards God's gifts. God is not a God that wants His followers to be in want, but notice that our needs are only addressed after we have given our wills over To the Father.
Illustration:
God appeared to Solomon in II Chron. 1:7 and told him he could ask for anything he wanted. Most of us, if put in that position, would have ask for things that would be beneficial to us, but because Solomon was in the will of God, he asks for something that would help others. He asked for wisdom to lead God's people into His will. You and I will find that our desires dwindle, as the Fathers will is exercised. It is then that we can ask God to provide for our needs and be totally assured that He will do so. After the wisdom of God was given to Solomon so were the added blessings of God.
Principle #6: We are instructed to approach Him with forgiveness.
(v. 12) "And forgive us our debts, as we forgive our debtors." I'm afraid that this principle carries with it some baggage. Sin is a debt that causes a heavy burden. If not dealt with, it can totally weigh a person down until he /she is totally ineffective as a Christian. It seems that we are encouraged to pray for those that have sinned against us. Luke 6:28: "pray for those who spitefully use you" It goes on to imply that if we are unwilling to relinquish our grudges and hatreds towards those that have wronged us, we might not be so pious as to expect God to lighten the burden we carry.