Pre-fleshly State of Christ Part 4 of 9 series: Harmony of the Gospels
by John Lowe
(Woodruff, S.C.)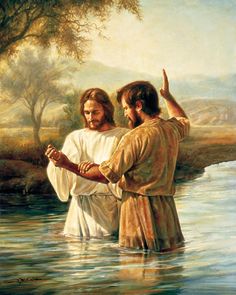 9 That was the true Light which gives light to every man coming into the world.
Alternate Translation (RSV): The true light that enlightens every man was coming into the world.

Christ is the true, or genuine, or real Light; the one who gives to every man the light of reason and conscience. The result of this revelation, according to the next verse, was that the world did not recognize him. The world rejected Him.

Other persons down through the ages have claimed to be guides and saviors, but the One to whom John witnessed was the genuine Light, the best and the truest Light. Another translation of this verse is, "The true light that enlightens every man was coming into the world." In other words, the expression coming into the world may describe the true Light rather than every man. It was by the coming of the true Light ... into the world that every man was given light. This does not mean that every man has received some inward knowledge concerning Christ. Neither does it mean that all men have heard about the Lord Jesus at one time or another. Rather, it means that the Light shines on all people, without regard to nationality, race, or color. It also means that by shining on all men, the Lord Jesus has revealed men in their true character. By His coming into the world as the perfect Man, He has shown how imperfect other men are. When a room is in darkness, you do not see the dust on the furniture. But when the light goes on, the room is seen as it actually is. In that same sense, the shining of the true Light reveals man as he actually is.

But how does Christ enlighten every man that comes into the world?
1. By his creating power, he enlightens every man with the light of reason; that life which is the light of men is from him; all the discoveries and directions of reason, all the comfort it gives us, and all the beauty it reveals to us, are from Christ.
2. By the publication of his gospel to all nations, he does in effect enlighten every man. John Baptist was a light, but he enlightened only Jerusalem and Judea, and the region round about Jordan, like a candle that enlightens one room; but Christ is the true light, for he is a light to enlighten the Gentiles. His everlasting gospel is to be preached to every nation and language, 14Rev. 14:6. Like the sun which enlightens every man that will open his eyes, and receive its light 15(Ps. 19:6), to which the preaching of the gospel is compared. 16See Rom. 10:18. Divine revelation is not now to be confined, as it had been, to one people, but to be diffused to all people, 17Mt. 5:15.
3. By the operation of his Spirit and grace, he enlightens all those that are enlightened to salvation; and those that are not enlightened by him perish in darkness. The light of the knowledge of the glory of God is said to be in the face of Jesus Christ, and is compared with that light which was at the beginning commanded to shine out of darkness, and which enlightens every man that comes into the world. Whatever light any man has, he is indebted to Christ for it, whether it is natural or supernatural.

10 He was in the world, and the world was made through Him, and the world did not know Him.
Alternate Translation (TLB): But although he made the world, the world didn't recognize him when he came.

He was in the world. He was in the world, before his incarnation, maintaining all things; but this speaks of his being in the world when he took our nature upon himself, and lived among us 18(see16:28). The Son of God was here in this lower world to bring Light where there was only darkness. Can you imagine that holy thing in this sinful polluted world? He left a world of bliss and glory, and was here in this dismal, miserable world. He undertook the task of reconciling the world to God, and therefore He was in the world, to resolve that matter. He worked here to satisfy God's justice for the world, and to show God's love for the world. He was in the world, but not of the world. The greatest honor ever paid to this world, was that the Son of God was once in the world.

And the world was made through Him.
Christ had a good reason to expect an affectionate and respectful welcome to this world, because the world was made by him. Therefore, he came to save a lost world because it was a world of his own making. Why shouldn't He come himself to revive the light that He originally kindled, to restore the life He once instilled, and to renew the image that was originally like His own? The world was made by him, and therefore ought to honor Him.

And the world did not know Him.
What a cold reception he met with. The great Maker, Ruler, and Redeemer of the world were in it, and few or none of the inhabitants of the world were aware of it. The dog knows his owner, but the world did not. They did not attempt to make him welcome, because they did not know him; and they did not know him because he did not make himself known in the way that they expected—in external glory and majesty. Instead of recognizing Him as the Creator, men thought that He was just another man like themselves, but when he comes the second time it will be as a Judge—the world will know him then.

11 He came to His own, and His own did not receive Him.

Alternate Translation (RSV): He came to his own home, and his own people received him not.

He was not trespassing on someone else's property. Rather, He was living on a planet, which He Himself had made, but His own (people) did not receive Him. In a general sense, this might refer to all mankind, and it is true that most of mankind rejected Him. But in a special sense, the Jewish nation was His chosen, earthly people. When He came into the world, He presented Himself to the Jews as their Messiah, but they would not receive Him.

He came to His own. He came not only to the world, which was his own, but to the people of Israel, that were particularly his own above all people. He came to them first, and He lived among them. The Jews were at this time a callous, despicable people; yet, in remembrance of the ancient covenant, bad as they were, and poor as they were, Christ was not ashamed to look upon them as his own. The Jews were his, like a man's house, and lands, and goods are his, and like a man's wife and children are his own, which he loves and enjoys. He came to his own, to seek and save them, because they were his own. He was sent to the lost sheep of the house of Israel, for he was the owner of those sheep.

And His own did not receive Him. They generally rejected him. He had reason to expect that those who were his own should have attempted to make him welcome, considering how greatly they were obligated to him, for the opportunities they were given of coming to the knowledge of him. They had the oracles of God, which told them beforehand, when, and where to expect him, and what tribe and family he would come from. He came among them, and introduced Himself with signs and wonders, and therefore they cannot say as the world could, that they knew him not. However, his own, although they could not keep from knowing about Him, received him not. They did not receive his doctrine or welcome him as the Messiah, but instead, they hardened themselves against him. The chief priests, that were especially his own (for the Levites were God's tribe), were ringleaders in the hatred of him. Now this was unwarranted, because they were his own, and therefore he could have commanded their respect; and they were very unkind and ungrateful, because he came to them, to seek and save them, and so to invite their respect. Note, many who say they are Christ's, do not receive him, because they will not part with their sins, or have him to reign over them.

12 But as many as received Him, to them He gave the right to become children of God, to those who believe in His name:

Alternate Translation (TLB): Even in his own land and among his own people, the Jews, he was not accepted. Only a few would welcome and receive him. But to all who received him, he gave the right to become children of God. All they needed to do was to trust him to save them.

There was a remnant that accepted him, and was faithful to him. Though his own received him not, yet there were those that did receive Him. While the bulk of that nation perished in unbelief, there were many of them that did submit to Christ, including many more that were not of that fold (Gentiles).

Now there are two observations to be made here:
1. The true Christian's description; and that is, that he receives Christ, and believes on his name; the latter explains the former. Note, first, to be a Christian means to believe on Christ's name; it means to subscribe to the gospel and accept the 19gospel proposal, concerning him. His name is the Word of God; the King of kings, the Lord our righteousness; Jesus our Savior. Now to believe on his name means to acknowledge that he is what these great names reveal him to be. Secondly, Believing in Christ's name, means receiving him as a gift from God. We must receive his doctrine as true and good, receive his law as just and holy; receive his offers as kind and beneficial; and we must receive his grace and his love, and make them the governing principles of our love and actions.