Pre-fleshly State of Christ Part 8 of 9 series: Harmony of the Gospels
by John Lowe
(Woodruff, S.C.)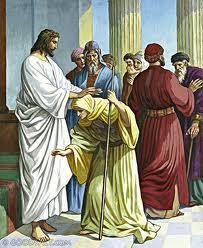 Closing Comments

God chose Israel and they were His covenant people. They had the Scriptures that told of the birth of the Messiah and of His mission. However, when He came they did not accept Him. Some rejected Him, because they wanted a deliverer from the rule of the Romans, not a Savior. Some were to busy with family and business, so they ignored Him. The religious leaders were more interested in the insignificant matters of the law than receiving fulfilled prophecy. However, those that did believe in Him became Children of God.

Once Jesus began His ministry, the temple sacrifices were of no value and men could no longer be saved through keeping the law. However, no one was ever saved by keeping the law, because no one ever kept it. They could not keep it.

After Jesus died on the cross, it became sin to sacrifice animals. All mankind, those that lived before Jesus and those that lived after Jesus, are saved in the same way; by faith in Jesus. I cannot explain how Jesus death on a cross, paid my debt of sin, but I accept it, because the Bible says that is the way it is. If you will believe in Him, you will be saved.


________________________________________
1 The evangelist, in the close of his discourse (v. 18), plainly tells us why he calls Christ the Word—because he is the only begotten Son, who is in the bosom of the Father, and has declared him.1
2 (Gen 1:1). In the beginning God created the heavens and the earth.2
3 name for Christ (Gr logos) is found only four places in the New Testament: "In the beginning was the Word, and the Word was with God, and the Word was God" (Jn. 1:1). "…And the Word became flesh and dwelt among us" (Jn. 1:14). "That which was from the beginning, which we have heard, which we have seen with our eyes, which we have looked upon, and our hands have handled, concerning the Word of life" (1 Jn. 1:14). "He was clothed with a robe dipped in blood, and His name is called The Word of God" (Rev 19:13). 3
4 (Ps. 90:2) "Before the mountains were brought forth, Or ever You had formed the earth and the world, Even from everlasting to everlasting, You are God." From all eternity and to all eternity, He is God, "infinite, eternal, and unchangeable in His being, wisdom, power, holiness, justice, goodness, and truth." 4
5 (Prov. 8:23) "I have been established from everlasting, From the beginning, before there was ever an earth." "Established," means anointed or appointed. Long before creation took place, He was appointed to be the Messiah of Israel and the Savior of the world. 5
6 (Heb. 1:3) "Who being the brightness of His glory and the express image of His person, and upholding all things by the word of His power, when He had by Himself purged our sins, sat down at the right hand of the Majesty on high." He is the outshining of God's glory, that is, all the perfections that are found in God the Father are found in Him also. Furthermore, the Lord Jesus is the exact image of God's essential being. This cannot, of course, refer to physical likeness because God is, in essence, a Spirit. It means that in every conceivable way Christ exactly represents the Father. No closer resemblance could be possible. The Son, being God, reveals to man by His words and ways exactly what God is like. And He upholds the universe by the word of His power. Originally, He spoke to bring the worlds into being (Heb. 11:3). Still, He speaks and His powerful word sustains life, holds matter together, and maintains the universe in proper order. It is by Him that all things hold together (Col. 1:17). Here is a simple explanation of a profound scientific problem. Scientists grapple to discover what holds molecules together. We learn here that Jesus Christ is the great Sustainer, and He does it by His powerful word. But the next glory of our Savior is the most amazing of all—when He had by Himself purged our sins. Finally, we have His exaltation as the enthroned Lord: He sat down at the right hand of the Majesty on high. The right hand of the Majesty on high is the position of honor and privilege (Heb. 1:13). 6
7 (1 Pet. 3:18) "For Christ also suffered once for sins, the just for the unjust, that He might bring us to God, being put to death in the flesh but made alive by the Spirit." 7
8 (Rom. 1:19-20) "Because what may be known of God is manifest in them, for God has shown it to them. For since the creation of the world His invisible attributes are clearly seen, being understood by the things that are made, even His eternal power and Godhead, so that they are without excuse." Are the heathen who have never heard the gospel lost?" Paul shows that they are, not because of knowledge they do not have, but because of the light, which they do have, yet refuse! Those things which may be known of God in creation have been revealed to them. God has not left them without a revelation of Himself.
Ever since the creation of the world, two invisible characteristics of God have been on display for all to see: His eternal power and His divinity or Godhead. The word Paul uses here means divinity or godhood. It suggests the character of God rather than His essential being, His glorious attributes rather than His inherent deity. His deity is assumed.
The argument here is clear: Creation demands a Creator. Design demands a Designer. By looking up at the sun, moon, and stars, anyone can know there is a God.
The answer to the question "What about the heathen?" is this: they are without excuse. God has revealed Himself to them in creation, but they have not responded to this revelation. Therefore, people are not condemned for rejecting a Savior they have never heard of, but for being unfaithful to what they could know about God. 8
9 For example, the Old Testament has many who are types of Christ—Moses is one.
10 The darkness referred to here is the unbelief and sin of mankind. "And this is the condemnation, that the light has come into the world, and men loved darkness rather than light, because their deeds were evil" (Jn. 3:19).10 Jesus is the light who came into the world. He was the sinless, spotless Lamb of God. He died for the sins of the entire world. But, do men love Him for this? No—they resent Him. They prefer their sins to having Jesus as Savior, and so they reject Him. Just as some creeping things scurry away from the light, so wicked men flee from the presence of Christ. 10
11 (Rom. 1:21-28) "Because, although they knew God, they did not glorify Him as God, nor were thankful, but became futile in their thoughts, and their foolish hearts were darkened. And even as they did not like to retain God in their knowledge, God gave them over to a debased mind, to do those things which are not fitting." Although they knew God by His works, they did not glorify Him for who He is or thank Him for all He has done. Rather, they gave themselves over to futile philosophies and speculations about other gods, and as a result, lost the capacity to see and think clearly. "Light rejected is light denied." Those who don't want to see lose the capacity to see Because of men's refusal to retain God in their knowledge, either as Creator, Sustainer, or Deliverer, God gave them over to a debased mind to commit a catalog of other forms of wickedness. This verse gives deep insight into why evolution has such enormous appeal for natural men. The reason lies not in their intellects but in their wills. They do not want to retain God in their knowledge. It is not that the evidence for evolution is so overwhelming that they are compelled to accept it; rather, it is because they want some explanation for origins that will eliminate God completely. They know that if there is a God, then they are morally responsible to Him.11
12 (1 Jn. 5:9) "If we receive the witness of men, the witness of God is greater; for this is the witness of God which He has testified of His Son." Now John comes in with a telling argument: "If we receive the witness of men, the witness of God is greater." In everyday life, we constantly accept the word of our fellow men. If we did not, business would be at a standstill and social life would be impossible. We accept the testimony of men who may be mistaken and who may be deceivers. Now if we do this in everyday life, how much more should we trust the word of God, who cannot fail and cannot lie? It is most unreasonable not to believe God. His witness is absolutely credible.