Present Standing of Israel Part 1 (series: Lessons on Romans)
by John Lowe
(Woodruff, S.C.)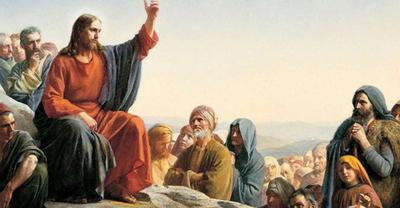 (35) Present Standing of Israel
Romans 10:5-12

5 For Moses writes about the righteousness which is of the Law, "The man who does those things shall live by them."
6 But the righteousness of faith speaks in this way, "Do not say in your heart, 'Who will ascend into heaven?'" (that is, to bring Christ down from above)
7 or, " 'Who will descend into the abyss?' " (that is, to bring Christ up from the dead).
8 But what does it say? "The word is near you, in your mouth and in your heart" (that is, the word of faith which we preach):
9 that if you confess with your mouth the Lord Jesus and believe in your heart that God has raised Him from the dead, you will be saved.
10 For with the heart one believes unto righteousness, and with the mouth, confession is made unto salvation.
11 For the Scripture says, "Whoever believes on Him will not be put to shame."
12 For there is no distinction between Jew and Greek, for the same Lord over all is rich to all who call upon Him.

Introduction
It is so simple: Faith plus nothing equals righteousness. While the person seeking salvation through the Law would always be trying to keep the Law (10:5), the salvation which Christ offers is not in some unattainable place; it is as near as our hearts and mouths (10:6-12). Anyone who calls upon the name of the Lord will be saved (10:13). Paul had shown earlier that everyone is lost (1:18-3:20). Now he repeats the good news of 3:21-31: Everyone can be saved! The "anyone" of 10:13, echoes the "every one" of John 3:16.

5 For Moses writes about the righteousness which is of the Law, "The man who does those things shall live by them."

This is a quotation from 1Leviticus 18:5 (see below). Literally, its meaning is "the man that hath done these things," talking about everything a man has done in the past. For a person to become righteous by keeping the Law they must keep the whole Law for their entire life, since the failure to keep even one of God's commands causes the person to fall below God's standard, and to be condemned to death. Granted that you could attain righteousness by keeping the Law, but it would be your own righteousness, not God's righteousness. It would never measure up to His (see 2James 2:10). A Jew who is able to perfectly meet all the requirements of God would still not be saved. No one, except Christ, has ever been able to keep all the commands of God.

When Moses writes that the Jew who keeps the statutes and judgments of God shall live by them, he does not mean that a person will be given eternal life because of his obedience, or his works. Eternal life is a gift in both the Old and New Testaments and is never earned. Both Moses and Paul clearly understood and taught that obedience to the Law would never give a person a standing of righteousness before a holy God. But Christ by his life and death revealed the perfect righteousness of God, which was bestowed by the Father on the basis of faith in the Son. This was the goal to which the Law pointed.
The Law was given to people who were already sinners and who were already condemned to death. Even if they could keep the Law perfectly from that day forward, they still would be lost because God requires payment for those sins, which are past. Any hopes that men may have for obtaining righteousness by the Law are doomed to failure from the outset.

_______________verse 5 notes________________
1Leviticus 18:5 You shall, therefore, keep My statutes and My judgments, which if a man does, he shall live by them: I am the Lord. The solemnity of this verse cannot be overemphasized. These are God's Laws and they must be obeyed.
2James 2:10 Whoever breaks one commandment is guilty of breaking them all. The result of breaking even one commandment is that a person is as guilty as if he broke them all. Guilty of breaking them all contradicts salvation by works. Since all men are "guilty before God" (Rom 3:19), salvation necessarily is by grace through faith (Eph 3:8–9).

6 But the righteousness of faith speaks in this way, "Do not say in your heart, 'Who will ascend into heaven?'" (that is, to bring Christ down from above)

In reference to Moses' teaching concerning the righteousness, which comes from faith, the apostle quotes 3Deuteronomy 30:12, 14 (see below). The quotation is used to show that the book of the Law (Deuteronomy) taught the very same principles of the Gospel concerning justification by faith. The Law taught men what to do and how to live. But the righteousness which is by faith teaches men to believe and live. The Pentateuch (first five books of the Old Testament) clearly shows that the Law is to be written upon the hearts of men. It was not to be an external means of external justification. Unfortunately, the Jews mistakenly perverted the Law and were attempting to keep the Law outwardly without the right inward heart attitude.
When Moses refers to the Law, he is referring to the Word of God, not the Ten Commandments only. Moses argued that the Jews had no reason to disobey the Word of God because it had been clearly explained to them and was not far from them. In fact, Moses urged them to receive the Word in their hearts (see 4Deut. 5:29). The emphasis in Deuteronomy is on the heart, the inner spiritual condition, and not mere outward acts of obedience.

Throughout this passage, Paul is interested in establishing the accessibility of the message of God's righteousness. To that end, he counseled the Jew, "Do not say in your heart, 'Who will ascend into heaven?'" (that is, to bring Christ down from above).

This appears to be a taunt. The Jew feels the righteousness of God is inaccessible because no one can ascend into heaven to inquire about it. Paul teaches, however, that we do not have to ascend into heaven for God came and tabernacled among us in the person of Jesus Christ, to show us the righteousness of God.
The interesting thing is that, in their setting in Deuteronomy, these verses are not referring to faith and the Gospel at all. They are speaking about the Law and specifically the commandment to "turn to the Lord your God with all your heart and with all your soul" (Deut. 30:10b). God is saying that the Law is not hidden, distant, or inaccessible. A man does not have to go up to heaven or cross the sea to find it. It is near at hand and waiting to be obeyed.

But the Apostle Paul takes these words and reapplies them to the Gospel. He says that the language of faith does not ask a man to climb to heaven to bring Christ down. For one thing, that would be utterly impossible; but it would also be unnecessary because Christ has already come down to earth in His Incarnation!
__________________________________verse 6 notes_________________________________________
3Deuteronomy 30:12, 14 It is not in heaven, that you should say, 'Who will ascend into heaven for us and bring it to us, that we may hear it and do it?' …But the word is very near you, in your mouth and in your heart, that you may do it. Moses reminded the people that the covenant was not too hard for them to understand, nor was it far off (inaccessible). They were not required to do the impossible to find it. The Lord had brought it to them, and their responsibility was to obey it. The covenant was not easy to keep, but God had made provision in case of failure. The people were then required to repent and to bring the appointed sacrifices. Since the sacrifices were types of Christ, the lesson is that those who sin should repent and put their faith in the Lord Jesus Christ.
4Deuteronomy 5:29 Oh, that they had such a heart in them that they would fear Me and always keep all My commandments, that it might be well with them and with their children forever! God knew that they did not have the heart to keep His commandments. He wished that they did, so that He could bless them abundantly.