Priscilla and Aquila part 2
by John Thomas Lowe
(Woodruff, S.C.)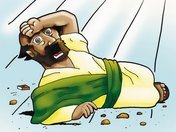 part 2
Aquila and Priscilla not only made their living together and grew in the Word together, but they also served the Lord together. We know it from what we have already seen, but there is another facet of their Christian service that bears mention. When Paul left Antioch on his third missionary journey, he traveled through Asia Minor by land and returned to Ephesus, where he remained teaching the Word of God for approximately three years (cf. Acts 26:31). During that time, he wrote his first letter to the Corinthians and said, "The churches of Asia greet you. Aquila and Prisca greet you heartily in the Lord, with the church that is in their house" (1 Cor. 16:19).
Their home was a meeting place for the Ephesian church. When they were starting a business in Corinth, their home was probably not big enough to hold all the Christians, so the house of Titus Justus was used. But now, it looks as though God had blessed them materially, and they were using their resources in Ephesus for His glory.
Moreover, that would not be the last time their home served that purpose. When Paul left Ephesus for Greece, they believed God directed them back to Rome. Claudius was dead now, so the move seemed safe, and Rome needed a gospel witness. So off they went! Paul wrote his Epistle to the Romans from Greece on that third missionary journey. He said, "Greet Prisca and Aquila, my fellow-workers in Christ Jesus, who for my life risked their necks, to whom not only do I give thanks but also all the churches of the Gentiles; Also greet the church that is in their house" (Rom. 16:3-5). They had hardly gotten to Rome, and already there was a church meeting in their house. Churches in New Testament times could not afford to own land and build buildings, nor would it have been wise to do so if they could, because of the continual pressure and persecution. They met in homes. Furthermore, the home of Aquila and Priscilla was always open to people who wanted to learn more about Christ and for Christians who wanted to grow in the Word.
While we have church buildings, there is no substitute for the home as a center for evangelism and spiritual nurture in the community. Some Christians conduct evangelistic dinners, where they invite unsaved friends to hear an outstanding personal testimony. Many dedicated women use coffee cup evangelism, establishing close friendships with their neighbors and sharing Christ with them over the kitchen table. Home Bible classes can effectively reach the lost or get believers growing in the Word. Young people have profited dramatically from adults who have opened their homes to youth groups. The possibilities for using our homes to serve the Lord are unlimited. This might be a good thing for husbands and wives to discuss and pray about together.
There was one short statement in the greeting in the Book of Romans that we cannot afford to pass over lightly, however: "Who for my life risked their necks, to whom not only do I give thanks, but also all the churches of the Gentiles." We do not know what Paul was referring to, nor when it happened, but somewhere, somehow, Aquila and Priscilla together endangered their own lives to save Paul's. His two friends were willing to give everything in the service of the Savior, even their lives. Moreover, for that, we also can give thanks to God. Our knowledge of divine truth would be incomplete without the epistles which God inspired him to write.
Aquila and Priscilla are mentioned in the New Testament, in the last chapter of the last book the Apostle Paul wrote. It had been sixteen years since Paul first met them at Corinth, and now he was in a Roman prison for the second time. His death at the hands of Emperor Nero was imminent, and he was writing the last paragraph of his long and fruitful life. "Greet Prisca and Aquila, and the household of Onesiphorus" (2 Tim. 4:19). It was just a brief and simple greeting, using the shorter form of Priscilla's name that we have seen in several other passages. However, Paul wanted to be remembered by them in the last hours of his life. He is thinking of his dear friends who were then back in Ephesus where Timothy was ministering, possibly having left Rome to escape Nero's latest outburst of persecution against Christians.
However, an interesting observation is to be made from that short verse. Priscilla's name appears before Aquila's. Her name is first in four of the six biblical references. Moreover, that is unusual! Most references to husbands and wives in the Bible place the man first. Why the switch? Several explanations have been suggested, but the most reasonable one seems to be that Priscilla was the more gifted of the two and often took the more prominent role. However, it appears that never affected their love for one another, their understanding of each other, or their ability to work together.
It does not always happen that way. Some husbands feel threatened because their wives are more knowledgeable or capable than they are, and to avoid embarrassment and save face, they sometimes become spiritual dropouts. Others become overbearing and belligerent to establish their position of authority. It is easier for them not to show up than to have their wives outshine them.
In some cases, the wives are to blame. They seem to have something to prove, competing with their husbands for the spotlight, grasping after authority and preeminence. It is no wonder their husbands feel threatened. God's order of authority in marriage never changes. Although the wife may be more intelligent and resourceful than her husband, God still wants her to look to him as her leader. It is not always easy for an extremely talented woman, but Priscilla did it. She was not competing with Aquila. She was just using her God-given abilities as a helpmeet to her husband for the glory of God. I am sure Aquila thanked God for her many times and accepted her wise counsel on many occasions. She was one of the world's genuinely liberated women, for there is no freedom that brings more joy and satisfaction than the freedom of obeying God's Word.
Read the following nine questions and consider the answers together with your wives. Talk it over!
1. Are you looking for opportunities to share Christ wherever you go, as Paul did? Do those who spend time with you become infected with your love for Christ? How can you improve this area of your life?
2. What spiritual contribution are you making to the lives of others? What else could you be doing to share God's Word with others?
3. How could you use your home more effectively to serve the Lord?
4. Are you sharing the Word of God? Discuss what kind of mutual Bible study you think will work best for you, then covenant to do it regularly together.
5. For husbands: Does it bother you when your wife outshines you? How does God want you to behave toward her on those occasions?
6. For wives: Are you threatening your husband by striving to prove your superiority in certain areas? Do you seek praise from others at his expense? How can you avoid these pitfalls?
7. Are there occasions when you feel that your mate undermines you in public? Share this and discuss how it can be avoided.
8. If you and your mate were considering working together in a business, what problems would you foresee arising? What could you do now to avoid those problems?
9. How can you demonstrate more fully the equality you share in Christ as husband and wife?

In our world, married couples must live lives well-grounded in Jesus Christ. Aquilla and Prescilla did that in the story we read from the New Testament – Aquila and Priscilla have left the following seven excellent and worthy lessons to be learned and followed by every Christian couple.
1. Priscilla and Aquila have overcome hardships together
The first time they are mentioned in the Bible, we learn the following about this beautiful couple:
After these things, he (Paul) left Athens and went to Corinth. And he found a Jew named Aquila, a native of Pontus, having recently come from Italy with his wife Priscilla because Claudius had commanded all the Jews to leave Rome. He came to them, and because he was of the same trade, he stayed with them, and they were working, for by trade, they were tentmakers. (Acts 18:1-3) (NASB)
Changing your place of residence is difficult, especially when you are forced. Today, material needs make men send their wife to the end of the earth, and the man himself goes to the other end. Unfortunately, it has become a model for some. People who are not lacking often send their wives to work in other countries and agree to be separated for long periods, just for material gain. It is even sadder to see that some Christians have started to rush to gain wealth and sacrifice their relationship and marriage.
2. Aquila and Priscilla worked together
The Bible tells us that they had the same job as Paul: making tents. At the end of the Epistle to Romans, in conclusion, the Apostle Paul wrote about them:
Greet Prisca and Aquila, my fellow workers in Christ Jesus. (Romans 16:3) (NASB)
While overcoming material difficulties and working for Christ, this wonderful couple knew always to work together.