Privileges of an Apostle Page 1 (series: Lessons on 1 Corinthians)
by John Lowe
(Woodruff, S.C.)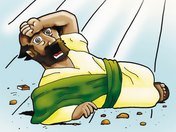 January 16, 2013

Commentary on First Corinthians
By: Tom Lowe



Lesson 7.3: Privileges of an Apostle
Scripture: 1 Corinthians 9.1-6

1 Cor 9.1-6 (KJV)
1 Am I not an Apostle? am I not free? have I not seen Jesus Christ our Lord? are not ye my work in the Lord?
2 If I be not an Apostle unto others, yet doubtless I am to you: for the seal of mine Apostleship are ye in the Lord.
3 Mine answer to them that do examine me is this,
4 Have we not power to eat and to drink?
5 Have we not power to lead about a sister, a wife, as well as other Apostles, and as the brethren of the Lord, and Cephas?
6 Or I only and Barnabas, have not we power to forbear working?

Introduction
Paul may have had the most successful ministry there ever was, but his ministry certainly met a lot of resistance, not only from those outside the church, but he had to contend with discouragement from those within. He faced severe criticism; false brethren questioned his Apostleship, and they were constantly assaulting his character and attacking his reputation; particularly here at Corinth. He deserved better treatment from them, because he began the church, built it up to its current status, and accomplished a lot of good for the church while personally leading many of them to faith in Christ. Note, It is not surprising and nothing new when a minister has to contend with church officers and members who block his efforts to make changes, criticize his sermons, and treat him unkindly, though he has been diligent and devoted in his ministry among them. Some of the Corinthians went so far as to question his apostolic character. He answers some of their criticisms in this chapter, and he does it in a manner which shows him to be a remarkable example of that self-denial, for the good of others, which he had been recommending in the former chapter.
There are four parts to this Chapter:
I. Privileges of an Apostle—verses 1-6
II. Support of an Apostle—verses 7-14
III. Renunciation by an Apostle—verses 15-23
IV. Discipline of Christian Freedom—verses 24-27

Commentary
1 Am I not an Apostle? am I not free? have I not seen Jesus Christ our Lord? are not ye my work in the Lord?
Am I not an Apostle?
I believe there is sufficient evidence to say that there were persons at Corinth who questioned the Apostleship of St. Paul; and in order to avoid criticism he was obliged to walk very cautiously so that they might not find anything to use against him. It also looks as if he ministered to them free of charge; and even this, which was the highest proof of his impartial goodwill, was used by his opposition as an argument against him. They may have said something like this; "Prophets, and all divinely commissioned men, have a right to be supported by the church, but you take nothing for your labors; could the reason be that you are under conviction, that you have no apostolic right to our support" The Apostle begins to defend himself with this verse.
"Am I not an Apostle?" Of course the answer is, "Yes, Paul, you are an Apostle." Such an obvious truth should hardly need stating. The way this question is presented in the Greek demands a positive answer. But this was the point that needed to be settled; and it is likely that some at Corinth had denied that he could be an Apostle, since it was required that in order to be acknowledged as an Apostle one had to have seen the Lord Jesus; and since it was thought that Paul had not been a eyewitness of his life, miracles, teaching, doctrines, or death; he could hardly call himself an Apostle of His.
What evidence could Paul give to show he was indeed an Apostle of the Lord Jesus Christ? He begins with this verse to present his qualifications. The evidence of Paul's true status as an Apostle is shown in the following statements:
1. "Am I not free?" Paul was not under the authority of anyone but Jesus Christ; other Christians were under apostolic authority.
2. "Have I not seen Jesus
Christ our Lord?" Paul insists that he did not merely see a vision of Jesus, but an authentic appearance of the post-resurrection Jesus.
3. "Are you not my work in the Lord?" The proof is in the pudding. The work of God among the Corinthian Christians was evidence enough of Paul's apostolic credentials. In fact, the very existence of the Corinthian church was the seal of Paul's Apostleship in the Lord. If he was not an Apostle to others; he surely was to them. Whenever he speaks, he can do so with authority because of his relationship to the Corinthian assembly.
Some today claim to be Apostles on the level of Paul, because of visions or experiences they claim to have had. But seeing the resurrected Jesus is not the only qualification of a true Apostle; Paul was specifically commissioned as an Apostle when Jesus appeared to him on the Damascus Road (see Acts 26:12-18).They have given themselves the title, but they do not have the Apostles heart or his relationship with Jesus Christ or his level of filling with the Holy Spirit. I would not want to be in their shoes when they must appear before Him.
am I not free?
The answer to Paul's second question is once again an emphatic, "Yes, Paul, you are free." He could rightly claim to have the same commission, and mandate, and powers that the other Apostles had. What respect, or honor, or subsistence, can they demand, which I am not at liberty to demand as well as them? Paul had chosen to be independent of the Corinthian Church, and he had good reasons for it. But it was not what they claimed; that he was under conviction for never seeing Jesus. He could earn a living by plying his trade as a tentmaker; he had done it before. Being self sufficient and self supporting he would be free from those who sought to interfere with and influence his ministry. The Apostle's enemies at Corinth claimed, or at least insinuated that he was not a true Apostle, pointing to the fact that he did not have anything to do with Jesus while he lived. In his defense, the first thing he mentions is his freedom, that is, from men; no man had any authority over him; he was not taught, or commissioned, or ordained as a minister by men, but by Jesus Christ, as the other Apostles were. The Apostles were given first place in the church, and had power to instruct, send forth, and ordain others; but no one had power over them; and this was one proof that he was an Apostle; because he was free. "Am I not as free as any other believer to regulate my conduct according to my own convictions of what is right—free from any obligation to conform to the opinions or prejudices of other people?"
The Syriac, Ethiopic, Vulgate Latin, the Alexandrian versions, and some other copies put this clause first; and many interpreters have the same opinion that it is the best order of the words. The clause would then read; "Am I not free? am I not an Apostle?" With this sentence structure the Apostle proceeds by a progression from the less to the greater, showing his respect for his freedom to use things that are indifferent, such as meats offered in sacrifice to idols, although he did not use his liberty, because he wanted to avoid wounding the consciences of "weaker brethren." It did not follow therefore that he was not free, as some might suggest from what he had said in the latter part of the foregoing chapter. Or he may have wanted to demonstrate his respect for his freedom from the ceremonial law in general; he was willing, for the sake of gaining souls for Christ, to become all things to all men; to the Jews he became a Jew, that he might gain them; yet he acted in a manner that would preserve his liberty in Christ, without entangling himself with the yoke of bondage. But if you would ask my opinion, I would tell you that the words are in the right order, because I believe the King James Version is the most accurate translation available, so I say "Leave it alone."