Privileges of an Apostle Page 2 (series: Lessons on 1 Corinthians)
by John Lowe
(Woodruff, S.C.)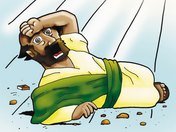 have I not seen Jesus Christ our Lord?

Here it is implied by Paul, that in order to be an Apostle it was necessary to have seen the Savior. This is made a prerequisite in other places as well. The reason this was a requirement, is that the Apostles were appointed to be WITNESSES of the life, doctrines, death, and resurrection of the Lord Jesus, and their being witnesses was something that was a PECULIARITY of the apostolic office. That this was the case is abundantly obvious from the following verses:
• Matthew 28:18,19—"And Jesus came and spake unto them, saying, All power is given unto me in heaven and in earth…Go ye therefore, and teach all nations, baptizing them in the name of the Father, and of the Son, and of the Holy Ghost:"
• Luke 24:48—"And ye are witnesses of these things."
• Acts 1:21,22—"Wherefore of these men which have companied with us all the time that the Lord Jesus went in and out among us…Beginning from the baptism of John, unto that same day that he was taken up from us, must one be ordained to be a witness with us of his resurrection."
• Acts 2:32—"This Jesus hath God raised up, whereof we all are witnesses."
• Acts 10:39-41—"And we are witnesses of all things which he did both in the land of the Jews, and in Jerusalem; whom they slew and hanged on a tree…Him God raised up the third day, and shewed him openly…Not to all the people, but unto witnesses chosen before of God, even to us, who did eat and drink with him after he rose from the dead."
And so, in order to be an Apostle, it was essential that one had been a witness, and, that he should have seen the Lord Jesus. In the case of Paul, therefore, who was called to this office after the death and resurrection of the Savior, and who had not therefore had the opportunity of seeing and hearing him when living, this was provided for by the fact that the Lord Jesus showed himself to him after his death and ascension, in order that he might have this qualification for the apostolic office—"And as he journeyed, he came near Damascus: and suddenly there shined round about him a light from heaven…And he fell to the earth, and heard a voice saying unto him, Saul, Saul, why persecutest thou me?...And he said, Who art thou, Lord? And the Lord said, I am Jesus whom thou persecutest: it is hard for thee to kick against the pricks…And Ananias went his way, and entered into the house; and putting his hands on him said, Brother Saul, the Lord, even Jesus, that appeared unto thee in the way as thou camest, hath sent me, that thou mightest receive thy sight, and be filled with the Holy Ghost." (Acts 9:3-5, 17; KJV).
Paul frequently mentions the fact of his having been qualified for the apostolic office in a miraculous manner, and always with the same belief, that it was necessary to have seen the Lord Jesus to qualify one for this office:
• "And he said, The God of our fathers hath chosen thee, that thou shouldest know his will, and see that Just One, and shouldest hear the voice of his mouth…For thou shalt be his witness unto all men of what thou hast seen and heard" (Acts 22:14-15; KJV).
• "But rise, and stand upon thy feet: for I have appeared unto thee for this purpose, to make thee a minister and a witness both of these things which thou hast seen, and of
those things in the which I will appear unto thee" (Acts 26:16; KJV).
• "And last of all he was seen of me also, as of one born out of due time" (1 Cor 15:8; KJV).
It follows from this, therefore, that no one was an Apostle in the strict and proper sense that had not seen the Lord Jesus. And it follows, also, that the Apostles could have no successors in the distinctive office in which they served the Lord Jesus; and that the office of Apostle must have commenced and ended with them.
Paul had a spiritual sight of The Lord by faith, but that did not qualify him to be an Apostle; this is what he had in common with other believers. Whether he saw him in the flesh, before his crucifixion and death, is not certain; though it is very probable he might have; yet this was no more than what Herod and Pontius Pilate did. But he saw him after his resurrection from the dead, to which he refers in 1 Corinthians 15:8 (see above) as a proof of his Apostleship; this is what the Apostles were chosen to be eyewitnesses of—"Not to all the people, but unto witnesses chosen before of God, even to us, who did eat and drink with him after he rose from the dead" (Acts 10:41; KJV)—and to publish it to the world.
Scriptures reveal that our Apostle saw Christ several times; first at the time of his conversion, next when in a trance at Jerusalem (Ac 22:17), and again in the castle where the chief captain put him for security, and very probably also when he was caught up into the third heaven.
are not ye my work in the Lord?
Paul had been used by the Lord to start the church at Corinth, and the Corinthian believers should have been the last people on earth to doubt he was a true Apostle. They should have needed no other proof of his Apostleship, and the genuineness of his mission. What Paul is saying here is simply this: "If anyone wants to know whether or not I am a genuine Apostle, I will show him you Christians in Corinth who were converted through my ministry. I will point out to him the divine proofs of my Apostleship. First you received my preaching, then you exercised faith in Christ, and were saved through the gospel I preached to you; God then poured out many and varied gifts of the Holy Ghost upon you.
What had happened in the individual lives of the believers at Corinth should have been proof enough to them that Paul was God's appointed Apostle, for certainly no MAN could have effected such a change in their lives as that change that occurred when they received Paul's message. It must have hurt the Apostle deeply when some of his own converts took sides with those who accused him of being a counterfeit Apostle.
The final proof that a man himself knows Christ is that he can bring others to him. It is said that once a young soldier, lying in pain in a hospital, said to Florence Nightingale as she bent over to tend to him, "You are Christ to me." The reality of a man's Christianity, is that he helps others to be Christian.
Any persons who would try to prove that Paul was not an Apostle must refute three facts: "I have seen the risen Lord; I have received a commission; I have been successful in my labors." Others may deny his right to be called "Apostle" but certainly the Corinthians cannot. They knew better!