Privileges of an Apostle Page 3 (series: Lessons on 1 Corinthians)
by John Lowe
(Woodruff, S.C.)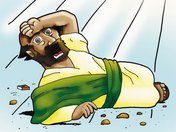 2 If I be not an Apostle unto others, yet doubtless I am to you: for the seal of mine Apostleship are ye in the Lord.

If I be not an Apostle unto others,
These words of the Apostle were spoken as a matter of conjecture, not as an acknowledgment; because he was an Apostle to many others; he was an Apostle to the Gentiles in general; the same as Peter was an Apostle to the Jews. The purpose behind the statement was to establish his authority among the Corinthian believers, so that he could put an end to the disputes surrounding his claim to Apostleship. I believe what the Apostle is saying is this: "If there are those, who have doubts as to my Apostleship, then they have a problem, because I planted your Church by my ministry, therefore they do not have any ground for doubt; either they must recognize me as an Apostle or they are not true believers." Paul does not rely on mere words, since there seems to be an inference in this statement that the reality of his Apostleship can be seen in the faith of the Corinthians, because God had sealed his Apostleship by their faith. It is true that there are false prophets who gather followers around them by teaching counterfeit doctrines; but Paul is not one of them, since the doctrine he teaches is pure and comes from above. Pure doctrine, and its effect, above everything else, is required in a ministry, in order that anyone may have his ministry confirmed in the sight of God. There were preachers back then, as well as there are today, who succeed at spreading the kingdom of Christ, who, do not preach the gospel sincerely, but Paul has good reason to infer from the fruit of his labor, that he is divinely commissioned: because the blessing of God could be easily seen shinning forth in the Corinthian Church, which ought to have served as a confirmation of Paul's office.

yet doubtless I am to you:
"If I have not given convincing evidence of my standing as an Apostle of Jesus Christ to others, I certainly have to you. I have ministered successfully to you for a long time, so you should not doubt that I was sent to you by the Lord. You have observed me labor in the ministry, you know me and you have benefited from the gifts the Lord has granted to me, all of which I have used to establish you in the Lord. You have seen my success, and you have had abundant evidence that I have been sent on this great work by the Lord Himself." All the signs of Apostleship were done among them through his labors; not only was the grace of God implanted in them under his ministry, but the extraordinary gifts of the Spirit were also received by them; and many signs, wonders, and mighty deeds, were done by him in their presence: "Truly the signs of an Apostle were wrought among you in all patience, in signs, and wonders, and mighty deeds" (2 Cor 12:12; KJV). These were miracles of the same degree as the acknowledged Apostles worked; there were "signs" or evidences that they were divinely commissioned—"He that believeth and is baptized shall be saved; but he that believeth not shall be damned. And these signs shall follow them that believe; In my name shall they cast out devils; they shall speak with new tongues; They shall take up serpents; and if they drink any deadly thing, it shall not hurt them; they shall lay hands on the sick, and they shall recover" (Mark 16:16-18; KJV). Even for those who must see a thing before they believe it, the miracles should have been sufficient to put the matter to bed. Therefore it is strange that you doubt my apostolic commission; and it is hurtful when you interpret my declining to accept your offerings for my support, as a sign that I think I am not entitled to it. You, above all others, cannot deny my Apostleship, since you are the seal of my Apostleship. As far as the Corinthian church was concerned, he didn't have to defend his Apostleship. It was evident to the Christians there that he was an Apostle.
for the seal of mine Apostleship are ye in the Lord.
When the Jewish priests and elders approached Jesus with the question, "By what authority doest thou these
things?" (Matt 21:23; KJV), they hoped to use his answer to discredit him with the people. But He answered their question with a question of his own: "The baptism of John, whence was it? from heaven or from men? And they reasoned with themselves, saying, If we shall say, From heaven; he will say unto us, Why then did ye not believe him?...But if we shall say, From men; we fear the multitude; for all hold John as a prophet…And they answered Jesus, and said, We know not. He also said unto them, Neither tell I you by what authority I do these things" (Matt 21:25-27; ASV). The people believed in John's ministry and that he was sent by God, because of his success. Paul had, in 1 Corinthians 9:1, told them they were his work in the Lord, and here he says that he was an Apostle, that is, one sent by Christ to them for the salvation of their souls; whatever he was to others, he was certainly an Apostle to them, and they were the "seal" of his apostolic office.
A "seal" is an embossed emblem, figure, or symbol, used as evidence of authenticity and when it is affixed to a deed, or any such document, it makes that document firm, secure, and indisputable. The sense here is, therefore, that the conversion of the Corinthians was an indisputable demonstration that he was an Apostle, and should be regarded as such by them, and appropriately treated by them. They were his proof that he was an Apostle:
1. Because Paul claimed to be an Apostle while he worked among them, and God blessed his claim.
2. Their conversion could not have been accomplished by a mere man. It was the work of God. It was the evidence then which God gave to Paul and to them, that he was with him, and had sent him.
3. They knew him, scrutinized him, heard him, were acquainted with his doctrines and manner of life, and could testify to what he was, and what he taught.
We may say with confidence that the conversion of sinners is the best evidence any minister can have that he is sent by God. The divine blessing on his labors should fill his heart with joy, and lead him to believe that God has sent him and approves of him. And every minister should live and labor in such a manner, that he may be able to appeal to the people among whom he labors that he is a minister of the Lord Jesus.
It is true that we cannot conclude, that a minister is no true minister if men are not saved under his ministry, since the spiritual seed may lie dormant for a time under the clods of doubts and fear, but where there is the saving of souls it is a most certain sign that the minister is a true minister, that is, one sent by God; because he could not be an instrument of God if God was not with him, and if God had not sent him.
3 Mine answer to them that do examine me is this,
Without a doubt this verse points back to what has been said in verses 1 and 2. The word rendered "examine" means "critical investigation," pointing of course to Paul's enemies who claimed he was not a divinely appointed Apostle. Here it is used in the sense of a judicial investigation. The fact that the word is in the present tense points out that some of the church at Corinth were making a practice of suggesting that Paul was not a true Apostle; but he simply points to his converts as divine proof that he was God's Apostle, and that the believers in Corinth were converted because God had used him to bring the message of salvation which they had received, through which they were saved, and wherein they were standing: "Moreover, brethren, I declare unto you the gospel which I preached unto you, which also ye have received, and wherein ye stand; By which also ye are saved, if ye keep in memory what I preached unto you, unless ye have believed in vain. For I delivered unto you first of all that which I also received, how that Christ died for our sins according to the scriptures; And that he was buried, and that he rose again the third day according to the scriptures" (1 Cor 15:1-4; KJV).