Privileges of an Apostle Page 5 (series: Lessons on 1 Corinthians)
by John Lowe
(Woodruff, S.C.)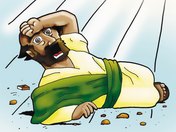 and as the brethren of the Lord,
The half brothers of the Lord Jesus were James and Joses, and Simon and Judas according to Matthew 13:55: "Is not this the carpenter's son? is not his mother called Mary? and his brethren, James, and Joses, and Simon, and Judas?" It seems from this, that although, at first, they did not believe in him—"For neither did his brethren believe in him" (John 7:5; KJV)—and had regarded him as disgraceful—"When his family heard about it, they went to get him. They said, "He's out of his mind!" (Mark 3:21; GW)—however, they were subsequently converted, and were engaged as ministers and evangelists. Note, it is customary in scripture to give the name of brethren to those who were connected with Him by relationship.
The reasonable interpretation of this passage is that "the brethren of the Lord," were the sons and daughters of Joseph and Mary. The people in the neighborhood thought so, and spoke of them as such, without hesitation. This is also the view of St. Clement of Alexandria in ancient times, and modern writers who were very different from each other; men such as De Wette, Neander, Osiander, Meyer, Ewald, and Alford. The theory of Jerome, that they were cousins of Jesus, and the sons of Alphseus and Mary, a sister of the Virgin Mary, is in every way absolutely unsustainable, and it was partially dropped even by St. Jerome himself, when it had served his controversial purpose. The theory of Epiphanius, that they were sons of Joseph by a previous marriage, is possible, but incapable of proof. It comes from a polluted source—the apocryphal Gospels. There is nothing in the New Testament that requires these to be understood in any other way than as the half-brothers of Jesus, the natural children of Joseph and the Virgin Mary, her virginity following the birth of Jesus being nothing but a superstition. Note, It should be pointed out that the Lord Jesus had sisters as well as the brothers: "Isn't this the carpenter's son? Isn't his mother's name Mary? Aren't his brothers' names James, Joseph, Simon, and Judas?...And aren't all his sisters here with us?..." (Matt 13:55-56; GW).
and Cephas?
"Cephas" was the name given to Peter by Jesus: "And he brought him to Jesus. And when Jesus beheld him, he said, Thou art Simon the son of Jona: thou shalt be called Cephas, which is by interpretation, A stone" (John 1:42; KJV). Cephas is a Hebrew word, and Peter is the Greek form. There are several conclusions relating to Peter, which can be drawn from this verse:
1. That Peter had been married; which is also clearly stated in Matthew 8.14: "And when Jesus was come into Peter's house, he saw his wife's mother laid, and sick of a fever."
2. That he had a wife after he became an Apostle, and while engaged in the work of the ministry.
3. That his wife accompanied him in his travels.
4. That it is right and proper for ministers and missionaries to be married now.
5. That those who promote celibacy among the clergy by citing the example of the Apostles are promoting a fallacy.
It seems strange to me that the bogus successor of Peter, the Pope of Rome, would forbid marriage when Peter himself was married? It is proof of how little the Catholic Church regards the Bible, and the example and authority of those from whom it pretends to derive its power? But it explains why the Popes forbad common people to read the Bible, conducted the mass in Latin, and have their own version of the Bible. And again, it is strange that this doctrine of the celibacy of the clergy, which has been the source of scandal, and depravity everywhere, should have been continued and tolerated at all by the Christian world? And it is it strange that this, with all the other corrupt doctrines of the papacy, should be or attempted to be imposed on the enlightened people of the United States, as a part of the religion of Christ? Catholics, in general must not read the Bible, or else they would question many of their doctrines, and would leave their religion for one that respects the Word of God.
6 Or I only and Barnabas, have not we power to forbear working?
Or I only and Barnabas,
To paraphrase the verse: "Are Barnabas and I the only exceptions to the rule that ministers should be supported by their respective churches?" At the beginning of his ministry in Corinth, the Apostle supported himself: Paul and Barnabas had worked together as tent-makers at Corinth; "And because he was of the same craft, he abode with them, and wrought: for by their occupation they were tentmakers" (Acts 18:3; KJV). This is the first mention of the craft by which Paul earned his daily bread, so often during his toilsome life. Every Jewish boy was taught a trade, and Paul no doubt learned his in Tarsus. When financial aid did come, it did not come from the Corinthian assembly. This issue was no doubt an embarrassment to the Corinthians, and appears to have been an annoyance to the Apostle.
It seems from this statement by the Apostle:
1. That the Apostles did not generally support themselves by their own labor. Most of them were fishermen; rough, uneducated and completely lacking in social skills. They may have fished when their travels brought them near the Sea of Galilee, but at all other times they were like fish out of water, as far as being able to support themselves. For that reason they required support from churches in order to survive.
2. That Paul and Barnabas were able to support themselves by making tents that could be sold in the marketplace.
3. Some of the others probably did not have a business at which they could conveniently work; but Paul and Barnabas had a trade at which they could conveniently labor wherever their travels took them.
Most of the other Apostles received support from the churches they ministered to. Paul and Barnabas were unique in this regard, since they chose to work and support themselves, so no one could say that the motive behind their preaching was money. We might think this would make Paul and Barnabas more respected in the sight of the Corinthian Christians. But instead, it made them less respected, which seems very strange to me. It was almost as if the Corinthian Christians would say, "If Paul and Barnabas were real Apostles, we would support them, but since they are not supported, we suppose they aren't real Apostles." It is a strange way of thinking, if you ask me. While commendable in the highest degree, this renunciation of the right of support on the part of Paul and Barnabas resulted in their being looked down upon by some who were steeped in the culture of the Greeks. The philosophers regarded the men who performed menial tasks as inferior. Working with one's hands for his support was detested by them.
Like St. Paul, Barnabas was in every respect a genuine Apostle, by the Divine call—"As they ministered to the Lord, and fasted, the Holy Ghost said, Separate me Barnabas and Saul for the work whereunto I have called them" (Acts 13:2; KJV); "And when James, Cephas, and John, who seemed to be pillars, perceived the grace that was given unto me, they gave to me and Barnabas the right hands of fellowship; that we should go unto the heathen, and they unto the circumcision" (Gal 2:9; KJV)—though neither of them were one of the twelve. Barnabas seems to have continued to work alone and independently in his separate mission work; the practice of independence which he had learned from St. Paul. This mention of Barnabas is interesting, because it is the last time that the name of Barnabas occurs, and it shows that, even after the quarrel and separation, Paul regarded him with love and esteem.
Paul's argument is simply that he was as fully entitled to be supported by the churches as were any of the other Apostles, a right proved by the general acceptance of it throughout the brotherhood of that day; but he chose not to use that right.