Privileges of an Apostle Page 6 (series: Lessons on 1 Corinthians)
by John Lowe
(Woodruff, S.C.)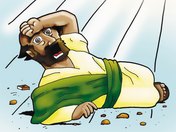 have not we power to forbear working?
"Don't we have the same right to abstain from labor, and to receive support as others do? The question implies a strong affirmation that they indeed had such power. The sense is, "Why should I and Barnabas be regarded as having no right to support? Have we been less faithful than others? Have we done less? Have we given fewer evidences that we are sent by the Lord, or that God approves of us and our work? Have we been less successful? Why then should we be singled out; and why should it be supposed that we are obliged to labor for our support? "Is there no other conceivable reason" why we should support ourselves than awareness that we have no right to receive support from the people for whom we labor?" It is evident from 1 Corinthians 9:12 that Barnabas as well as Paul relinquished his right to support, and labored to maintain himself: "If others be partakers of this power over you, are not we rather? Nevertheless we have not used this power; but suffer all things, lest we should hinder the gospel of Christ" (1 Cor 9:12; KJV).
And it is obvious from the whole passage, that there was some special "malice" against these two ministers of the gospel. We do not know what it was, but it is very visible in the criticism and disrespect they met. It might have arisen from the hate and opposition of Judaizing teachers, who were offended by their zeal and success among the Gentiles, and their attitude was aggravated when they could find no other cause for complaints against them than that they chose to support themselves, and not live in idleness, or to tax the church for their support. That must have been a poor cause if it could be sustained by such an argument.
Paul worked at his trade, and so it seems Barnabas did likewise: Paul worked with his hands at Corinth, along with his dear friends Aquila and Priscilla, since they were also tentmakers—"And because he was of the same craft, he abode with them, and wrought: for by their occupation they were tentmakers" (Acts 18:3; KJV)—as he was. It was how he earned a living in other places; he appealed to the elders of the church at Ephesus to confirm this: "Yea, ye yourselves know, that these hands have ministered unto my necessities, and to them that were with me" (Acts 20:34; KJV)—and also to the church of the Thessalonians: "For ye remember, brethren, our labour and travail: for laboring night and day, because we would not be chargeable unto any of you, we preached unto you the gospel of God" (1 Thess 2:9; KJV). Paul had the right and power to quit his business of tent making and require support from the churches he ministered to; but for some reasons he chose not to make use of his power and liberty. It is likely that he did not want to be in debt to those he preached to. When he preached to them for the first time he did not want them to think he had worldly selfish ambitions in view, and not the good of souls, and glory of Christ; however, here he lets them know, that though Barnabas and he continued to get their bread by their own hard labor, they had a right to quit their trades, and throw themselves upon the church for their support. The Apostle seems, by this stance, to imitate the ancient, wise, and holy men of his nation, who taught the law freely, and took nothing for it; not that they thought it was unlawful, or that they had no right to receive support on account of it, but for the honor of religion, and the piety they professed.