Prologue and Blessings Part 2 of 3 (Rev. series)
by John Lowe
(Woodruff, S.C.)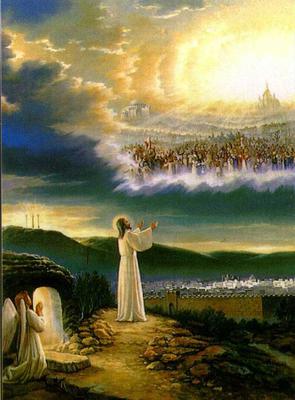 This book is the revelation of Jesus Christ. God gave the revelation of His plan to Jesus Christ (see also John 1:18; 5:19-23; 12:49; 17:8). Jesus Christ, in turn, sent His angel, who revealed it to His servant John (see also 22:16). The angel will explain various scenes to John, acting as a guide. Angels are referred to sixty-seven times in Revelation. They are highly significant in this book; we see them worshipping God, revealing His Word, and carrying out His judgments. But angels were not always the ones conveying information. Sometimes Christ Himself communicated information to John (Revelation 1:10); sometimes it was an elder (Revelation 7:13); but often it was an angel (Revelation 17:1; 19:9-10). Sometimes a "voice from heaven" told John what to say and do (Revelation 10:4).

The ultimate purpose of God is to have His will done on earth as it is in heaven. The book of Revelation shows that no power in heaven, earth, or hell can frustrate the fulfillment of that plan. God's kingdom will come, whether men like it or not. The book of Revelation is occupied for the most part with events which have little bearing on our lives, for most of the matters with which it deals will take place after the church has been removed from the scene.

God has a plan for this earth. The book of Revelation draws all the strands of prophecy from the other books of the Bible and weaves them into a detailed picture of things to come. However, it is not just a revelation—or the unveiling—of the person of Christ, although in the book we see His high priestly, kingly glory; but the greater portion of it is given over to the unveiling of those events which will precede and accompany the return of the Lord Jesus to this earth. This truth is clearly seen from the fact that the Revelation was given to Jesus Christ by God the Father to show unto servants things which must soon take place.

John, the servant, then passed the message along to the churches—God's servants. God's people are described as "servants" in Revelation (see, for example, 2:20; 7:3; 22:3). The word "servant" is used elsewhere in the New Testament to describe believers. The real servant of God is, in fact, his slave. A servant can leave his service when he likes; he has specified hours of work and stated hours of freedom; he works for a wage; he has a mind of his own and can bargain as to when and for what he will give his labor. A slave can do none of these things; he is the absolute possession of his owner, with neither time nor will of his own. Two things emerge from this:
• The greatest men regarded as their greatest honor the fact that they were servants of God.
• We must note the extent of this service. Moses, the law-giver; Abraham: the adventurous pilgrim; David, shepherd boy, sweet singer of Israel, king of the nation; Caleb and Joshua, soldiers and men of action; Elijah and Isaiah, prophets and men of God; Job, faithful in misfortune; the apostles, who conveyed to men the story of Jesus; every Christian—all are servants of God. There is no one whom God cannot use, if he will submit to His service.

The phrase "what must soon take place" denotes imminence—it would happen "soon." This seems odd to today's readers because 2,000 years have passed since the time this was proclaimed. We must remember that in apocalyptic literature the future is imminent, without concern for intervening time. Recall the words of 2 Peter 3:8, "A day is like a thousand years to the Lord, and a thousand years is like a day." God is timeless. It has only been a little over two days (according to God's great Time Clock of prophecy) since these words were uttered. Therefore, to those of us who are spiritually minded, who compare spiritual things with spiritual, it has not been a long time. It has only been two days. In God's eyes, the future is just around the corner, even though it may seem far away to us. No one knows when these events will happen, so believers should live at all times as though Christ will come in the next moment. The word "soon" (2:16; 22:7, 12, 20) means that the action will be sudden when it comes, not necessarily that it will occur immediately. Once the end-time events begin, they will occur in rapid succession (see Luke 18:8; Acts 12:7; 22:18; 25:4; Romans 16:20).

When He came to earth the first time, it was in meekness with His glory veiled. He came to be "obedient unto death, even the death of the cross" (Philippians 2:8). He was God manifest in flash, and He showed it in a thousand ways that only the eye of faith could recognize. James, for example, brought up in the same Nazareth home with Jesus, failed to recognize Him as the Son of God. He was perfect in character, perfect in conduct, in conversation, deity, and humanity, and yet was not known as such to the boys and girls who shared that Nazareth home!

One day, however, He is coming back with His glory all unveiled to smash the opposition of the world and to wield a scepter of iron. He is coming back in pomp and power to reign, backed by the hosts of heaven. His deity, manifest even now to the eye of faith, will blaze forth like flaming lightning then. In the book of Revelation, the Person of Christ is unveiled and we are given view after view of that glorious man who fills all heaven with His praise.

According to tradition, John, the writer, was the only one of Jesus' original twelve disciples who was still alive at this time (that is, if the date of a.d. 90-95 is accepted. John wrote the Gospel of John and the letters of 1, 2, and 3 John. John's Gospel and letters show the great God of love, while the thunder of God's justice bursts from the pages of Revelation. John wrote Revelation while in exile on the island of Patmos in the Aegean Sea, sent there by the Romans as punishment for his witness about Jesus Christ. Shut off from the rest of the world, he entered into a communion with his Lord he had never known before. It is true that John the Beloved is the writer of the book of Revelation, but he is not the author. The Father of Revelation is the Lord Jesus, Himself. The Apostle John was the scribe . . . the holy man to whom God spoke these words. It seems that the Holy Spirit desires to make this known clearly an unmistakably. Revelation 1:1 and Revelation 22:8 clearly declare that the revelation came from God Almighty—not from man. The book of Revelation is not history, as some would have you believe. This book records things past, things present, and things yet to come.

Jesus gave His message to John in a vision, allowing him to see and record certain future events so that they could be an encouragement to all believers. The vision includes many signs and symbols that convey the essence of what is to happen. What John saw, in most cases, was indescribable, so he used illustrations to show what it was like. Readers of this symbolic language don't have to understand every detail—John himself didn't. Instead, we must realize that John's imagery reveals that Christ is indeed the glorious and victorious Lord of all. Some of Revelation's original readers were being severely persecuted because of their faith. The awesome and sometimes frightening pictures of Jesus' ultimate victory over evil were intended to encourage them to persevere.

Why does John use symbolism? For one thing, this kind of "spiritual code" is understood only by those who know Christ personally. If any Roman officers had tried to use Revelation as evidence against Christians, the book would have been a puzzle and a mystery to them. But an even greater reason is that symbolism is not weakened by time. John was able to draw on the great "images" in God's revelation and assemble them into an exciting drama that has encouraged persecuted and suffering saints for centuries. However, you must not conclude that John's use of symbolism indicates that the events described are not real. They are real!

There is a third reason why John used symbolism: symbols not only convey information, but also impart values and arouse emotions. John could have written, "A dictator will rule the world," but instead he described a beast. The symbol says much more than the mere title of "dictator." Instead of explaining a world system, John simply introduced "Babylon the Great" and contrasted the "harlot" with the "bride." The very name "Babylon" would convey deep spiritual truth to readers who knew the Old Testament.

Jesus is the ruler of the universe! He will come to this earth in victory. For believers, this is Good News. For unbelievers, it's a sober call to repent of their evil ways and prepare for Christ's return. The same God who controlled the past, and who will be in control in the future, still controls the present—even if it seems as though evil his winning. This world is an allusion; the real world is the spiritual world. God is allowing evil to triumph for a time, but evil is ultimately doomed. The primary point of this book of Revelation is that God is sovereign. He has already determined the end of history. The secondary point is that Satan's rebellion is futile although Satan is the ultimate foe of God and God's people, he has already lost.