Promised Land part 3
by John Thomas Lowe
(Woodruff, S.C.)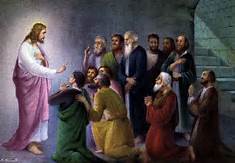 part 3
The Faith of Joshua and the Fear of Israel
Through their deliverance from Egypt, the Israelites had witnessed first-hand God's provision, His power, and His faithfulness to the promises made to their ancestors (Genesis 15:14, Exodus 15:1-21)) And God continued to provide for all their needs. As they began their journey to Canaan, God provided food and water. (Exodus 16:12-15, Exodus 15:25) He provided clothes and shoes that never wore out. (Deuteronomy 29:5) He gave them His law. (Exodus 5:6-21) And most importantly, God gave the Israelites the gift of His sheltering and guiding presence. (Exodus 13:21)
When the Israelites reached the border of the promised land, in Kadesh Barnea, God instructed Moses to "Send out for yourself men to spy out the land of Canaan, which I am giving to the Israelites."
Until then, the whole region near Canaan had been inhabited by wicked nations driven by idolatry (Deuteronomy 9:4). Because of the sinful nature of these nations, not because of Israel's rightness, God determined to drive them out and turn the land over to His children.
However, when Israel's spies returned from their land survey, they were afraid and spread their fear to the Israelites. Instead of trusting in God's continued deliverance and provision, the spies relied on their flawed wisdom based on the dangers they saw during their expedition. Their report included tales of unconquerable rulers, impossible odds, and super-human giants. (Numbers 13:32)
Of the twelve spies, only Joshua and Caleb spoke the truth about Canaan based on God's promise. "The land we passed through and explored is exceedingly good. If the Lord is pleased with us, he will lead us into that land, a land flowing with milk and honey, and give it to us. Only do not rebel against the Lord. Moreover, do not be afraid of the people of the land because we will devour them. Their protection is gone, but the Lord is with us. Do not be afraid of them." (Numbers 14:6-7).
The doubting Israelites wanted to stone Joshua and Caleb after their faith-filled report. They could not imagine overcoming the odds stacked against them. They fell into deep despair and wept bitterly. Disgusted with the Israelite's continued unbelief, grumbling, and complaining, God considered destroying the people with a plague (Numbers 14:11) until Moses interceded.
Although God chose to forgive His people—their unbelief had cost them the privilege of ever entering the land of promise. (Numbers 14:23) Instead, they would wander the wilderness for forty years until all the adults were buried outside the Promised Land border. Then, their children would be able to prove themselves faithful to God and enter Canaan. Only Joshua and Caleb, the two faithful spies, were exempt from God's just punishment.
What Can We Learn from This Bible Story?
"The Israelite's wilderness situation was ordained to prepare them for the promise. The Israelites' continued acts of rebellion outward manifested a much bigger issue—their lack of faith. Unfortunately, their behavior patterns kept them stuck for far longer than God intended."
Even though God had repeatedly demonstrated His trustworthiness to the Israelites, they allowed fear to keep them from resting in His continued provision. That unchecked fear would eventually keep them from entering God's promised land.
Believers are faced with the choice between faith and fear regularly. James 1:3 tells us that God tests our faith on purpose so that He can produce in us perseverance and maturity in Christ. The good news is that we do not have to combat fear alone. We are invited to cast our cares on God, and we are promised His perfect love casts out all fear. (1 Peter 5:7, 1 John 4:18)
The New Promised Land: Kingdom of Heaven
When Jesus Christ arrived in Israel, he brought a new covenant accessible to all people, Jews and Gentiles alike. At the end of Hebrews 11, the famous "Hall of Faith" section, scripture remarks that people of the Old Testament "were all commended for their faith, yet none of them received what had been promised." (Hebrews 11:39). They may have received the land. However, they still looked to the future for the Messiah—that Messiah is Jesus Christ.
Whoever believes in Christ as their Savior becomes a resident of the kingdom of God. As Jesus explained to Pontius Pilate, "My kingdom is not of this world. If it were, my servants would fight to prevent my arrest by the Jews. But now my kingdom is from another place." (John 18:36)
Joshua 1:13
13 "Remember the word that Moses, the servant of the LORD commanded you, saying, 'The LORD your God is providing you a place of rest and will give you this land.'
Genesis 15:18
18 On that day, the LORD made a covenant with Abram, saying, "To your offspring, I give this land, from the river of Egypt to the great river, the river Euphrates,
Genesis 12:7
7 Then the LORD appeared to Abram and said, "To your offspring, I will give this land." So he built an altar to the LORD, who had appeared to him.
Hebrews 4:7-11
7 God again set a certain day, calling it "Today." This he did when a long time later, he spoke through David, as in the passage already quoted: "Today, if you hear his voice, do not harden your hearts." 8 For if Joshua had given them rest, God would not have spoken of another day later. 9 So then, there remains a Sabbath rest for the people of God, 10 for whoever has entered God's rest has also rested from his works as God did from his. 11 Let us, therefore, strive to enter that rest, so that no one may fall by the same sort of disobedience.
Joshua 21:44
44 And the LORD gave them rest on every side just as he had sworn to their fathers. Not one of all their enemies had withstood them, for the LORD had given all their enemies into their hands.
Numbers 34:1-12
1Then the LORD spoke to Moses, saying, 2 "Command the sons of Israel and say to them, 'When you enter the land of Canaan, this is the land that shall fall to you as an inheritance, even the land of Canaan according to its borders. 3'Your southern sector shall extend from the wilderness of Zin along the side of Edom, and your southern border shall extend from the end of the Salt Sea eastward. 4'Then your border shall turn direction from the south to the ascent of Akrabbim and continue to Zin, and its termination shall be to the south of Kadesh-barnea; and it shall reach Hazaraddar and continue to Azmon. 5'The border shall turn direction from Azmon to the brook of Egypt, and its termination shall be at the sea. 6'As for the western border, you shall have the Great Sea, its coastline; this shall be your west border. 7'And this shall be your north border: you shall draw your border line from the Great Sea to Mount Hor. 8'You shall draw a line from Mount Hor to the Lebo-hamath, and the termination of the border shall be at Zedad; 9and the border shall proceed to Ziphron, and its termination shall be at Hazar-enan. This shall be your north border. 10'For your eastern border you shall also draw a line from Hazar-enan to Shepham, 11and the border shall go down from Shepham to Riblah on the east side of Ain; and the border shall go down and reach to the slope on the east side of the Sea of Chinnereth. 12'And the border shall go down to the Jordan and its termination shall be at the Salt Sea. This shall be your land according to its borders all around.'


Are You Waiting on the Edge of the Promised Land?