Psalm 3 (Part 1 of 3)
by John Lowe
(Woodruff, S.C.)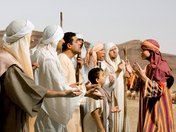 Tom Lowe

Psalm 3

Title: A Psalm of David. When he fled from his son Absalom.


1 O LORD, how many are my foes! How many rise up against me!
2 Many are saying of me, "God will not deliver him." "Selah"
3 But you are a shield around me, O LORD; you bestow glory on me and lift up my head.
4 To the LORD I cry aloud, and he answers me from his holy hill. "Selah"
5 I lie down and sleep; I wake again, because the LORD sustains me.
6 I will not fear the tens of thousands drawn up against me on every side.
7 Arise, O LORD! Deliver me, O my God! Strike all my enemies on the jaw; break the teeth of the wicked.
8 From the LORD comes deliverance. May your blessing be on your people. "Selah"


Introduction

This psalm, by using the example of David when he was experiencing distress, shows us the peace and security of the redeemed, under the divine protection of Almighty God—how safe they really are, and how safe they think they are. David, after he was driven out of his royal city by his rebellious son Absalom, is described as doing five things:
1. He complains to God about his enemies, specifically that there are so many of them (vv. 1, 2).
2. He confides in God, and is encouraged as he is reminded of His protection and blessings (v. 3).
3. He recollects the satisfaction he had in the gracious answers God gave to his prayers, and the joy he experienced because God had been so good to him (vv. 4, 5).
4. He expresses his confidence in God's ability and willingness to protect him from his enemies. (v. 6).
5. He asks the Lord to rise up against his enemies and strike them on the jaw and break their teeth; give him victory over them (v. 7).
6. He gives God the glory and takes comfort of the divine blessing and salvation which are sure to come to all the people of God (v. 8).

David here speaks of the power and goodness of God, and of the safety and tranquility of the godly.


Commentary

1 O LORD, how many are my foes! How many rise up against me!
2 Many are saying of me, "God will not deliver him." "Selah"

This Psalm is said to have been written by David on the occasion of him escaping from his son Absalom. The details of this event are recorded in 2 Samuel 15-18, but the heart of the matter is recorded in this Psalm.

When he wrote this Psalm David was in a great deal of trouble. His own son led what seemed to be a successful rebellion against him. Many of his formerly close friends and associates deserted him and joined the ranks of those who supported Absalom. Absalom must have been very popular with the people of Israel, for we read in 2 Samuel 15:13, "A messenger came and told David, 'The hearts of the men of Israel are with Absalom.'" David knew that Absalom was a ruthless man who valued power over principle. He didn't want the city of Jerusalem to become a battleground, so he fled the city.

David's situation was so bad that many of the Israelites felt he was beyond God's help. It was not that they believed God was unable to help David; they probably felt that God was unwilling to help him. They looked at David's past sin and figured, "This is all that he deserves from God. There will be no help for him coming from God." Hushai was an example of someone who said that God was against David and he was just getting what he deserved—"Hushai said to Absalom, 'Why should I? You are the one the LORD has chosen. These people and all of the men of Israel have also chosen you. I want to be on your side. I want to stay with you'" (2 Samuel 16:8). This thought was the most painful of all for David - the thought that God might be against him and that there is no help for him coming from God.

The glorious teaching of these first two verses lies in the fact that, "Trouble drove David to God in prayer, and not away from God in disbelief." When disaster threatens and everything seems to have gone wrong, it is never a time for falling into a spirit of bitterness, depression, and unfaithfulness, but a time for prayer and for casting ourselves upon the mercy of God.

Charles Spurgeon, when writing about this verse said "If all the trials which come from heaven, all the temptations which ascend from hell, and all the crosses which arise from the earth, could be mixed and pressed together, they would not make a
trial so terrible as that which is contained in this verse. It is the most bitter of all afflictions to be led to fear that there is no help for us in God."
"Selah" appears in many of the Psalms; but, the meaning of this word is very unclear. It is supposed to have marked certain pauses, or rests, when the Psalms were sung, or occasionally to have indicated certain special points of emphasis.
3 But you are a shield around me, O LORD; you bestow glory on me and lift up my head.
4 To the LORD I cry aloud, and he answers me from his holy hill. "Selah"
He was under attack by a cunning and ruthless enemy, and though many said God would not help him, David knew that God was his shield—they couldn't shake David's confidence in God, because he knew God loved him and would come to his aid. This wasn't a prayer asking God to protect him; this is a strong declaration of fact: "You, O Lord, are a shield around me." "God," said David, "is my shield." This expression brings to mind a soldier preparing for war, and implies David's sense of his own danger. Centuries earlier, God told Abraham in a vision that He would be his shield—"Some time later, Abram had a vision. The LORD said to him, "Abram, do not be afraid. I am like a shield to you. I am your very great reward." (Genesis 15:1).
God was more than David's protector; as David put it, "you bestow glory on me and lift up my head (raises me from despondency)." He was the one who put David on higher ground, lifting his head and showing him glory. He had fled from the capital in great humiliation, with his head covered, as a sign of mourning,
"But David went on up the Mount of Olives. He was sobbing as he went. His head was covered, and he was barefoot. All of the people who were with him covered their heads too. And they were sobbing as they went up" (2 Samuel 15:30).
but God would reverse his sorrow, restore his glory, and lift up his head. There was nothing glorious or head-lifting in David's circumstances, but there was in his God. God had raised up David to the throne (2 Samuel 2:4; 2 Samuel 5:3), and prospered him in his wars (2 Samuel 8:1-14), and exalted him above all the other kings of that period, so he was well able now, if he so willed, to restore him to his former place and re-establish him king in Israel. Men find glory in all sorts of things—fame, power, prestige, or possessions. David found his glory in the LORD. "Oh, my soul, hast thou made God thy glory? Others boast in their wealth, beauty, position, achievements: dost thou find in God what they find in these?" (Meyer)
"To the LORD I cry aloud," that is, "I cried out to the Lord." "Surely, silent prayers are heard. Yes, but good men often find that, even in secret, they pray better aloud than they do when they utter no vocal sound." (Spurgeon) The idea here is, "I will cry, and he will undoubtedly hear me." But, as we see from verse 6, God did not prevent tens of thousands from coming against him.
David cried out to the Lord for help, "and he answers me from his holy hill." Though David is now in exile at Mahanaim (2 Samuel 17:24), his thoughts revert to Jerusalem, to the holy hill of Zion, and the ark of God, which he has there "set in its place" (2 Samuel 6:17); and he knows that God, who "dwelleth between the cherubim" (1 Samuel 4:4), will hear him, though he is so far off. Others said that God wanted nothing to do with David but he could gloriously say, "He heard me." Though Absalom took over Jerusalem and forced David out of the Capitol David knew that it wasn't Absalom enthroned on God's holy hill. The LORD Himself still held that ground and would hear and help David from His holy hill. His holy hill is Zion
"He says to them, "I have placed my king on my holy mountain of Zion" (Psalm 2:6).
where God had recorded His name and where, in time, the temple would be built and serve as His visible earthly residence. There is a noticeable similarity here to the prayer of Jonah who also mentioned God's answer as coming from the temple—"When my life was nearly over, I remembered you, Lord. My prayer rose up to you. It reached you in your holy temple in heaven" (Jonah 2:7).
Thus David, in the midst of his dangers and distress, quiets his mind by calling to remembrance the power, and love, and faithfulness of God, and he trusts in Him.