Psalm 4—Talking To God And Men Part 3 of 4 (series: Lessons of Psalms)
by John Lowe
(Woodruff, S.C.)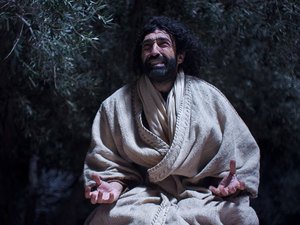 And be still.


When we are lying on our beds and it is dark and quiet it may feel as if we have retired from the world, and that is usually the best time to commune with the Lord. The bed is not only for sleep: "Talk with your own heart upon your bed, and be still." Be still or quiet, and then commune with your heart; and if you will commune with your heart, God will come and commune with your heart, too, his Spirit will give you a loving visit and visions of his love.

"Be still" is good, practical, advice, but it's hard to follow. At times we need God's grace in order to be still.

Selah.

On this word; see Psalm 3:2.

5 Offer the sacrifices of righteousness, and put your trust in the LORD.

Offer the sacrifices of righteousness.

Sacrifices of victims is not what is meant here, because if this psalm was composed at the time of David's exile, victims could be offered nowhere but at Jerusalem. We may suppose that he is making reference to those sacrifices which are most truly "sacrifices of righteousness," which would be "a broken spirit, and a broken and a contrite heart," which God "will not despise"—"The sacrifices of God are a broken spirit: a broken and a contrite heart, O God, thou wilt not despise" (Psalm 51:17).

Isaiah 61:8 states, "For I the LORD love judgment, I hate robbery for burnt offering; and I will direct their work in truth, and I will make an everlasting covenant with them." The prophet says that the Lord wants our offerings to be sacrifices of righteousness—Offer for sacrifice things obtained righteously, for the Lord hates robbery for burnt offering. This could have been said concerning the unrighteous acquisitions of Absalom and his men, and who were now in possession of Jerusalem, and of the altars of the Lord, and were sacrificing on them; and were very proud of themselves for doing it. Sacrifices of righteousness are to be made according to the law, and were offered in the right manner; animals which were not maimed and were without any blemish on them—"And you say, 'What a burden!' and you sniff at it contemptuously," says the LORD Almighty. "When you bring injured, crippled or diseased animals and offer them as sacrifices, should I accept them from your hands?" says the LORD" (Malachi 1:13). But the important ingredient in any sacrifice was not the animal, it was that it must be offered up in faith—faith in the great sacrifice, Christ; for without faith, it is impossible to please God by any sacrifice. And this view is confirmed by the following clause, "Put your trust in the Lord." Moreover, righteousness, to the Jews, signifies alms, benevolence, showing mercy to the indigent; and acts of liberality are sacrifices, with which God is well pleased; and which are preferred by Him to the sacrifices of the ceremonial law—"And do not forget to do good and to share with others, for with such sacrifices God is pleased" (Hebrews 13:16). The sacrifices also of a broken heart, and of a contrite spirit, are those which God appreciates; he dwells with those that have them.

And put your trust in the LORD.

"Put your trust in the Lord," because sacrifice without faith is futile. Even "sacrifices of righteousness," to be of any service, must be accompanied by trust in the Lord. Put your trust in the Lord: not in your strength, in horses and chariots, and numbers of men; nor in wise counsels, nor in riches, nor in fleshly privileges, nor in works of righteousness, or sacrifices of righteousness: for though they are to be performed, they are not to be trusted in; and don't even trust in your own hearts. And while the psalmist is striking at the false confidence of the men he is addressing, he may at the same time be thought to be encouraging those that were with him to trust in the Lord, Jehovah, the Son of God, who was spoken of by him before as the object of trust "Kiss the Son, lest he be angry and you be destroyed in your way, for his wrath can flare up in a moment. Blessed are all who take refuge in him" (Psalm 2:12; to trust in Him for the acceptance of their persons and sacrifices of righteousness; and in his righteousness for justification; in his blood for pardon; in his sacrifice for payment of sin; in his fullness for daily supplies; and in his power for protection and safety. And it is right to trust in him at all times; in times of affliction, temptation, and desertion: he is always the same; in him is everlasting strength; he has a desire as well as an ability to help and comfort, and no one who ever trusted in him was ever sorry they did, for they have peace and safety, and blessings that flow to them like manna from heaven.

David knew the value of religious observance (offering sacrifices), yet he also knew that they could not replace trust in the Lord. When religious observance is coupled with true
trust in God, we draw near to God and experience the benefits of drawing near.
We learn from this verse that there are two things which are required of every one of us:
1. That we serve Him: "Offer sacrifices to Him, our own selves first, and then your best sacrifices.'' But they must be sacrifices of righteousness, that is, good works, all the fruits of the love of God and our neighbor, and all the instances of a religious conversation, which are better than all burnt-offerings and sacrifices. Let all your devotions come from an upright heart; let all your alms be sacrifices of righteousness. God will not accept the sacrifices of the unrighteous; they are an abomination—"The multitude of your sacrifices—what are they to me?" says the LORD. "I have more than enough of burnt offerings, of rams and the fat of fattened animals; I have no pleasure in the blood of bulls and lambs and goats" (Isa. 1:11).
2. That we confide in him. We put our trust in the Lord. Serve God without any reservations, or any fear of losing anything because of it. Honor him, by trusting in him only, and not in your wealth or in your own strength; trust in his providence, and lean not to your own understanding; trust in his grace, and don't go about establishing your own righteousness or sufficiency. We must preach to ourselves the doctrine of the eliciting nature of sin, the lying vanity of the world, and the unspeakable happiness of God's people; and we must press upon ourselves the duties of fearing God, conversing with our own hearts, and offering spiritual sacrifices; and we must ask of God grace to think and do according to these verses.
6 There be many that say, Who will shew us any good? LORD, lift thou up the light of thy countenance upon us.
This is not a pure translation. The word "any" is not in the original text, nor is anything equivalent to it; and many have quoted it, and preached upon the text, placing the principal emphasis on this illegitimate word.
"There be many" (multitudes of men of every rank, class, race, nationality, etc.) that say, "Who will show us any good?"—That is, "Who will heap honors upon us? Who will point out the way to wealth and luxury? Who will present new sources of pleasure, so that we may indulge our appetites, and actually perform what we desire?" This is the gist of what the sacred writer intended by this question, but in the second half of this verse he expresses his own wiser sentiments in opposition to it, in which, is found an undeniable proof; "Lord, lift thou up the light of thy countenance upon us."
"Who will show us any good?"—Experience loudly testifies that what he suggests here is a false view of human happiness, and a fatal error, because reason plainly teaches that honors, riches, and sensual pleasures are as light as vanity, as fleeting as a bubble, and as thin and insubstantial as air. Man wants good and he hates evil, because it causes him pain, suffering, and death; and he wishes to find that supreme good which will content his heart, and save him from evil. But men mistake this good. They look for a good that will gratify their passions; they have no idea of any happiness that does not come to them through the medium of their senses. Therefore they reject spiritual good, and they reject the Supreme God, by whom alone all the powers of the soul of man can be gratified.
"Lift thou up the light of thy countenance"—this alone, the light of thy countenance—thy peace and approval, constitute the supreme good. This is what we want, wish, and pray for. This is the wish of the godly. The wish of the worldling is "Who will shew us any good;" they are engaged in purposes of gain, pleasure, or ambition; the godly, on the other hand, asked only for the favor of God—the light of the divine countenance. The phrase, "to lift up the light of thy countenance" occurs frequently in the Scriptures, and is expressive of favor and friendship. When we are angry or displeased, the face seems covered with a dark cloud; when pleased, it brightens up and expresses warm-heartedness. There is undoubtedly allusion in this expression to the sun as it rises free from clouds and storms, seeming to smile upon the world. It may be added here, that what the psalmist regarded as the "supreme good"—the favor and friendship of God—is expressive of true piety in all ages and at all times. While the world is busy seeking happiness in other things—in wealth, pleasure, partying, ambition, sensual delights—the child of God feels that true happiness is to be found only in religion, and in the service and friendship of the Creator; and, after all the anxious inquiries which men make, and the various experiments tried in succeeding ages, to find the source of true happiness, all who ever find it will be led to seek it where the psalmist said his happiness was found—in the light of the countenance of God.