Psalm 5: Part 2 of 7 (series: Lessons on Psalms)
by John Lowe
(Woodruff, S.C.)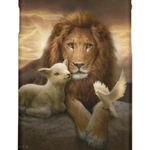 3 My voice shalt thou hear in the morning, O LORD; in the morning will I direct my prayer unto thee, and will look up.

My voice shalt thou hear in the morning, O Lord.

The voice refers to prayer; probably to the habit of praying in the morning, though he makes a particular reference to his circumstances at that time. The psalmist felt, no doubt, that while it was both a general duty and privilege to call upon God each morning, there was a special reason for it because of the circumstances in which he was in at that time. He was surrounded by enemies, and was in danger, and it was only by trusting in God that he could hope for protection even for a single day. The appropriateness of looking to God in the morning by prayer commends itself to any rational mind. Who knows what a day may give rise to? Who knows what temptations may lie ahead? Who can protect himself from the dangers which may await him? Who can enable us to perform the duties which are incumbent on us every day? Feeble, helpless, sinful, prone to mistakes, in a world of temptation, and surrounded by dangers, visible and invisible, there is an obvious appropriateness in looking to God each morning for his guidance and protection; and the attitude expressed by the psalmist here should be the firm purpose of every man.

In the morning.

David made it a point to pray in the morning. He did this because he wanted to honor God at the beginning of his day, and set the tone for an entire day dedicated to God.

Hudson Taylor, the famous missionary to China, had trouble finding time alone with God. He began to wake himself up at 2:00 in the morning and using those quiet hours when everyone else slept to commune with God. Observe what two prominent Bible scholars said on the subject:

• "What is a slothful sinner to think of himself, when he reads, concerning the holy name of Jesus, that "in the morning, rising up a great while before the day, he went out and departed into a solitary place, and there prayed?" (Mark 1:35).]. (Horne)

• "This is the fittest time for intercourse with God. An hour in the morning is worth two in the evening. While the dew is on the grass, let grace drop upon the soul." (Spurgeon)

Will I direct my prayer unto thee?

David is saying that for him prayer would be a regularly performed service before God. It would be a kind of morning sacrifice, and it would be arranged and performed with a suitable regard to the nature of the service—bearing in mind the fact that it was rendered to the great God. There would be a heartfelt regard for modesty and devotion with serious and solemn attention given to the duties involved in the worship of a holy God. Prayer should not be thoughtless; it should not be performed casually or with a frivolous spirit; it should involve the introspective thought of the soul, and it should be performed with the same serious regard for time and reverence which was demanded in the solemn and carefully prescribed rites of the ancient temple-service.

And will look up.

The word used here means "to look about," "to view from a distance." It brings to mind a sentry posted at the top of a tower where he has a clear view in every direction. The idea here is that he would watch, intently and carefully (as one does who is stationed on top of a tower), for some token of divine favor—for some answer to his prayer—for some divine intervention—for some indication of the divine will. This is, perhaps, equivalent to the Savior's repeated command to "watch and pray." The notion of looking "up" is not necessarily in the word used here, but it indicates the state of mind where there is deep and careful attentiveness to the answer to prayer.

4 For thou art not a God that hath pleasure in wickedness: neither shall evil dwell with thee.

Thou are not a God that hath pleasure in wickedness.

This contrasts the character of true Deity with the character of pagan gods and goddesses who were portrayed by their advocates as being pleased with decadence and other forms of evil.

The wicked in this passage regardless of their many names have one thing in common. God hates them! Unfortunately, they have nothing good to look forward to, because God hates them! I am sure someone will say, "Doesn't God love all men?" Yes, He certainly does. God's love potentially belongs to every man who was ever born, but the practice of wickedness alienates that love and changes it into hatred. Some would insist that Jesus Christ has changed all of that; but the New Testament indicates no such change.

"God will destroy ... them that speak lies ... the bloodthirsty." Lying and murder appear to be especially hated by the Heavenly Father. Satan himself is designated as the father of these very sins. Regarding murderers, modern society is reaping the very violence and bloodshed that would have been prevented if human society had heeded God's commandment in Genesis 9:6 "Whoever sheds the blood of man, by man shall his blood be shed; for in the image of God has God made man.", in which is found the Divine Commandment to put murderers to death. That is not permission to do so, or a suggestion to that effect, it is a heavenly order! Let people see in our own nation this very day the result of society's failure to obey God in this specific mandate.

As David drew closer to God he became more aware of God's holiness and man's sinfulness. This is a good way to measure how well you are praying and whether, as you pray, you are drawing close to God or are merely mouthing words. If you are drawing close to God, you will become increasingly sensitive to sin, especially your own, which is inevitable since the God you are approaching is a holy God. When he says, Thou art not a God that has pleasure in wickedness, he means, "Thou art a God that hates it, because it is directly contrary to thy infinite purity and righteousness, and holy will." Though the workers of iniquity prosper, no one should infer from that that God takes pleasure in wickedness. God has no pleasure in wickedness even though it may be covered with a cloak of religion. Let those therefore who delight in sin know that God has no delight in them.

Neither shall evil dwell with thee.

Evil cannot dwell with God—it cannot live or abide with Him. Evil men cannot live with God in the same house "LORD, who may dwell in your sanctuary? Who may live on your holy hill?" (Psalms 15:1), nor can they enjoy His favor or friendship. In verses 4-6 seven designations are given to the wicked, and all of them are abhorrent to God. God does not delight in the wicked, because between them there are no points of agreement. If God showed kindness to the wicked, it would seem as if he admitted them to his home (and approved of their wicked ways), as we do our friends and those whose company we enjoy. But since God would not do this, the psalmist feels that it was proper for him to call upon the Lord to deliver him from wicked people.

At least one commentator thinks this refers to that Law of Moses which would not permit strangers, who persisted in their idolatry, to dwell in the land of Israel.

5 The foolish shall not stand in thy sight: thou hatest all workers of iniquity.

These are strong words, but not too strong. God is not tolerant of evil, and those who are like him in other respects will be like him in this matter also.

The foolish shall not stand in thy sight.

The foolish or "arrogant" person shall not stand in thy sight or "endure the holiness of thy presence." Literally, the mad shall not stand in your presence; shall not be permitted to call upon you, nor shall they be acquitted at the judgment of the great day. David was aware that the One to whom he prayed was absolutely upright (holy). Consequently those who are boastful and presumptuous cannot count on standing before Him and finding favor in His eyes. God hates and destroys liars, deceivers, and murderers. The word "holelim," rendered here as the foolish, denotes the madmen, which is discovered by consulting Isaiah 44:25 "who foils the signs of false prophets and makes fools of diviners, who overthrows the learning of the wise and turns it into nonsense".. Also see Ecclesiastes 2:2; Ecclesiastes 2:12; Ecclesiastes 7:7; Ecclesiastes 10:13. By the foolish and madmen is meant "Wicked men," as the next clause expresses it; who are undeniably madmen, morally and really, in that they oppose and fight against Omnipotence, and voluntarily expose themselves to such dreadful miseries as are implied in everlasting banishment from God—and they do it for such trivial and momentary gains or pleasures that are found in sin.

Well, who will be able to stand? In the fifth chapter of Romans, verses 1 and 2, we read, "Therefore being justified by faith, we have peace with God through our Lord Jesus Christ: By whom also we have access by faith into this grace wherein we stand." Every believer has a standing before God of which the worldly (those devoted to this world and its pursuits rather than to religion or spiritual affairs) knows nothing about. The unsaved man has no standing, but every child of God stands complete in the risen Christ in all the infinite value of the precious atoning blood of Jesus.