Psalm 5: Part 7 of 7 (series: Lessons on Psalms)
by John Lowe
(Woodruff, S.C.)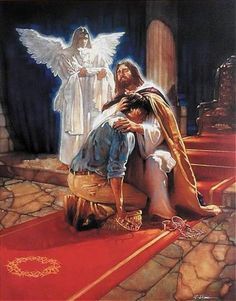 12 For thou, LORD, wilt bless the righteous; with favour wilt thou compass him as with a shield.


For thou, Lord, wilt bless the righteous.

It is one of the characteristics of God that while He will punish the wicked, He will show kindness to the righteous; while He brings deserved punishment upon the one, he will show kindness to the other. It's a sure thing, the righteous man shall be rich with blessing.

• "A faithful man will be richly blessed, but one eager to get rich will not go unpunished" (Proverbs 28:20).

• "I will bless those who bless you, and whoever curses you I will curse; and all peoples on earth will be blessed through you" (Genesis 12:3).

• "And if anyone gives even a cup of cold water to one of these little ones because he is my disciple, I tell you the truth, he will certainly not lose his reward" (Matthew 10:42).

He prays for them because they are God's peculiar people, and for that reason, he believes his prayers will be heard. And they shall always rejoice because the assurance of God's blessings makes them happy. "Thou, Lord, wilt bless the righteous," will decree a blessing upon them. The Lord in His Word pronounced them blessed, and therefore He will make them truly so. "Those whom thou blessed are blessed indeed."

With favor wilt thou compass him as with a shield.

Favor means goodwill.

Wilt thou compass him means to encircle him.

The Hebrew word "tsinnah," rendered here as "a shield," can mean either a pointed weapon, such as a spear, or a shield that covers most of the body. The former denotes a fence of spears or spearmen which would encircle a prince to protect him as he goes into battle—in the same way, will the Lord throw His protection around the righteous. By the latter is probably
meant a piked shield which had one great boss (the domed metal center of a shield) in the middle with a sharp pike in it used to pierce and wound the adversary
"defiantly charging against him with a thick, strong shield" (Job 15:26).
. God will be everything to his people—crown, shield, and etc.; they may therefore rejoice, shout, and leap, as related in the previous verse.
This phrase shows clearly that David felt that he could trust in God in times of trouble and danger; and, on the same account, all who are righteous may put their trust in Him also. They are safe under His protection because He will surround them on every side, as a shield
"In addition to all this, take up the shield of faith, with which you can extinguish all the flaming arrows of the evil one" (Ephesians 6:16).
. A shield in war protects only one side, but the presence of God is to the saints a defense on every side like the hedge He placed around Job, so that, while they keep themselves under the divine protection, they are entirely safe and ought to be entirely satisfied
"But you are a shield around me, O LORD; you bestow glory on me and lift up my head" (Psalm 3:3).
.
You, O Lord, will bless the righteous with Your favor. You will surround him: This is the greatest blessing of all—the favor of God. Knowing that God looks on us with favor and pleasure is the greatest knowledge in the world. This is our standing in grace.
When Martin Luther was on his way to face a Cardinal of the Roman Catholic Church to answer for what they said were his heretical teachings, one of the Cardinal's servants taunted him saying, "Where will you find shelter if your patron, the Elector of Saxony, should desert you?" Luther answered, "Under the shelter of heaven."