PSALM 51 Title: "Prayer for Pardon and Purity" part 1
by John Lowe
(Woodruff, S.C.)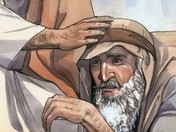 August 14, 2015
Tom Lowe

PSALM 51

Title: "Prayer for Pardon and Purity"
(A Psalm of David, when Nathan the prophet came unto him, after he had gone in to Bathsheba.)

Theme: David's great penitential psalm.


Psalm 51 (KJV)

1 Have mercy upon me, O God, according to thy lovingkindness: according unto the multitude of thy tender mercies blot out my transgressions.
2 Wash me throughly from mine iniquity, and cleanse me from my sin.
3 For I acknowledge my transgressions: and my sin is ever before me.
4 Against thee, thee only, have I sinned, and done this evil in thy sight: that thou mightest be justified when thou speakest, and be clear when thou judgest.
5 Behold, I was shapen in iniquity; and in sin did my mother conceive me.
6 Behold, thou desirest truth in the inward parts: and in the hidden part thou shalt make me to know wisdom.
7 Purge me with hyssop, and I shall be clean: wash me, and I shall be whiter than snow.
8 Make me to hear joy and gladness; that the bones which thou hast broken may rejoice.
9 Hide thy face from my sins, and blot out all mine iniquities.
10 Create in me a clean heart, O God; and renew a right spirit within me.
11 Cast me not away from thy presence; and take not thy holy spirit from me.
12 Restore unto me the joy of thy salvation; and uphold me with thy free spirit.
13 Then will I teach transgressors thy ways; and sinners shall be converted unto thee.
14 Deliver me from bloodguiltiness, O God, thou God of my salvation: and my tongue shall sing aloud of thy righteousness.
15 O Lord, open thou my lips; and my mouth shall shew forth thy praise.
16 For thou desirest not sacrifice; else would I give it: thou delightest not in burnt offering.
17 The sacrifices of God are a broken spirit: a broken and a contrite heart, O God, thou wilt not despise.
18 Do good in thy good pleasure unto Zion: build thou the walls of Jerusalem.
19 Then shalt thou be pleased with the sacrifices of righteousness, with burnt offering and whole burnt offering: then shall they offer bullocks upon thine altar.


Introduction

Psalm 51 was composed after David was confronted about his adultery with Bathsheba (2 Samuel 12:1-25). The psalmist is ill (v. 8), perhaps near death (v. 14), and longs to be healed. Yet far weightier than that physical longing is his passionate desire for forgiveness because he views his physical condition as the result of the Lord's punishment for his sin. David has avoided God for many months (considering that the baby he had fathered was already born). But when faced with the severity of his sin, his confession is shameless. Psalm 51is the fourth, and in many ways, the greatest of the seven penitential (penitent; repentant) psalms. It is one of the most familiar passages of the Old Testament.

This is the very sad story of David's fall. But, though he fell, he was not totally disheartened, for God graciously sustained him and raised him up. The sin which he laments in this psalm, was the foolishness and wickedness he committed with his neighbor's wife. Actually, he broke two of God's commandments: His sin with Bathsheba broke the seventh commandment, "Thou shalt not commit adultery;" and he broke the sixth commandment, "Thou shalt not kill," by causing the death of Uriah, the husband of Bathsheba. For a year after these disgraceful incidents, David did nothing, and he said nothing; but we have evidence from several of the psalms that his private sufferings were considerable, but David had not publicly acknowledged his sin. He simply sat on his throne in Jerusalem and ignored the whole thing. On the surface it looked as if David had gotten by with it. Then God sent Nathan to David, and he exposed David's sin and his attempted cover up. There were three courses open to David; he could, (1) deny the charges, (2) have Nathan executed and continue with the cover up, or, (3) admit the charge. David followed the latter course; he confessed his sins. All the great men of God have confessed their sin before God.

This sin of David's is recorded as a warning to all, that he who thinks he stands may take heed lest they fall. Although God may allow His people to fall into sin, and to lie in it for a great while, yet He will, by some means or other, regain them by their repentance, and bring them to Himself and to their right mind again.

Commentary

1 Have mercy upon me, O God, according to thy lovingkindness: according unto the multitude of thy tender mercies blot out my transgressions.

The psalm begins with a cry for mercy; "HAVE MERCY UPON ME, O GOD." The psalmist neither pleads innocence nor shifts the blame to someone else. Since he knows that he does not deserve forgiveness, he pleads first for mercy, based on God's loving-kindness.

The "LOVINGKINDNESS" and "TENDER MERCIES" of God are the basis for his appeal to God—"BLOT OUT MY TRANSGRESSIONS"—either out of (1), my conscience, where it has left a stain; or, (2), out of thy book of remembrance an accounts, in which all men's sins are written, and out of which all men shall be judged: "And I saw the dead, great and small, standing before the throne, and books were opened. Another book was opened, which is the book of life. The dead were judged according to what they had done as recorded in the books" (Revelation 20:12).

David had a deep feeling of guilt as the result of his conniving, lying, adultery, and finally murder. As a man; as king; as soldier—he is found wanting. Why should we dwell on his wretched story, except that it teaches, as no other page in the history of God's Church does, that the potency of Divine love can extract sweet aromas of repentance and praise out of the filth of sin?

Our only source of forgiveness rests in God's loving kindness, and in the multitude of His tender mercies. It is only because we believe in these that we dare look at our sins. Nor can we ever forget that though the blood of Jesus did not purchase the love and mercy of God, yet it is only through His sacrifice that that love is able to freely pursue its caring work of redemption.

David makes no attempt to deny his sin or excuse his behavior. He readily admits in verses 1-3 that his actions were rebellious and sinful. Yet, at the same time, he is also confident that God is a source of mercy, unfailing love, compassion, and cleansing.

The psalmist, having been convinced of his sin, poured out his soul in a prayer that begins with a plea to the Lord for mercy and grace, cleansing and pardon. Three different terms are used for sin, which leads us into a deep sense of spiritual sensitiveness. The three are—
a. "TRANSGRESSION," the sin of conscious rebellion, the act which violates a known standard. To transgress is to step over the boundaries of God. God has put up certain boundaries in this life. He has certain physical laws. He has certain moral laws. He has certain spiritual laws. Anytime man attempts to step over any of them, he'll have to suffer the consequences. To do this is always called transgression.
b. "INEQUITY" (v. 2), the sin of error, that which is altogether wrong. You can't excuse it; you can't offer some type of apology for it; you can't in any way condone it. That's iniquity.
c. "SIN" (v.2), missing an aimed-at mark. We don't come up to God's standard, and it is in that sense that all of us today are sinners. None of us today come up to the standard of God. "For all have sinned, and come short of the glory of God" (Romans 3:23).


And these are the three vivid terms he uses for forgiveness: The first, "BLOT OUT"—wipe off, or efface—is used also for the ritual act performed by the priest of washing off into the water, curses which he had written on a tablet: "The priest is to write these curses on a scroll and then wash them off into the bitter water" (Numbers 5:23). The second term, "WASH"—tread out—has its roots in the familiar Oriental method of washing garments by thoroughly stomping on them: "And the LORD said to Moses, "Go to the people and consecrate them today and tomorrow. Have them wash their clothes" (Exodus 19:10). The third "CLEANSE ME," is a ceremonial term used in the ritual in which the priest pronounces the worshipper clean: "On the seventh day the priest is to examine them again, and if the sore has faded and has not spread in the skin, the priest shall pronounce them clean; it is only a rash. They must wash their clothes, and they will be clean" (Leviticus 13:6).

It is necessary to remember that immediately after David made his confession of sin, Nathan declared the forgiveness of the Lord. David is aware, therefore, of the wonder and immediacy of mercy and of an exceeding great and precious promise of pardon for a very great wrong (2 Samuel 12:13); but he cannot rest in this until full and heartfelt confession has been made, and this is the function of the poem. David's conviction of sin is dominated by four themes.
1. A sense of personal accountability. But note the frequency of my iniquity, my transgressions, and my sin. There is no evasion of responsibility here. His depth of conviction is stressed in the words "MY SIN IS EVER BEFORE ME" (v. 3).
2. A conviction of having turned against God. Irrespective of Bathsheba and Uriah, his actions ultimately was against God. "AGAINST THEE, THEE ONLY, HAVE I SINNED" (v. 4).
3. A plea for complete cleansing from sin. The phrases are massed together in intensity and enthusiasm. "BLOT OUT" (v. 1); "wipe off", as writing is erased (Exodus 32:32), or as water from a dish (2 Kings 21:13). "WASH ME THOROUGHLY" (v. 2).
4. A casting of himself upon God who alone can save him. Only God can supply the necessary purging (v. 7), and only God can accomplish a total restoration of soul and body from the damage of sin (v. 8).