PSALM 56 Title -- PUT MY TEARS IN THY BOTTLE
by John Lowe
(Woodruff, S.C.)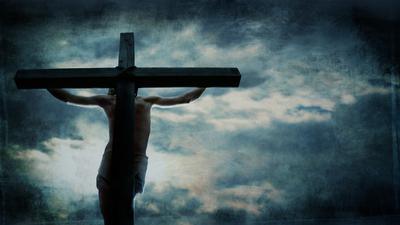 Jesus Wept!
November 4, 2015
Tom Lowe

PSALM 56

Title: PUT MY TEARS IN THY BOTTLE part 1
(To the chief Musician on Jonath-elem-rechokim1, Michtam, a Psalm of David.)

Theme: David's Fear and Trust

Psalm 56 (KJV)

1 Be merciful unto me, O God: for man would swallow me up; he fighting daily oppresseth me.
2 Mine enemies would daily swallow me up: for they be many that fight against me, O thou most High.
3 What time I am afraid, I will trust in thee.
4 In God I will praise his word, in God I have put my trust; I will not fear what flesh can do unto me.
5 Every day they wrest my words: all their thoughts are against me for evil.
6 They gather themselves together, they hide themselves, they mark my steps, when they wait for my soul.
7 Shall they escape by iniquity? in thine anger cast down the people, O God.
8 Thou tellest my wanderings: put thou my tears into thy bottle: are they not in thy book?
9 When I cry unto thee, then shall mine enemies turn back: this I know; for God is for me.
10 In God will I praise his word: in the Lord will I praise his word.
11 In God have I put my trust: I will not be afraid what man can do unto me.
12 Thy vows are upon me, O God: I will render praises unto thee.
13 For thou hast delivered my soul from death: wilt not thou deliver my feet from falling, that I may walk before God in the light of the living?

Introduction

This psalm was written when David found himself in the Philistine city of Gath, fleeing from King Saul, and up to his neck in very hot water. Achish, the king of Gath, had put David under arrest and was being pressured by his advisers to put him to death. After all, this was the man who had killed their national hero, Goliath! David pretended to be mad (crazy), hoping in this way to lessen the impact of these threats on his life. All the time he was acting this way, his soul seems to have been directing its eyes towards God. His faith was not strong enough to keep him from such a shameful disguise; but still faith was there.

The psalm follows the familiar pattern of a lament2. It was sung in corporate worship, and was set to the tune "The Silent Dove in Distant Lands." It has the familiar subscription, "To the chief Musician." The introduction tells us this is a "michtam" psalm, the first of five such psalms (56-60). The word "michtam" literally means "to cut" or "to engrave." The thought is that this is a permanent writing, and pictures that which is unmovable, steadfast, stable and enduring. Evidently, the Psalmist considered the psalm to be of great importance.

As you read the poem, you will note that there is no single reference either to the Philistines or to the petty king of Gath. The same poem might have been written to express the fugitive hero's state of mind in a score of predicaments

This psalm is quite different from Psalm 55, where the troubles were caused by David's family and friends; here they are caused by David's foes. There he was depressed, here he is optimistic. Trouble is trouble, but where it comes from makes a difference.

Let us put ourselves in David's place. We picture him in a cell under lock and key in Gath, a prisoner in a foreign land, the home of the hereditary enemies of his people. His life hangs on a thread. Outside his cell, the triumphant troops of the Philistines march up and down. They are reveling in their capture. They have him at last, the young fellow who had slain their champion Goliath and as a result, they had suffered a massive defeat at Elah. Some of them, undoubtedly, had lost brothers, fathers, sons, friends in that battle. Now they have David in their power.

David is encouraged as he remembers the mercy, mindfulness, and might of God. That is a great way to face a hopeless situation. Life is full of situations which are far beyond our limited powers to control: situations at work and at home, with our families, in our church, and in matters of finance, and in matters of our future. In any case, God is able! For proof you need look no further, for David was able to extricate himself from the situation by feigning madness. The Philistines forced him out of the city but did not harm him (1 Samuel 21:10-22:1). Psalm 34 also came out of this experience in Gath.

In the midst of the peril and fear depicted in this psalm, David sent three requests to the Lord, and the Lord answered. The psalm can be divided into three parts; one for each request.
I) Deliver Me from Death (vs. 1-4)
II) Deliver Me from Stumbling (vs. 5-11)
III) Deliver Me So I Can Praise You (vs. 12, 13)

Commentary

David's initial plea is for God to be merciful to him. David's foes had found him out. He had forgotten, when he entered Gath, a solitary individual with a strong Judean accent and Goliath's sword in his hand, that for years there probably had been a price on his head in Gath, and his description was posted everywhere. It did not take long for the Philistines to recognize and seize him.

1 Be merciful unto me, O God: for man would swallow me up; he fighting daily all day long oppresseth me.

We can almost hear the tramp of their feet outside his prison cell, the regular pacing back and forth of the armed sentry. We can picture the stream of men from the guardroom, coming down to make fun of David, just as years before they had made fun of Samson. Their continual jabs and jibes were getting on David's high-strung nerves. All day long, David was harassed by the Philistines, who remembered that Israel sang his praises as a great military leader. They pursued him like hungry panting animals, and David cried out for mercy— "Be merciful unto me, be merciful unto me; for my soul trusteth in Thee: yea, in the shadow of Thy wings will I make my refuge, until these calamities be overpast." (57:1; also see 51:1). "Be merciful unto me, O God, be merciful unto me." The double cry tells us that David has had about all he can take. The record in 1 Samuel doesn't record any physical attacks on David, but he heard a great deal of slander and his life was in danger. David manifested both fear and faith as he cried out to God (Matthew 8:26; 14:30; Mark 5:6). The refrain in verses 3-4 is repeated in verses 10-11 as David affirmed that God alone gives him the power to praise Him and trust Him.

David complains to God of the malice and wickedness of his enemies to show why he feared them, and that it was crucial for God to join the fight against them. His petition, "Be merciful unto me, O God!" includes all the good we come to the throne of grace for; if we obtain mercy there, we obtain all we can desire, and we don't need anything else to make us happy. It is our best plea, yet it does not indicate our merit (value, worth), but rather, God's mercy, his free rich mercy. He prays that he might find mercy with God, for with men he could find no mercy. When he fled from the cruel hands of Saul he fell into the cruel hands of the Philistines. "Lord" (he says), "be thou merciful to me now, or I am undone (done for)." The mercy of God is what we may flee to and trust in, and in faith pray for, when we are surrounded on all sides with difficulties and dangers.

The word he uses for "man," is important. It is the word enosh—mortal man, man in his weakness. It looked as though they held all the power; however, they were merely creatures of clay after all. During David's sojourn in Gath is the only time it is recorded he was afraid of man. Being alone and away from his country would account for that.

2 Mine enemies would daily swallow me up: for they be many that fight against me, O thou most High.

David senses their animosity toward him. He had killed their champion in a fair fight, according to the rules of war and according to the special conditions Goliath himself had proposed. The Philistines had put that out of their minds. All they could think of was their public humiliation at the hands of a teenage lad. Thanks to David they had been routed by the despised Hebrews. Now that they had the one that caused it in their hands, they intended to vent their hate and spite on him.

Over against their personal animosity, David sets the name of his God "O Thou Most High!" It is a rather unusual name for God: It is not Elyon, the name for God usually translated in this way, but Marom—God the lofty or the exalted One. David's enemies were exalting themselves; David asks God to exalt Himself. David could see beyond these barbarous self-important little men that sought to "swallow me up" (Oppressing me continually; v. 1): he could see the great God who was exalted and lifted up and lofty beyond any words he could employ. He simply calls Him "Marom! Exalted One."

Verse 3-4: so long as all goes well, so long as we have the circumstances of life under control, we may think we have little need to exercise faith. However, David determined to put faith into practice.

3 What time I am afraid, I will trust in thee.

If this psalm is a true reflection of David's experience in Gath, then he would have been both pursued by Saul's army and slandered by his Philistine hosts (56:1-2). In addition, he would be running out of places to hide, so his fear is understandable. Still, he is able to maintain trust in God and realize that the Lord's protection is sufficient. Nothing can penetrate the protective hedge which he sets up around us, except by His permissive will. This is why we can trust in God without a fear. Fear finds its antidote in faith, for "in God I have put my trust; I will not fear what flesh can do unto me" (v. 4).