PSALM 57 Title: THE SOUL AMONG LIONS part 2
by John Lowe
(Woodruff, S.C.)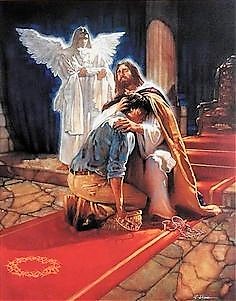 Jesus Cares
2 I will cry unto God most high; unto God that performeth all things for me.

The psalmist is certain that he is innocent of any charge. But his deliverance, exoneration, and the consequent humiliation of his enemy accusers can come only from God. At just the right moment God will show His hand and rescue him. Trust and prayer mingle as the psalmist speaks with the Almighty. From his privileged place of conscious nearness, he cries to "God Most High"with the confidence that no one and nothing can hinder Him from accomplishing His purposes in the lives of His people. God is transcendent (superior, supreme, unmatched, divine, perfect), elevated far above His creation and all powerful.
"I will cry unto God most high." "God Most High" is the name of the deity who spoke with Abraham on the first occasion that Jerusalem is mentioned in the Bible (Genesis 14:18, where it is called Salem). This name for God occurs only here and in the previous psalm. Usually the compound name is Jehovah Elyon or El Elyon. Here it is Elohim Elyon—the Creator Most High, God the Supreme Ruler, the Final Authority. He is "God Most High . . . that performeth all things for me." The word translated "performeth"is gomer, which occurs only five times in the Bible—all of them in the psalms. It is rendered "perfect," "bring to an end," "cease." "God Most High" can certainly perform! He can bring our threatening circumstances to a sudden end anytime He wills it. In the meantime, He puts all His people to work! Which is just what Paul is saying: "All things work together for good for them that love God, to them who are the called according to His purpose." Tell me, is there any reason why we should not let God do "all things"for us and through us? (Hebrews 13: 20, 21). I DON'T THINK SO!
I believe that this verse contains three teachings that the psalmist wants us to learn:
(1) In everything that happens to us we ought to see and acknowledge that the hand of God was involved; whatever is done is performed by Him; in it His will is accomplished and the scripture is fulfilled. God's transcendence never removes Him from intimate involvement in His people's lives.
(2) Whatever God does that concerns His people, it will appear to have been performed for them and for their benefit. Though God is high, "most high," yet He loves us so much that He stoops to make sure that all things are made to work for good.
(3) This is a good reason why we should, in all our desperate straits and difficulties, cry unto Him; not only pray, but pray earnestly. David didn't pray only at bedtime, as too many people do, but all day long; however, he closed the day with a special time of worship and commitment.

Can't you hear David cry out, "Lord, hear me!" Of course He heard! But David still had some lessons to learn, some edges to be smoothed, some patience to develop.


3 He shall send from heaven, and save me from the reproach of him that would swallow me up. Selah. God shall send forth his mercy and his truth.

This will be literally fulfilled for the faithful remnant when Christ returns in power and great Glory; and they will say, ". . . Surely this is our God; we trusted in him, and he saved us. This is the LORD, we trusted in him; let us rejoice and be glad in his salvation" (Isaiah 25:9).
The Psalmist finds himself in peril from calamities (v. 1) brought about by those who "would swallow"him "up"(v. 3), raging like "lions" (v. 4) and aflame with hatred and animosity toward him (v. 4). His plea is for protection "in the shadow of thy wings" (1).
"He shall send from heaven, and save me from the reproach of him that would swallow me up. Selah. God shall send forth his mercy and his truth." It's only natural for David to want to be saved from injury. He was branded a traitor with a price on his head. He was treated as a notorious criminal, was under constant "reproach" and in desperate danger. He wanted God to save him, and God would save him. David was overwhelmed with the thought that God Most High might suddenly give the command to one of His many ambassadors to act from His highest Heaven on behalf of a young shepherd boy who was now a fugitive from the spiteful malice of his country's king. That God Most High in yonder Heaven would help him! God is good in Himself and faithful to every word that He has spoken, and that's how it appears when He brings about His people's deliverance. All we need to make us happy is to have the benefit of the "mercy"and "truth"of God (Psalm 25:10).
Then he adds: "God shall send forth His mercy His loving kindness and His truth." He wanted to be saved from injustice as well. The charges against him were false. Saul had no more loyal subject than David. He wanted "mercy"and "truth" to prevail. It is almost as though David personifies "mercy" and "truth" as two of God's angels (messengers) sent to deliver him. They are seen by David as spirits sent forth to minister to those who are the heirs of salvation.
But then David speaks of the calamities which constantly assailed him and like the sensible, spiritual man he was, he simply puts God between himself and his calamities

"Swallow me up" is "trample me down," which Saul planned to do to David.

The second section includes verses 4-6, and the heading is "THE CRISIS WHICH THREATENED HIM." He has not yet finished with the difficulties. He has introduced God into the picture, but the scene has not changed much.

4 My soul is among lions: and I lie even among them that are set on fire, even the sons of men, whose teeth are spears and arrows, and their tongue a sharp sword.

He knows that he is in danger because of the falsity and the abusive slander of their accusations. And he is convinced that their wicked and deadly dealings will come back upon them and will eventually be the cause of their destruction. In the midst of all this, with calm, confidence, and spiritual poise, he lays himself down, knowing that God will protect him. Then he says, "My soul is among lions: and I lie even among them that are set on fire;"—an expression of the courage of faith. Satan goes up and down this world like a roaring lion seeking whom he made devour (1 Peter 5:8), and he has a lot of little "lions" helping him, by the way.
We need to go back to the first book of Samuel and think of the chain of threatening circumstances through which David had passed. Let us assume that the psalm was written while David was in the cave of En-Gedi. The following events had occurred:
(1) David had escaped from Gath (as we saw in the previous psalm) and had come to the cave of Adullam (1 Samuel 22:1). There his numbers increased until he had around 600 men. Later he would move to a cave in En-Gedi (1 Samuel 24; see Psalm 142). It is better to be in the will of God in a cave than out of His will in a king's palace.
(2) He took his family to Moab; it was no longer safe for his parents to stay on their Bethlehem farm. Jesse's grandmother was Ruth, the Moabites, so the family would have some grounds for going to Moab.
(3) The prophet Gad warned David not to stay in the cave of Adullam, for he was not safe there. But as verse 1 shows, David counts on the mercy of God. The cave did turn out to be a less than reliable hiding place, but God is a constant refuge. Disasters will come and go, and during the worst of times, the best place to be is in the shadow of God's wings (see Psalm 17:8 and commentary). Saul's army is pursuing David, but he is also being followed by God's love and faithfulness (v. 3).
(4) Saul, in a fit of rage, murdered the priests who had helped David flee to Gath. Abiathar, one of the sons of the murdered high priest, fled to David. David then rescued the people of Keilah from a Philistine siege, but all the thanks he received was their betrayal of him to Saul.
(5) At this point Jonathan came down to give David a little encouragement. The Ziphites betrayed him and Saul almost captured him. However, a Philistine incursion in a different part of the country forced Saul to leave his hunt for David and turn to other matters.
(6) David then moved into the wilderness of En-Gedi in the desolate region on the western shores of the Dead Sea but. Once again someone told Saul where David was and Saul came with 3000 men, determined to make an end of David once for all.
That is the background of this psalm. David relates these dangers to the Lord, speaking of the seriousness of his situation. Humanly speaking, it was very serious indeed for he had few places left to which he could flee. After the betrayal in Keilah, David had been forced to disband his irregular little army of outlaws. He and the few men that remained with him were at their wit's end.
"My soul is among lions" compares his enemies with hungry beasts of prey "whose teeth are" actually their "spears and arrows" and whose "tongue" is a "sharp sword," speaking slander. "Whose teeth are spears and arrows" suggests that the "teeth" of the enemy may be considered, either, (1) as instruments of destruction, as they are in "lions." Or rather, (2) as instruments of speech as they are in men. "Spears and arrows," refers to the slanderous words which they hope will grievously wound David's good name. David might feel like he's amongst beasts, but according to verses 7-8, he expects to awaken at dawn with a steadfast heart and a song on his lips. He is eager to praise God and declare to other nations and peoples what God has done for him. God's love and faithfulness are unlimited, reaching to the heavens (vs. 9-10).