Psalm 9: Part 3 of 3 (series: Lessons on Psalms)
by John Lowe
(Woodruff, S.C.)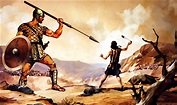 15 The heathen are sunk down in the pit that they made: in the net which they hid is their own foot taken.

16 The LORD is known by the judgment which he executeth: the wicked is snared in the work of his own hands. Higgaion. Selah.

Verses 15 and 16 are a statement of David's own faith, expressing the general truths reaped from his personal experience. David's prayer was supported by his confident trust in the Lord. In verses 15-18, David reviewed the reputation God had for destroying the wicked who afflicted the people of God. Verse 15 may have been written in anticipation of the enemy's destruction. If so, David foresaw how the enemy would fall into its own pit: "They dig a deep pit to trap others, then fall into it themselves" (Psalm 7:15); and net, "Let destruction come upon him unawares, And let the net which he hid catch himself; into that very destruction let him fall" (Psalm 35:8). Nevertheless, the Lord's justice is well known, because the evil the wicked devise falls back on them. The overruling providence of God frequently orders that persecutors and oppressors be brought to ruin by the very projects they planned to use to destroy the people of God. Drunkards get in their car and kill themselves, prodigal sons fall into sin and become beggars, and the belligerent bring trouble upon themselves: thus men's sins may be read in their punishment, and it becomes clear to all that the destruction of sinners is something they bring upon themselves.

Look at the nations of the world today. Even the great nations of the world, including our own nation, have sunk down into a pit. We seem to be caught. This is the condition of the world at the present time.

Higgaion means "meditation," and combined with "Selah," seems to denote a pause of solemnity and emphasis. Though Selah occurs seventy-three times, this is the only time Higgaion appears.

17 The wicked shall be turned into hell, and all the nations that forget God.
18 For the needy shall not alway be forgotten: the expectation of the poor shall not perish for ever. (Sheol)

The destiny of the wicked who return to the grave is contrasted with the needy and afflicted (vv. 9, 12), who will see their hope fulfilled. The expression forget God is sometimes contrasted in the Psalms with the word "remember," a term that signifies faith and prayer. Those who reject and ignore the Lord have no hope. Those men who wickedly ignore God or rebel against the principles of godliness are classed with the depraved and openly profane, and must surely die. The true state of nations and individuals, may be correctly estimated by this one rule, whether in their goings-on they remember or forget God.

The needy and poor are objects of God's constant care. The frequent mention of the 'poor and needy' in
the Psalms, does not necessarily imply material destitution; the phrase is applied to all those who have been reduced to utter dependence upon God. Jesus said to His disciples, "Blessed are the poor in spirit, for theirs is the kingdom of heaven" (Mat. 5:3). He wasn't referring to those who lack money and material possessions, but to those who are poor in a spiritual sense. Blessed means "happy." The 'poor in spirit' are humbled and broken by a sense of their sinfulness; they are not proud; they seek after the true riches, both of grace and glory; and frankly acknowledge, that all they have, or hope to have, comes from the free grace of God. They have the assurance that in spite of the activity of evil-doers there is always the possibility of God's intervention.
The needy shall not always be forgotten, as they are today. Oh, there are poverty programs, but the man at the top always seems to get it before it reaches the poor. The poor will receive justice when the Lord Jesus comes. You know, we poor people ought to be more interested in the Lord. There are so many people in poverty who are turning to political parties and certain political candidates for help. As I write this the great benefactor is 'Obama care' and 'government assistance,' but the evils of these programs far exceed any good they do. What the candidates are trying to do is to get elected through making people dependent on government programs. The Lord Jesus is not running for office—He is King of kings, and Lord of lords. He is not anxious to please any party or group on this earth.
The wicked shall be turned, or shall turn, retreating under God's vengeance, and driven by Him to the extreme of destruction, even to hell itself.
19 Arise, O LORD; let not man prevail: let the heathen be judged in thy sight.
20 Put them in fear, O LORD: that the nations may know themselves to be but men. Selah.
The idea previously introduced, of a world judgment to come is continued, as the writer declares that doom will surely overtake the wicked. The confident trust in the Lord that marked the opening verse is now focused in a prayer that the Lord would arise, assert His power, and judge the nations of the earth with such a terrifying judgment that the wicked would realize that they are but human and that they cannot oppress those who trust in the Lord. By their subjection, they will be made to realize their frail nature, and deter them from all conceit and future rebellion.
Let the heathen (nations) be judged—the nations are yet to be judged, according to our Lord (Matthew 25:31-46), "Before him will be gathered all the nations, and he will separate them one from another as a shepherd separates the sheep from the goats" (Matt. 25:32).