PUT ON THE WHOLE ARMOR
by CharlesRobey
(Trussville, AL USA)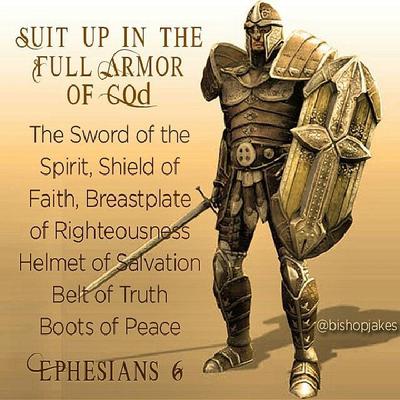 "For though we live in the world, we do not wage war as the world does. The weapons we fight with are not the weapons of the world. On the contrary, they have divine power to demolish strongholds. We demolish arguments and every pretension that sets itself up against the knowledge of God, and we take captive every thought to make it obedient to Christ." 2 Cor. 10:3-5

Am I glad this week's over! I must really be getting that old "Burn Out" in my college career. It's just about time, I guess, after my twenty years of teaching the Scripture. My college students just don't seem to take me at heart any more, not like they did in the past. They just seem to be dragging in their studies, and can't wait for class to be over. Why, I can't even remember my students' names any more.

If I could only find a way to revive these students in the Scriptures! They are all of very good character, and will make good students of the Scriptures. They are not only good students, but I really have a bunch of good prospective young preacher boys and young lady Bible teachers. I must not fail in my calling. (Zech 4:6)

But I am thoroughly give out! I think I'll just sit here a spell, before I leave for the week end.

Then, all of a sudden, I found myself in a large cathedral of worshippers. What was so strange was the unique atmosphere and clothing. It was as if I dosed off to sleep and somehow had ended up in the Renaissance period of time. I was surrounded by what appeared to be a large contingent of medieval dress.

The women were wearing long, flowing, colorful, sleeveless gowns with wimple hair coverings. Some were wearing what appeared to be sheepskin cloaks. And their leather boots were covered with wooden patterns.

The men were wearing well-coordinated cloaks, tunics and ankle length trousers, with leggings. Their belt ornaments and tags seemed to jingle as they moved around the room. Some of these men's leggings appeared to be made from scrap clothing, while others were of a very ornate custom fitted style.

Included in this congregation, and sitting back in the shadows, were a contingency of men dressed in long, black, hooded garments with hanging rope belts, and having a rather large old-style Bible. Although they were well separated from the others, they appeared to be taking an active part in the service.

What was so eccentric about these parishioners was that sprinkled out among them was a collection of knights dressed in shining armor. These armed men gave the impression that they were some sort of leaders or protectors of the congregation.

So I asked myself, "How did I get here in this European medieval church? And just what was the purpose of all this church activity? Well, it didn't take long until I found it all out, why I was there and what was the purpose of my visit.

All of a sudden, without any warning, one of the knights who seemed to be the leader walked over and started a conversation. "You seem to be a little puzzled, my son," he said.

"Well yes, I am. Just who are you folks, and where did you come from? " I asked.

Without any reply, this nice gentleman reached under his armor, and pulling out what appeared to be a Bible scroll, he began reading from (Ephesians 6:10-17).

Having just taught this particular Scripture in my Bible college Early Church History class, I felt very comfortable in discussing the Scripture with him.

"Strange you would read this particular passage, Sir. This Scripture seems to fit your decor."

Replying, he said, "Then you know what it's all about, being an accomplished Bible scholar, right?"

"I feel that I do, but I don't mind hearing your commentary," I replied.

What was so weird about his appearance was that all of a sudden, as if by divine direction, the various elements of his armor started glowing boldly, as if to draw my attention to the various captions emblazoned thereon.

His loin gear was girded with the caption "Truth" and his breastplate caption read "Righteousness" (Ephesians 6:14).

The caption on his boots read "The Preparation Of The Gospel of Peace" (Ephesians 6:15). On his shield was written "Shield of Faith" (Ephesians 6:16).

And inscribed on his helmet was the caption "Salvation" and his sword bore words "The Sword Of The Spirit" and "Word of God" (Ephesians 6:17).

"Wow, what an object lesson!" I thought. "If I only had him in my college Bible class, just maybe my students would get the message."

However, he wasn't quite through, as he then moved into his object lesson. "I trust you have gotten the message, my son. Even though you may wear this imaginary armor, you still need to be strong in the Lord, and in the power of His might. (Ephesians 6:10) For this full armor is designed to stand against the schemes of the Devil. (Ephesians 6:11) You see, our struggle is actually against the evil powers of Satan." (Ephesians 6:12)

"And it is of the utmost importance that with prayer and petition and by being in a constant prayer mood, that we continually pray at all times in the Spirit." (Ephesians 6:18).

"So, my son, I trust that this brief sermon has been of some help to you in teaching your students. And also in dealing with this current evil world, in which we live," he concluded.

"Well yes, this object lesson, along with its Scripture, was so easy. I just wish you had attended my last week's college Bible class," I countered.

Then his final rebuttal, "You see, my son, many of Satan's victims, including fellow believers, do not even know there is a spiritual war going on, which surely makes for easy pickings for Satan."

"And you see, my son, as you know, this war between good and evil is not likened to our customary physical wars, as it is an invisible spiritual war between Satan and his fallen angels and Christ and His church. We believers are fighting against these unseen forces. We must wage this war by our faith (Hebrews 11:1, 6) and not by sight." (II Cor. 5:17)

"We must then understand, we can never fight this war on our own strength, only with the strength which our Creator God provides. And lastly, this is not a war to see which side wins, as God has already won this war at the cross." (John 12:31)(John 16:11)

"So are you now ready for war, my son?" he concluded.(Isaiah 54:7)

However, before I could answer, as I looked around, this nice man just disappeared, as did all the other armored knights and all the other well-dressed medieval characters. All this took place in a twinkle of an eye.

At the same time, I found myself in my empty college class room, slumped over my desk. Guess I was much more exhausted than I realized. What time is it? It must be getting late. I need to hurry home, get a little sleep and prepare for next week's conclusion of my Ephesians Six study. Do I now have all the material I need for my lecture? You bet I do, thanks to that nice medieval knight. Just who was he anyway?

All of a sudden, lyiing there on my desk highlighted in shining light was my college dissertation on the life of Paul. Wow, I've been looking everywhere for this critiqued thesis, as I really needed it for my Ephesians Six lecture! Now, I can't wait till next week.

Thank you, kind Sir. I will fight this spiritual battle by my faith. (Hebrews 11:1, 6)

Author's Postscript (The following is an excerpt taken from What Does it Look Like to Walk By Faith and Not By Sight? by Dena Johnson Martin which appeared in the website (crosswalk.com).

"God has specifically chosen you to be a part of this remnant, those who will allow Him to take their lives and mold them into what He wants. He has chosen you to have your faith tested and tried, and He promises that the fire will only purify you—not burn you. He has promised that He will be with you every single step, walking with you, carrying you, supporting you. He promises that He is still in control even when life seems to be spiraling wildly out of control."

"He is teaching you to trust Him so he can do something bigger and better than you ever dreamed possible (Ephesians 3:20-21). He is teaching you to let go and trust Him with your heart, your soul, your life (Proverbs 3:5-6). He is teaching you to walk every single day in the Spirit so that He can do even greater works in you and through you (John 14:12). He is preparing you to be a beacon of light and hope to a world which desperately needs to see Jesus."

"I don't know where you are on this journey of walking by faith, but I encourage you—beg you, plead with you—to wave the white flag of surrender. Let God take your life, your pain, your loss and use it for His glory. Ask Him to do an amazing work in you so He can do an amazing work through you."

"Get out of that boat and step onto the water … and never take your eyes off Him. It is a decision you will never regret!"