Reflections of a PK, A Testimony
by Charles Robey
(Trussville AL, USA)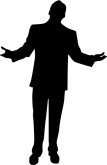 Here I Am, Send Me
While women weep, as they do now, I'll fight; while little children go hungry, as they do now, I'll fight, while men go to prison, in and out, in and out, as they do now, I'll fight while there is a drunkard left, while there is a poor girl upon the streets, while there remains one dark soul without the light of God, I'll fight--I'll fight to the very end. (General William Booth, Salvation Army Founder)


Growing up as a Salvation Army Officer's(Minister's) kid, was quite an experience. Yes, that makes me the proverbial "Preachers Kid" or "PK" for short. Well, you might think just being exposed to the Christian way of life, one would have it made. Not so, for we all must come by way of the Cross. Because all people have sinned, they have fallen short of God's glory.

"for all alike have sinned, and all consciously come short of the glory of God" (Romans 3:23), ...

There's an old hymn we use to sing in which the chorus goes like this, please stand and sing it with me.
The way of the Cross leads home.
The way of the Cross leads home.
It is sweet to know, as I on ward go,
The way of the Cross leads home.

Now that you all are awake, let's move on. There were good points but also bad points, growing up as a PK.

It was good, to be able to chow down on fried chicken, mashed potatoes and gravy, at the invite of a member's wife on Sunday morning. But it was bad, when I got into trouble, for the slightest boyhood mischief. And, believe me, my Dad would hear about the most trivial occurrences.

Like the time, during World War II, that one of our members said I set fire to her nylon vehicle tire. Of course, I paid the price, behind our old wood-shed alter, if you know what I mean. And by the way, the lady continued to drive on this tire for many a mile, or years.

Moving around the country was normal for me, growing up in the Salvation Army (ministry). By the time I was in the sixth grade, I had been to six different cities and six different schools. One school would hold me back, as I was not advanced, in the school curriculum. While, another school would move me ahead, due to being too advanced.

Once, as a small child, I even told a group of my play mates I could control the weather simply by praying. I then showed them, by putting on an exhibition of praying for rain. Obviously, it didn't rain. I ended the conversation, by telling my friends my faith was weak.

At one point, we had a bakery in our neighborhood that would give the S.A. leftover pastries, at day's end, to feed the less fortunate. I would catch myself praying the bakery would have a bad day, so we could get more pies. For you see, I helped pass out the pies and would occasionally sneak a sample. I later prayed, that God would understand and forgive my childhood selfishness.

We were lucky, to have a large group of young people, in our congregation, and as the "PK', I had my pick of "Puppy Loves". We would sit in church and silently send "Puppy Love" messages back and forth, by pointing to hymn titles, only to be called down from the pulpit by Dad's persuasive facial expressions.

On many occasions, Dad would stop his message, walk down and pass the bullitin around, for us kids to deposit our chewing
gum. Dad would then return never to miss a beat or sermon thought. Oh, for that simple life.
Once, when I was helping my Dad count the money, donated through the S.A. Red Kettle Christmas Drive, I noticed a puzzled look on his face and ask what was wrong, Dad said he found that he was a penny short, when wrapping the pennies. I replied by simply asking," Why not just add a penny and move on"? Dad replied by saying, " No son, this is God's money, donated by a special person for God's business". A strong lesson was learned that day,"
"Or suppose a woman has ten silver coins and loses one. Doesn't she light a lamp, sweep the house and search carefully until she finds it? And when she finds it, she calls her friends and neighbors together and says, 'Rejoice with me; I have found my lost coin.'" (Luke 15)
And oh yes, the penny was found under the table.
Another profound memory, growing up, was the missionary programs. Sitting through those 125 count missionary slide presentations was quite impressive. However, I was profoundly amazed, as to what the missionaries went through, just giving the gospel throughout the world. They would all stress God's command, as stated in the "Great Commission."
But you will receive power when the Holy Spirit comes on you; and you will be my witnesses in Jerusalem, and in all Judea and Samaria, and to the ends of the earth." (Acts 1:8).
They all seemed to have such strong faith in their mission.
Looking back, growing up as a "PK", the most important message I remember was the strong, but simple, evangelistic teaching which states,
"For by grace you have been saved through faith; and that not of yourselves, it is the gift of God; not of works, that no one should boast".(Ephesians2:8-9).
For you see, no one can never be good enough, on their own, to received God's forgiveness. Nor can anyone work their way or buy their way into God's heaven. Not even your good Christian parents can help you get in. It's simply accepting God's free Grace, exercised by your Faith alone.
Additionally, in support of the evangelistic message, was the old fashion church altar. I know the physical make up of the alter was no different than any other construction. However, that old fashioned alter was very special for me, for that old alter was where I was first introduced to the Living God.
I can still see that that old alter now, which was labeled "the mercy seat", being lined with individuals at the end of our services and Dad walking up and down, in front of the alter, singing those encouraging invitation hymns or choruses. The Spirit of God just seemed to bounce off the walls.
In conclusion, I must mention, even a "PK" doesn't always obey the teachings of Christ. But, "Praise God", we serve an all knowing, all understanding God. And, His Grace is sufficient for all our needs and reaches to the uttermost.
What about you, beloved?
But as many as received him, to them gave he power to become the sons of God, even to them that believe on his name". (John 1:12)
Let us pray.
Charles Robey is a retired Church Lay Leader who specializes in freelance Christian writings, with a strong evangelistic message. Mr. Robey's many publications center around the Lords Commissioning, as outlined in (Acts 1:8) and he feels strongly that in today's hectic stressful environment, more than any other period of time, God's peace continues to ring true and is freely available to all.