RELIGION -VS- CHRISTIAN
by CharlesRobey
(Trussville)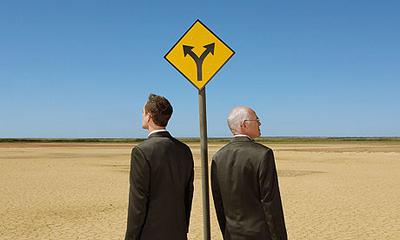 Which road will you take?
"The difference between Christianity and every other faith in the world is that all other religions are about man trying to reach up to God. Christianity is about God reaching down to man." (Anonymous)

So,what's the difference between "Religion" and "Christianity"?

The way to be right with God in every religion is by earning your way, based solely on works, not grace. Christianity is different from every religion in this aspect: all other religions (including Mormonism, Islam, Hinduism, and Buddhism) state that you must earn the right to be reconciled with God. It is by what you do in this life (good deeds or bad deeds) that determines your eternal destiny.

Christianity is completely different from this. It is not religion. All other religion founders are dead and buried in a grave somewhere. Christ, the founder of Christianity, is alive and well, sitting at the right hand of God ever making intercession for us poor human Christians (Romans 8:34).

Being known as a "Christian" is a far cry from being labeled "religious". For anyone can claim to be a self-made religious person, without having any resemblance of or belief in the true God. Much less claiming the attributes of Christianity (Philippians 1:21).

Where we free willed nature people have gone wrong, down through the centuries, is that religion has progressed from being known as divine worship to that of secular correct falsehoods. Now days, just about any subversive institution can benefit from the label of "religion. Including any number of terrorist organizations. And what's so sad is that this broad interpretation of religious psychology, it is now growing and is accepted by the masses. Just tune in any number of TV broadcasts, read the local newspaper or surface the internet, with any consistency of all, and what do you hear?

God is too good to send anyone to hell. Not! (Romans 6:23), there are many ways or paths to God. Not! (John 14:6. Or,just be a good person, give enough money or have your relative pray you in heaven. Not! (Ephesians 2:8-9) And sad to say, this same mind-set is being taught and preached in a good number of our so-called churches today (1 Timothy 4:1).

Yes,in today's society, we have so many people calling themselves Christians, that its original intent has drastically been water down, to the extent that now it is very difficult to understand what a Christian really is supposed to be. However, the scriptures explains it all very eloquently (Matthew 7:16).

Simply put, religion is based on a set of beliefs concerning the cause, nature, and purpose of the universe, especially when considered as the creation of a superhuman agency or agencies, usually involving devotional and ritual observances, and often containing a moral code governing the conduct of human affairs. In other words, one may be labeled as a "worshipper of nature or animal plant life and thus be religious (Romans 3:19-25).

Whereas, becoming a Christian takes on a personal relationship, with the only true God of the universe. In the Old Testament times God gave the Law which had to be followed precisely. There were instructions about clothes, food, what you could or could not do on the Sabbath, what you had to do in the temple, how priests were to carry out their functions, how strangers were to be treated, how people were to be punished, etc.

All these things were to be observed properly and precisely since all of them affected their standing before God. That was in Old Testament times; but now we have Jesus (John 1:17), and the requirements of the Law are no longer necessary for us in order to please God (Galatians 3:17-25).

Being a Christian simply means that you are changed on the inside--not controlled from the outside ( 2 Cor 1:3-4). It means that your heart has been changed by the presence of God. It does not mean that you are required to go to church, required to pay tithes, required to be good, required to do anything in order to stay a Christian. It means you desire to do those things because you've been changed (1 Peter 1:3-4).

Christians came into existence when they began to follow the teachings of Jesus Christ. To the people of their day, they preferred to be labeled more as disciples of Jesus Christ, though being a disciple (or follower) of Jesus Christ automatically classified one as being a Christian. Thus, the populist was first labeled Christian, in the city of Anitoch (Acts 11:26).

My conclusion, from the very beginning of time God was the only true recognized supreme Being and ruler of the universe (Genesis 1:1). The word religion was always deduced to the meaning of Christianity. Now, as mentioned before, anyone or anything can be labeled as being religious. Thus, there goes the original intent of "Christianity" (2 Thes 2:3).

In other words, a true belief in God was the sole intent, as expressed in all our founding documents (2 Peter 1:21). We surely need to get back to the God of the Bible, for our everyday life and practice. And we just need to use the Bible, as our guidebook for all life's adventures and problem solving (2 Timothy 3:16).

However, let's just stop and think. Is the idiom "religious" now the political acceptable way of escape. Or, is it just the fulfillment of prophecy (2 Timothy 3:1-7,13). If it is just a sign of the end of the world, as we know it, then we Christians not we of religious persuasion, had better get ready for a sudden transfer to be with God (1 Cor 15:52) and keep our ears open for His call home (1 Thes 4:16-17). I strongly feel it the latter explanation (Revelation 4:1).

Amen!