Representatives of God Part 2
by John Lowe
(Laurens SC, USA)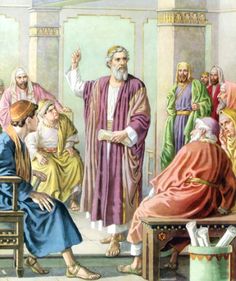 We are working to build up the name of Jesus Christ in every person--one person at a time.
1. It means that Jesus is on the mission with us.
Jesus said--
"Therefore go and make disciples of all nations, baptizing them in the name of the Father and of the Son and of the Holy Spirit, and teaching them to obey everything I have commanded you. And surely 1 am with you always, to the very end of the age."
Jesus spoke these words just before He returned to heaven.
We call it the Great Commission.
The promise, "... surely I am with you always, to the very end of the age," was given to the apostles, and it's been passed on to every generation of believers since then.
Christ's promise of His presence guarantees the success of the church's mission because it's really His mission carried out by His called-out disciples.
What more assurance could we want?
We are His ambassadors and we should be faithful to Him in all things.
We will not go forth alone and we will not be on our own.
In all our service for Him, we will have the companionship of the Son of God.
Remember, we are never out of the care of Jesus.
Jesus has promised His constant presence to be with us always.

2. (The second thing I want to point out is that) Jesus is on a mission through us. (2 Corinthians 5:19-21)
We find these words by Paul in 2 Corinthians 5:19-21: "That God was reconciling the world to himself in Christ, not counting men's sins against them. And he has committed to us the message of reconciliation. We are therefore Christ's ambassadors, as though God were making his appeal through us. We implore you on Christ's behalf: Be reconciled to God. God made him who had no sin to be sin for us so that in him we might become the righteousness of God."
Who is it that's an ambassador for Christ?
Webster says an ambassador is a minister of the highest rank accredited to a foreign government or king as the official representative of his own government or king.
"Now then, we are ambassadors for Christ."
And we are in a foreign land--Peter says that we are pilgrims and strangers down here.
And Paul says, "For our [citizenship! is in heaven; from whence also we look for the Saviour, the Lord Jesus Christ" (Phil. 3:20).
I think what he is talking about is clear:
Our citizenship is in heaven.
Christians are citizens of heaven, as well as being citizens of a country, like the United States.
But, heaven is the Christian's home; he is only temporarily in this world.
The church is really a colony of heaven, and: our names are enrolled in heaven; we are under heaven's government; we share heaven's glory, and we enjoy heaven's honor.
And you know what, we should act like it: heavenly conduct should always mark the Christian's life.
Our allegiance is to Jesus Christ.
So, we wait with eager expectation for the Second Coming of Christ.
This is the normal attitude of a citizen of heaven.
This expectancy of His coming should spur us on to higher and holier living.
The greatest event in a colony was the visit of the Emperor.
And our blessed hope is in the coming of Christ.
When one government sends an ambassador to another government, it means they are on friendly terms.
God is still friendly with this world, and He has sent us into the world as His ambassadors.
One day He will call His ambassadors home.
Then judgment will begin, but that's still in the future.
When man sinned, God in His holiness had to turn away from the world.
But God loved man, so He sent His own Son to die on the Cross.
Now God can hold out His arms to the world and say, "You can come to me."
We are His ambassadors, and as His ambassadors, we are to tell folk, "God will save you!"
All God is asking any man to do is to come to Him.
God won't try to get even with you.
He doesn't want to punish you.
He doesn't want to lay a hand on you.
He invites all people everywhere to come to Him.
You don't need to do one single thing to win Him over.
You don't have to shed tears to soften the heart of God because He loves you, and He wants to save you.
Why?
For he hath made him to be sin for us, who knew no sin; that we might be made the righteousness of God in him 2 Cor. 5:21.
Jesus Christ took my place down here.
He, who knew no sin, came that we might be made the righteousness of God in Him.
He has given me His place, clothed me in His righteousness; and He took my hell down here so that I might have His heaven up yonder.
He did that for me, and He did that for you.
Christian friends, have you been able to get out this wonderful Word to anyone else?
Whoever you are, wherever you are, however you are, what are you doing today to get this Word of reconciliation out to a lost world?
God is the same yesterday, today, and forever.
He feels toward you just as He did the day Christ died on the Cross for you and for all mankind.
This is what the world needs to hear from you.
The world is reconciled to Him, but they will have to turn around and by faith come to Him.
Let's get this word out, my friends.
Since Jesus is "in" us by the indwelling of the Holy Spirit He is working "through" us to complete his purpose.
When Jesus said to go, He did not say to go alone.
He said, "Come and go with me because I am going with you."

3. (The third thing I want to point out is that) Jesus is on a mission and He is working hard to accomplish that mission. (John 5:17)
"Jesus said to them, "My Father is always at his work to this very day, and I, too, am working."
Having finished the work of creation in six days, God had rested on the seventh day.
This was the Sabbath.
However, when sin entered the world, God's rest was disturbed.
He would now work ceaselessly to bring men and women back into fellowship with Him.
He would provide a means of redemption.
He would send out the gospel message to every generation.
Thus, from the time of Adam's fall up to the present time, God has been working ceaselessly, and He is still working.
The same was true of the Lord Jesus.
He was engaged in His Father's business, and His love and grace could not be confined to only six days of the week.

Conclusion:

Henry Blackaby, in his book, "Experiencing God," lists as one of God's principles--"God is always at work around us."
We fail to see the hand of God working around us because we have our own agenda and our own program in place.
But God is continually at work around us and He is asking us to join him in His work.
Because God is working with us, through us, and in us, we can lead someone to Christ, and we can pray for them with power, and we can give them wise counsel in making decisions.
All of this is part of the "work of God."
We are not working to make ourselves a name, we are not working to get God's favor, and we are not working to build a large building, budget, or a large congregation.

We are working to build up the name of Jesus Christ in every person--one person at a time.