Revelation of the Sin of Good People: Part 2 of 4 (series: Lessons on Romans)
by John Lowe
(Woodruff, S.C.)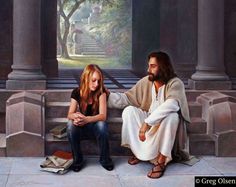 5 But in accordance with your hardness and your impenitent heart you are treasuring up for yourself wrath in the day of wrath and revelation of the righteous judgment of God,

But in accordance with your hardness and your impenitent heart. After years of glossing over his personal sin and guilt, the pride of the moralist will not allow him to have a change of mind, which is repentance. Consequently, his pride and sinful heart stockpile the wrath of God so that in the day of wrath and revelation, the day of God's righteous judgment, the Lord God will deal as justly with the moral man as he does with the heathen.

One of the attributes of God is that He is judging mankind. A god who does not judge is a god of our own imagination. Attempts are made to water down God's judgment, explain it away, or apologize for it, but God's judgment is an expression of the reaction of His holiness to evil. Judgment is an integral part of redemptive history as seen in the Fall (Gen. 3:14–19), the Flood (6:5–7), the plagues (Ex. 3:19, 20; 7:5; 11:4, 5), the conquest (Josh. 3:10), the destruction of Israel (2 Kin. 17:5–23), the destruction of Judah (25:1–21), the Great Tribulation (Matt. 24:21, 22), and the Great White Throne Judgment (Rev. 20:11–15). There are many references in Scripture to both His judgment and His love. Judgment is necessary, since society recognizes that a judge who will not judge is a mockery. The Bible salutes God's judgments as "righteous" and "true" (Ps. 19:9), impartial (Rom. 2:11), perfect (Ps. 19:7), and complete (Rev. 15:1).

All sin starts when we determine that we want to be like God (Gen. 3:5, 6). This attitude of the will is judged. We are told in Isaiah 14:14-15 that Satan had this attitude when he rebelled against God: "I will ascend above the heights of the clouds, I will be like the Most High. Yet you shall be brought down to Sheol, To the lowest depths of the Pit." The Cross did not do away with judgment; it served as the lightning rod. "Having wiped out the handwriting of requirements that was against us, which was contrary to us. And He has taken it out of the way, having nailed it to the cross" (Col. 2:14). At the Cross judgment and mercy met, and both were victorious. Judgment is a necessity; the Cross has no meaning without it. "Being justified freely by His grace through the redemption that is in Christ Jesus, whom God set forth as a propitiation*by His blood, through faith, to demonstrate His righteousness, because in His forbearance God had passed over the sins that were previously committed, to demonstrate at the present time His righteousness, that He might be just and the justifier of the one who has faith in Jesus" (Rom. 3:24–26). In judgment, our innermost attitudes will be revealed, and justice will be administered. We would do well to prepare our hearts. "Therefore we make it our aim, whether present or absent, to be well pleasing to Him. For we must all appear before the judgment seat of Christ, that each one may receive the things done in the body, according to what he has done, whether good or bad. Knowing, therefore, the terror of the Lord, we persuade men; but we are well known to God, and I also trust are well known in your consciences" (2 Cor. 5:9–11).

Without the exercise of wrath against evil, God would be an unrighteous and immoral God. Those who continually sin make themselves the object of God's "wrath." Paul anticipated a future day when God would righteously judge the world. God's judgment includes everyone; yet it is individually assigned. "Who will render to each one according to his deeds" (Rom. 2:6). The judgment described here, based on deeds, is applied to two groups: the righteous and the wicked (vv. 8, 9). For Paul, as well as for James, faith must be confirmed in deeds. "Thus also faith by itself, if it does not have works, is dead" (James 2:17).

Another thing this verse teaches about the judgment of God is that it is graduated according to the accumulation of guilt. Paul pictures hardened and unrepentant sinners treasuring up judgment for themselves, as if they were building up a fortune of gold and silver. But what a fortune that will be in the day when God's wrath is finally revealed at the judgment of the Great White Throne (Rev. 20:11–15)! In that day the judgment of God will be seen to be absolutely righteous, without prejudice or injustice of any kind.

*Propitiation is a means by which justice is satisfied, God's wrath is averted, and mercy can be shown on the basis of an acceptable sacrifice.

6 who "will render to each one according to his deeds":

Who will render to every man according to his deeds. When unsaved men appear before the final judgment bar of God, at the Great White Throne Judgment, salvation will not be the issue. This is a judgment to determine the degree of punishment. Thus God will mete out punishment in relation to the evil deeds of the individual. By the same token, at the judgment seat of Christ, where only believers appear, God will reward us according to our deeds.

A man may boast of great personal goodness. He may rely heavily on his racial or national origin. He may plead the fact that there were men of God in his ancestry. But he will be judged by his own conduct, and not by any of these other things. His works will be the determining factor.

If we took verses 6–11 by themselves, it would be easy to conclude that they teach salvation by works. They seem to say that those who do good works will thereby earn eternal life. But it should be clear that the passage cannot mean that, because then it would flatly contradict the consistent testimony of the rest of Scripture to the effect that salvation is by faith apart from works. There are about 150 passages in the New Testament that place the condition for salvation exclusively on faith or believing. No one passage, when rightly understood, can contradict such overwhelming testimony.

So how are we to interpret this passage? First, we must understand that good works do not begin until a person has been born again. When the people asked Jesus, "What shall we do, that we may work the works of God?" He replied, "This is the work of God, that you believe in Him whom He sent" (John 6:28-29). So the first good work that anyone can do is to believe on the Lord Jesus Christ, and we must constantly remember that faith is not a good work by which a person earns salvation. So if the unsaved are judged by their works, they will have nothing of value to present as evidence. All their supposed righteousness will be seen as filthy rags. "But we are all like an unclean thing, And all our righteousnesses are like filthy rags; We all fade as a leaf, And our iniquities, like the wind, Have taken us away" (Isa. 64:6). The sin that will condemn them will be that they have not believed on Jesus as Lord. "He who believes in Him is not condemned; but he who does not believe is condemned already, because he has not believed in the name of the only begotten Son of God" (John 3:18). Beyond that, their works will determine the degree of their punishment. "And that servant who knew his master's will, and did not prepare himself or do according to his will, shall be beaten with many stripes. But he who did not know, yet committed things deserving of stripes, shall be beaten with few. For everyone to whom much is given, from him much will be required; and to whom much has been committed, of him they will ask the more" (Luke 12:47-48).

If believers are judged according to their works, what will be the outcome? Certainly, they cannot present any good works by which they might earn or deserve salvation. All their works before salvation were sinful. But the blood of Christ has wiped out the past. Now God Himself cannot find any charge against them for which to sentence them to hell. Once they are saved, they begin to practice good works—not necessarily good works in the world's eyes, but good works as God sees them. At the Judgment Seat of Christ, their works will be reviewed and they will be rewarded for all faithful service.

We must constantly remember that this passage does not deal with believers—only with the ungodly.