REVIVAL AT DEEP BOTTOM CREEK
by CharlesRobey
(Trussville, AL USA)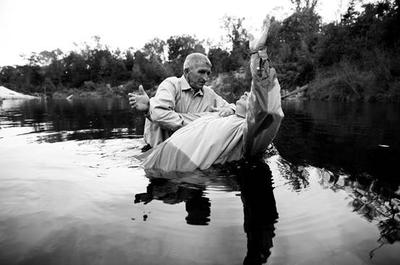 "For by one Spirit are we all baptized into one body, whether we be Jews or Gentiles, whether we be bond or free; and have been all made to drink into one Spirit." (1 Cor 12:13)

It was in Deep Bottom Creek that he gave his soul
It was on that old creek bottom he was made whole
From a scrapping beginning up to a brawling child
He started out young then he turned out plum wild
That's just the first upbringing of old man farmer Gray
For I know God never intended making him that way
Now at his traditionally sacred baptism with chill in air
Getting a little wet meant he did not mend exactly fair
A thousand wonders he didn't break the parson's back
His large frame of nearly a ton didn't cut him any slack
Then he heard a voice screaming to anchor him tight
One dip will not do for he needs to spend the night
But God had a better idea for this nasty unkind man
For this man's soul was in line for a much better plan
Now you need wake up very early on Sunday morn
To see this nice old man in church blowing his horn
You might even hear him holler out an Amen or two
Or maybe even take a flying leap jumping over a pew
To see this new-made Christian is a very nice delight
Yes, indeed he now loves his Lord with all his might
He gave a new-found meaning to the old Gospel way
He would just stop anywhere and kneel down to pray
Well, one hysterically humorous poem one might say
It just turns out that life for many will often go astray

Farmer Gray was somewhat of a contentious character in his little country village, and somewhat controversial to say the least. He was surely a character! One thing for sure, one knew where he stood on just about any subject, when he could think soberly that is.

It was rumored that as he was walking to his baptism, he stopped by the bakery. Grabbing a bag of buns off the outside counter, he then continued on his way tucking the bag under his coat. But as the Scripture points out, your sins will find you out. When he was dipped in the water the bag became soggy and the buns started floating down the creek. Seeing the buns floating down, one of the older Deacons, standing up on the hillside o yelled out, " Dunk him again, parson, his sins are coming out in hunks!"

Like some legends, this creative character had a very happy ending as well. When farmer Gray got religion, he really got religion! Not only did he get religion, so to speak, he made sure half the town followed suit.

Yes God can save to the uttermost. (Hebrews 7:25) Farmer Gray was providential proof of God's free grace. (Ephesians 2:8-9) Amen!

AUTHOR'S POSTSCRIPT

I understand that the ritual of baptism does not actually save a person. It's simply an outward sign of an inward conversion, a testimony of a changed life.

Just like the fictitious farmer Gray mentioned in this little blog, it shows that one does business with God, through His Son Christ Jesus, by way of the conviction of God's Holy Spirit. Parallel to the direction in the above passage, the missionary task of the church is to go, to baptize, and to teach, doing so in the name of the Father and the Son and the Holy Spirit.

So what are we Christians to teach? We are to teach them to observe all that God, through His Word, commands. And yes, He will be with us forever. Please read (Matthew 28:18-20).