Salutation Part 2 of 6-series: Lessons on Galatians
by John Lowe
(Woodruff, S.C.)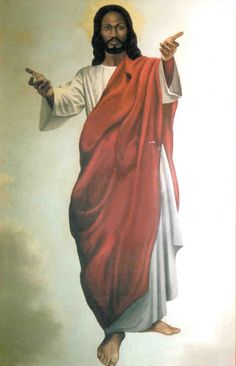 Paul was an apostle by the express and the immediate operating agent in the call. Not only was the call from God as its ultimate source, but by Christ and the Father as the immediate agent in calling him:

• (Acts 22:15; KJV) "For thou Paul shalt be his witness unto all men of what thou hast seen and heard."
• (Acts 26:16-18; KJV) "But rise, and stand upon thy feet: for I have appeared unto thee for this purpose, to make thee a minister and a witness both of these things which thou hast seen, and of those things in the which I will appear unto thee; Delivering thee from the people, and from the Gentiles, unto whom now I send thee, To open their eyes, and to turn them from darkness to light, and from the power of Satan unto God, that they may receive forgiveness of sins, and inheritance among them which are sanctified by faith that is in me." This puts him on equal footing with those "eye-witnesses and ministers of the word."

The Holy Ghost called him specially—"As they ministered to the Lord, and fasted, the Holy Ghost said, Separate me Barnabas and Saul for the work whereunto I have called them. And when they had fasted and prayed, and laid their hands on them, they sent them away" (Acts 13:2-3; KJV); he was an apostle before this special mission.

A minister of the gospel now receives his call from God, but he is ordained or set apart to his office by man. Matthias, the apostle chosen to replace Judas (See Acts 1:17), received his call from God, but it was by the vote of the eleven apostles. Timothy was also called by God, but he was appointed to his office by the laying on of the hands of the presbytery (See 1 Timothy 4:14). But Paul here says that he received no such commission from the apostles. They were not the means or the instrument of ordaining him to his work. He, along with Barnabas had been set apart at Antioch by the brethren there (See Acts 13:1-3), for a special mission in Asia Minor; but this was not an appointment to the apostleship. He had been restored to sight after the miraculous blindness produced by seeing the Lord Jesus on the way to Damascus, by the laying on of the hands of Ananias, and had received important instruction from him (See Acts 9:17), but his commission as an apostle had been received directly from the Lord Jesus, without any intervening medium, or any form of human authority (See Acts 9:15, 22:17-21, 1 Corinthians 9:1).

When Paul speaks of those called "BY MEN," he may mean those whom neither God nor man sent, but who go wherever they like and speak for themselves: or he means those who have a divine call extended to them through other persons. God calls in two ways. Either He calls ministers through the agency of men, or He calls them directly as He called the prophets and apostles. Paul declares that the false apostles were called or sent neither by God, nor by man. The most they could claim is that they were sent by others. Paul declares, "But as for me I was called neither of men, nor by man, but directly by Jesus Christ. My call is in every respect like the call of the apostles. In fact, I am an apostle." Elsewhere Paul draws a sharp distinction between an apostleship and lesser functions: for example in 1 Corinthians 12:28 he said: "And God hath set some in the church; first, apostles; secondarily, prophets; thirdly, teachers." He mentions the apostles first because they were appointed directly by God.

Matthias was called in this manner. The apostles chose two candidates and then cast lots, praying that God would indicate which one He would have. To be an apostle he had to have his appointment from God. In the same manner, Paul was called as the apostle to the Gentiles.
The call is not to be taken lightly. It is not enough for a person to possess knowledge. He must be sure that he is properly called. Those who operate without a proper call seek no good purpose. God does not bless their labors. They may be good preachers, but they do not edify. Many of the fanatics of our day pronounce words of faith, but they bear no good fruit, because their purpose is to turn men to their perverse opinions. On the other hand, those who have a divine call must suffer a good deal of opposition in order that they may become fortified against the running attacks of the devil and the world.

but by Jesus Christ, and God
the Father,
Paul loses no time in defending himself against the charge that he had thrust himself into the ministry. He says to the Galatians: "My call may seem inferior to you. But those who have come to you are either called of men or by man. My call is the highest possible, since it is by Jesus Christ, and God the Father." Having received his assignment directly from Christ himself, and God the Father who raised him from the dead (See Acts 22:14, 15), and commanded him to go both to the Jews and to the Gentiles, to open their eyes, to turn them from darkness to light, and from the power of Satan unto God, that they might obtain remission of sins, and an inheritance among them that are sanctified.
But by Jesus Christ means "directly by Christ." He had been called by Him, and commissioned by Him, and sent by Him, to engage in the ministry of the gospel—"And he trembling and astonished said, Lord, what wilt thou have me to do? And the Lord said unto him, Arise, and go into the city, and it shall be told thee what thou must do… But the Lord said unto him, Go thy way: for he is a chosen vessel unto me, to bear my name before the Gentiles, and kings, and the children of Israel" (Acts 9:6, 15; KJV).
And God the Father indicates that he had the highest possible authority for the office of an apostle; he had been called to it by God himself, who had raised up the Redeemer from the dead. It is remarkable that Paul unites Jesus Christ and God the Father in acting together in both calling and commissioning him. At this point, we may want to ask those who deny the Divinity of Christ, why Paul would mention Him as being equal with God in the work of commissioning him, if it was not true? Furthermore, we may ask, how he could say that he had not received his call to this office from a man, if Jesus Christ was a mere man. The apostle expressly says, and strenuously maintains he was called by Christ, and he makes it a point of great importance. Both Christ and God are controlled by one preposition (by) and joined by one conjunction (and), indicating that they are coequal and coeternal. There was no one higher in the universe to commission Paul; he had a divine commission to expose false teaching, to proclaim the gospel, to establish churches, to exhort Christians, and to exalt Christ. Jesus laid His hand upon Paul, called him, and set him apart for the office (See Acts 9:15–16).
Paul devotes the first two chapters to a defense of his office and his Gospel, insisting that he received it, not from men, but from the Lord Jesus Christ by special revelation, and that if he or an angel from heaven preach any other gospel than the one he had preached, he shall be accursed.
who raised him from the dead;)
"Raised him from the dead" implies that, though he had not seen Him while He in the world as a human man like the other apostles (which was made an objection against him), he had seen Him and been specially made an apostle by Him while He was in His resurrection power—"And Jesus came and spake unto them, saying, All power is given unto me in heaven and in earth" (Matt 28:18; KJV). The Lord speaks here of the power or authority committed to Him over all things, so that He might redeem, defend, and save the church which He purchased with his own blood. His power, therefore, extends over the material world, over angels, over devils, over wicked men, and over his own people—and He has the power to call and confirm Paul as an apostle. (Also see Ro 1:4, 5). The apostle was compelled by his adversaries to magnify his office, which shows that though men should not be proud of any authority they possess, yet at certain times and upon certain occasions it may become necessary to assert it.
Paul had seen the risen Christ—"Am I not an apostle? Am I not free? Have I not seen Jesus Christ our Lord? Are you not my work in the Lord?" (1 Cor 9:1; NKJV), and was qualified to be an apostle. The resurrection was God's "Amen" to Christ's "It is finished." Paul emphasized the resurrection because some were saying that he had not seen the Lord Jesus Christ and could not be an apostle. It was the risen, glorified Son of God whom Paul had seen on the road to Damascus (See Acts 9:3–9). Paul's mission and message were divine, not human.