Salutation Part 3 of 3 (series)
by John Lowe
(Woodruff, S.C.)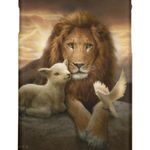 Paul commonly called Christians saints. The Greek word for saints means "those set apart" or "holy ones." That is, Christians are set apart from evil and to God's gracious purposes. In the Old Testament, the nation of Israel was described in that fashion, a holy nation set apart for God and distinct from other nations and their wicked practices (compare Ex. 19:6 with 1 Pet. 2:9). Thus, when Paul used the word "saints" to describe Christians, he wasn't suggesting that they were perfect. The context of 1 and 2 Corinthians makes it abundantly clear that the congregation had many serious faults (1 Cor. 5:1-12; 2 Cor.2:5-17). Paul did not consider them saints because of their behavior but because God had chosen them as His own people. The Corinthian Christians were dedicated to God and to the constant struggle of separating themselves from evil to do the will of God. They were God's holy people.


2 Grace to you and peace from God our Father and the Lord Jesus Christ.

This was the standard greeting Paul used in his letters. It was a Christian adaptation of the common letter-writing practice of his day. After identifying to whom a letter was addressed, a writer would write "greetings," in Greek, chairein—a word that functioned much like our word "hello." Paul Christianized this common greeting by using the Greek word Charis, commonly translated "grace." Grace is God's undeserved favor. God's graciousness is preeminently shown by the fact that He sent His own Son, Jesus Christ, to die on the cross. At the same time, God showers on people undeserved favor every day—by providing everything from rain for crops to sunlight for illuminating our days. That is what Paul means here—the constant divine favor and help that flows daily to believers. Being believers, they had already received the initial act of free, undeserved favor by which God redeems and forgives the sinner and receives him into fellowship with Himself. His graciousness is even more pronounced to Christians, who enjoy His Spirit, who guides them to do what is right. When Paul wanted to describe his greatest desires for the people of God, he does not wish for them material things
such as silver and gold. He knows only too well that these can quickly vanish. But rather, he wishes for them spiritual blessings, such as grace and peace, which included every good thing that could come to a sinner on this side of heaven.
The Greek word for "peace" is based on the common Hebrew greeting shalom. For Jews, shalom did not mean absence of conflict, as it does for us when we say, "there is peace in the Middle East." Indeed, shalom connotes well-being, wholesomeness, and tranquility. Peace is "the way things ought to be." For Paul, Christ's death on the cross was the only event that restored true peace.
The protocol of salvation is recognized even in this salutation, "grace" always precedes "peace." The former is the basis and foundation of the latter, therefore, the order cannot be changed. No man can have "peace" who has not previously experienced divine "grace" (2 Cor. 8:9).
By identifying God the Father and the Lord Jesus together, Paul was asserting that both the Father and the Son had granted these wonderful gifts of grace and peace. Paul was pointing to Jesus as a full person in the Godhead. Both God the Father and the Lord Jesus together provide Christians with grace and peace. "God our Father" is the source, and "the Lord Jesus Christ" is the channel. Peace comes because God's grace has been received by faith. Paul doesn't hesitate to place "the Lord Jesus Christ" side-by-side with "God" the "Father," because as a member of the Trinity, "Christ" is equal with the "Father." Paul used the same reasoning in his introductory remarks to the Romans (Rom. 1:7), to the Galatians (Gal. 1:3), to the Ephesians (Eph. 1:2), and to the Philippians (Phil. 1:2). During His ministry on earth, Jesus had consistently identified God as his Father (John 10:29), and He even declared that He and the Father were one (John 10:30). The early church adopted Jesus terminology, calling God the Father (Acts 2:33). In his letter to the Romans, Paul explained why Christians considered God as their true Father. Jesus had given Christians the spirit of Sonship, which made them truly children of God (see Romans 8:15).