SALVATION IN A BOX
by CharlesRobey
(Trussville, AL USA)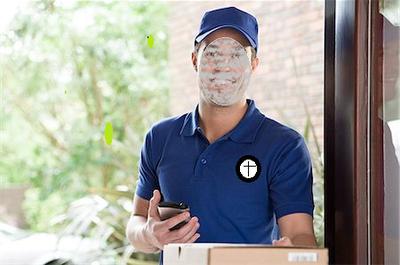 Why did the caller not ring the bell?
"What more can I say to You? You know what Your servant is really like, Sovereign Lord. Because of Your promises and according to Your will, You have done all these great things and have made them known to Your servant. How great You are, O Sovereign Lord! There is none like You. We have never even heard of another God like You! (2 Samuel 7:20-22)


Have you ever received a package from an unknown destination? Did you return the package marked "return to sender"? But what if this package had no return address, what would you do? Would you destroy the package? Would you go ahead and open the package? Uncertain, you say! Well then, please read on.

I had just settled in for my afternoon cat nap when suddenly there was a knock at the door. Who could this possibly be, and why did the caller not ring the bell, I wondered.

When I answered the door it all started happening. A mysterious man stood there holding a large box. The man was dressed in a delivery uniform bearing a logo matching that on his parked truck. However, his facial features were hidden by a shadow.

"What is this?" I asked. His immediate response was that he was only a deliverer, and the box was addressed to me at my address. But the box had no recognizable return address, only a strange phrase which read "Returnable Past Possessions." Just as I started to refuse this box, I turned around and to my surprise, the man and his truck had disappeared.

"What now? I guess I'll just take the box in and ponder what I should do," I concluded. Being rather rattled by the unusual event, I decided to sleep on the whole scenario. However, I failed to get very much sleep.

As the sun rose, I found myself still awake. So I decided to open the box. After all, it was addressed to me. What I found inside the box was absolutely amazing, for packed away inside the box were many of my childhood possessions; possessions long ago forgotten or lost.

Among the items in the box was a small wind-up plastic toy tractor; a Roy Rodgers school lunch box; my special secret decoder ring obtained from sending in the cereal box-tops; my famous steely marble, used in becoming the neighborhood champ; and many other items long since forgotten.

The most surprising item found was an old Bible tucked away in the very bottom of the box, covered over by many of my childhood possessions. Much the same as my life had been these past years, this old Bible packed in appeared to have had a low priority.

Surprisingly it was the old Bible I had received as a child for having perfect Sunday School attendance. When I opened the Bible, I suddenly remembered the inscription my church pastor had written on the inside cover which ended with a long-forgotten scripture verse.

"For I know the plans I have for you," declares the Lord, "plans to prosper you and not to harm you, plans to give you hope and a future." (Jeremiah 29:11)

Then all of a sudden, as if by divine
recall, I was carried back to my youthful years, to that simpler way of life, when ipads, iPhones, email, computers, and the like, were still a thing of the future. It was a time when we young people actually talked directly to one another, and actually attended church, including the Sunday School hour.
You see, Pastor John was one of those "old time religion" dinosaurs, who genuinely cared for his congregation. I can still hear him as he gave his little speech to us young people at that Sunday School honor ceremony.
"On behalf of the church and God Almighty, I congratulate all you fine young church members, on your perfect Sunday School attendance. This feat is something you should be proud of, and something you will carry with you long past your youthful years. Your youthful possessions will come and go, but the Word of your Lord will live on forever. So, take these Bibles, treat them with respect, and lean on its Word forever, in the good times and the bad. Let us pray, Amen!"
Continuing then in my recall, I could not help but wonder whatever become of all my church buddies. One thing I do know, however, and that I am surely ashamed of, is that I had failed to live up to Pastor John's declaration decree given that special Sunday morning.
As Pastor John's said, we serve an awesome God, a God of love and forgiveness. (1 John 1:9) And to that end, I suddenly fell to my knees in repentance. Hallelujah!
What then happened to me, you might ask? Well, my family and I are now happily serving in our local Bible-believing church. And I would be remiss from a human secular stand point, if I failed to mention that often times the flesh still tries to overcome the spirit, in our Christian walk. Nonetheless, (1 John 1:9) is as true today as when I first claimed it many years ago.
My favorite saying is, "I don't see how Divine Providence can ever find time for all the other "sinners saved by grace" for having to keep me straight. What about you, Beloved?
Author's Postscript
I trust that you will enjoy this fiction Christian blog. This modern day parable of an earthly story carries with it a heavenly meaning. A story line with which many a reader may be able to relate.
You see, more than any other time in history, we Christians face a daily battle of evil versus good. (Ephesians 6:11-12) Often times it's simply hard in this environment to realize the fact that Almighty God is waiting and willing to talk with us. What can we say that our loving heavenly Father doesn't already know?
Yes, God doesn't leave us hopelessly trapped, in these troubled times without words of hope. He has given us His inspired Word (2 Timothy 3:16) to carry us through.
He gives us daily His strength, and a deeper faith and everlasting peace. His guidance and direction are fixed in His Word. (Psalm 66:18) And as this blog portrays, our possessions are temporary. They come and go. They wear out and they become outdated. But God's Word is forever fixed. (Psalm 32:1-2)