Saul Proclaims Jesus as the Christ Part 3 of 3
by John Lowe
(Laurens SC, USA)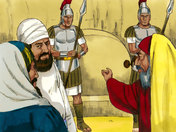 29 And he spoke boldly in the name of the Lord Jesus and disputed against the Hellenists, but they attempted to kill him.
30 When the brethren found out, they brought him down to Caesarea and sent him out to Tarsus.

In verses 29 and 30, the pattern that began in Damascus again repeats itself. Saul's hope that his witness to his old companions of the Hellenistic synagogues would be effective was not realized. These were not Greeks. They are Israelites who have a Greek background. They had been brought up outside Israel somewhere in the Greek world. Saul witnessed in the synagogues and was resisted. This time Saul debated with his fellow Greek-speaking Jews. We are reminded of Stephen, and he may have debated in the same synagogue as Stephen, and therefore, before those same evil men who took Steven outside the city and stoned him. They had been successful in Killing Stephen (cf. 6:9-10), and now they were determined to kill Saul. Once again, the Christians learned of the plot and hustled Saul off to the port of Caesarea (about 65 miles away by road), and from there, presumably by boat, to his hometown of Tarsus (an ancient city, then over 6,000 years old). But there was another reason for him leaving Jerusalem—he was commanded to leave by Christ, in a vision he received while he was praying in the temple, which is revealed in Acts 22:17-21:

Now it happened, when I returned to Jerusalem and was praying in the temple, that I was in a trance and saw Him saying to me, 'Make haste and get out of Jerusalem quickly, for they will not receive your testimony concerning Me.' So I said, 'Lord, they know that in every synagogue I imprisoned and beat those who believe on You. And when the blood of Your martyr Stephen was shed, I also was standing by consenting to his death, and guarding the clothes of those who were killing him.' Then He said to me, 'Depart, for I will send you far from here to the Gentiles.' "


Saul gave the same itinerary in Galatians 1:21: from Jerusalem he went to "Syria and Cilicia." Tarsus was located in Cilicia and came under the Roman provincial administration of Syria.

The apostle disputed against the Grecians (v. 6:1), addressing himself specifically to them, perhaps because they were his own class, and during the days of his ignorance he had been the fiercest against them. He failed
miserably, because the next thing we are told is they attempted to kill him. Thus, he was made to feel what he had so cruelly made others feel, the cost of discipleship.
During the time spent in his hometown, Saul continued to witness for Jesus Christ. We leave Saul there and will not encounter him again until Barnabas brought him back to Antioch (Acts 11:25 cf.). The time span from Saul's sailing to Tarsus, and Barnabas' bringing him to Antioch covered some ten years or so. Since neither Saul's Epistles nor Acts cover his activity during this period in Syria-Cilicia; these are often referred to as Saul's "silent years." This was his first visit to his native city after his conversion, and it is not certain that he was ever there again (see 11:25-26). It was probably now that he became the instrument of gathering into the fold of Christ, those 'kinsmen,' that 'sister,' and perhaps her 'son,' of whom mention is made in Acts 23:16 (cf. Rom. 16:7. 11, 21. It could have been a time, however, when he was disowned by his family and suffered the 'loss of all things' (Phil. 3:8). It may be highly probable that he witnessed in the synagogues in Cilicia and that certain sufferings listed in 2 Corinthians 11:21-28 belong to this period. And then, says Luke, ". . . the churches throughout all Judea, Galilee, and Samaria had peace and were edified. And walking in the fear of the Lord and in the comfort of the Holy Spirit, they were multiplied" (Acts 9:31). The first wave of persecution seems to have died down with the conversion of the first persecutor.
Throughout his life, the great apostle was hated, hunted, and plotted against by both Jews and Gentiles ("in perils of my own countrymen, in perils of the Gentiles"—2 Cor. 11:26). As you read the book of Acts, you see how the opposition and persecution increase, until the apostle ends up a prisoner in Rome (Acts 13:45, 50; 14:19; 17:5, 13; 18:12; 20:3, 19; 21:10-11, 27). But he counted it a pleasure to suffer for the sake of Jesus Christ, and so should we. "Yes, and all who desire to live godly in Christ Jesus will suffer persecution" (2 Tim. 3:12).
Saul's movements in Chapter 9 may be summarized as follows:
1. Jerusalem (vv. 1-2)
2. Damascus (vv. 3-22)
3. Arabia (Gal. 1:17)
4. Damascus (Acts 9:23-25; Gal. 1:17; 2 Cor. 11:22-23)
5. Jerusalem (Acts 9:26-29; Gal. 1:18-20)
6. Caesarea (Acts 9:30)
7. Tarsus (v. 30; Gal. 1:21-24)