Saving Faith Part 1
by John Lowe
(Laurens SC, USA)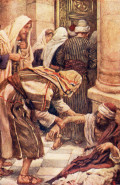 saved by faith.
7-30-04
Saving Faith

Text: "Thy faith hath saved thee."-Luke 7:50 and Luke 18:42.

PORTIONS OF SCRIPTURE READ BEFORE SERMON—Luke 7:36-50; 18:35-43.

Introduction

I am going to do something today I have rarely done before. I usually use only one passage of Scripture for our text. But today, there are two stories from Luke's gospel which illustrate great faith, and I am going to use both of them. The first story is about a sinful woman; a prostitute. The second is about a poor blind man. I am going to begin by reading Luke 7:36-50 from the Living New Testament.

--READ LUKE 7:36-50--

The poor, blind man's story is found in Luke 18:35-43.

--READ LUKE 18:35-43--

Today, we will look closely at these two stories, and we will ask just three questions:
First, what was it that saved the two persons in these stories?
Second, what kind of faith was it that saved them?
Third, what does this teach us about faith?

Now, the first question is, "WHAT WAS IT THAT SAVED THESE TWO PEOPLE?"

Let's look first, at the situation of the woman. Her sins had been forgiven, and she was changed.She became a woman who loved the Savior. She loved Him very much, because she had been forgiven very much. Can you see with your mind's eye what this woman did?
She knelt behind Jesus as He reclined at dinner, and her tears dripped from her eyes and fell on His feet; and then she uses her long hair to wipe His feet. Her love for Jesus is what caused her to get so close to Him, and to be so unwavering in her intention to honor Him. I believe that out of all those who loved the Savior, this woman, who was a sinner, had the greatest love.

However, He didn't say to her, "Thy love hath saved thee." This loving woman should be remembered most for her repentance. She was deeply sorry for her sins. Her tears were not just sentimental emotion; rather, they rained from a heart that was made pure and sorry for sin. She had been a sinner, and she knew it. She remembered all of her sins, and she felt that each one deserved a tear. And so, she stood there, crying her eyes out, because she had offended her Lord.

But Jesus didn't say, "Thy repentance hath saved thee." Her salvation caused her repentance, but her repentance didn't save her.
She was a humble woman. She came behind the Lord and washed His feet, as though she was a servant, who thought it was a pleasure to serve her Master. Her admiration for Him was the highlight of her life. She respected Him and treated Him as if He was a king, and she did what has sometimes been done for the royal family by their passionate subjects-she kissed His feet. But even though she kissed His feet, He didn't say, "Thy humility hath saved thee," and He didn't say, "Thy respect hath saved thee."
What she heard Him say was this, "Thy faith hath saved thee, go in peace."

Now, let's consider the blind man. This man was well-known for his sincerity. He shouted, "Son of David, have mercy on me." He was also noted for his persistence. They tried to silence him, but he just shouted louder, "Son of David, have mercy on me." But Jesus didn't credit his salvation to his prayers, even though he was persistent and sincere. He didn't say, "Thy prayers have saved thee."
Instead, He said, "Thy faith hath saved thee."

He knew who Jesus was, so he didn't call Him Jesus of Nazareth, like the crowd did; he called him, "Son of David." In front of the people who were all around Him, he had the courage to say publicly, that the humble man, dressed in peasants clothing, who was threading his way through the crowd, was none other than the One who was prophesized; the One who would come from the line of David. He was convinced that he was the long-anticipated Messiah, the King of the Jews, and the Son of David. But Jesus didn't credit his salvation to his knowledge or to his clear understanding that Jesus was the Messiah, but instead, he said to him, "Thy faith hath saved thee."

So, in both cases, they were saved by faith. But, why is it, in every case, in every man and woman that is saved, faith is the means of salvation? It is because God has the right to choose what ever way of salvation He pleases, and He has chosen that men should be saved, not by their works, but by faith in His Son. He has declared that, "He that believeth and is baptized shall be saved; he that believeth not shall be damned." There is no exception to this rule, and it will last forever. So, if you want to be saved, "believe in the Lord Jesus Christ, and thou shalt be saved." This is the chosen way; follow it, and it leads to heaven; refuse it, and you must perish.
It was Jesus that saved the blind beggar and it was Jesus that saved the woman who washed His feet with her tears. But He didn't take the credit; instead, He said, "Thy faith hath saved thee." It is by the grace of God, that salvation is even a possibility; and so we can't boast, even a little bit. It pleased God to make the means of salvation by faith, and by no other means. And, that isn't all.

Something happens after someone is saved. He feels grateful to God who has pardoned him. Feeling grateful, is only natural. And, it's normal for him to hate those things which displease his Savior, and love deeply anything which is pleasing to Him. God said in His Word, "As a man thinketh in his heart so is he." But his thinking comes out of his believing. If he is right in what he believes, then his understanding will work upon his love and all the other element of his nature, and old things will pass away, all things will become new through the wonderful effect that faith has.

Faith produces love, and love cleanses the soul, so that the man becomes a new creature. I hope you agree that the means of salvation God has chosen shows the great wisdom of God. Faith saves us just as the mouth saves us from hunger. If we are hungry, food is the real cure for our hunger. But the food won't do us any good, unless the mouth eats it first. Faith is the soul's mouth, and by faith, the hunger of the heart is removed.

In the Old Testament, we are told about the brazen serpent that saved those Israelites bitten by poisonous snakes. When they looked at the brazen serpent lifted up on a pole they were saved from death. Christ is also the brazen serpent lifted up; all the healing power is in Him; however, no healing power comes out of the brazen serpent unless you look at it. So, the act of looking is considered to be the act that saves. Therefore, in the deepest sense it is Christ uplifted who saves; but without looking to him we cannot be saved, so you could say, "There is life in a look," as well as life in the Savior to whom you look.

Nothing is yours until you get your hands on it. Faith is the hand of the soul. If you stretch it out, it lays hold of the salvation of Christ, and so by faith, we are saved. Jesus said, "Thy faith hath saved thee." I don't need to dwell any longer on that point. It is self-evident from the text that faith is the great means of salvation.

Now, we can ask the second question, "WHAT KIND OF FAITH WAS IT that saved these people?

I will mention, first, the similarities between the faith of these two, and then, secondly, the differences. In the case of the repentant woman and the blind beggar, their faith was placed in Jesus alone. The sinful woman came to Him: her tears fell on him; her ointment was for him; her long hair was a towel for His feet. She loved Him more than anyone. He could save her, and He could blot out her sins. She believed in Him; that's why she did what she did.

It was the same way with that blind man. He wasn't aware of any ceremonies that could be performed by priests, and he had never heard of any medicine which might be given him by physicians. His cry was, "Son of David, Son of David." He didn't even notice those around him as he continued to cry out, "Son of David, Son of David."

"What wilt thou that I shall do unto thee?" was the Lord's question, and that's what he wanted to hear, because he knew that if anything were done for him, it must be done by the Son of David. It is crucial that our faith rests on Jesus alone. If you mix anything with faith in Christ, you will not be changed.

"None but Jesus, none but Jesus
Can do helpless sinners good."

All true faith is alike in this respect. The faith of these two was also similar in its admission of unworthiness. She stood behind Him, and the tears flowed, because she felt unworthy to come so close to Him. And what about the beggar's cry, "Have mercy on me?" Notice that he does not say he deserves it, neither does he ask for it as a reward. But instead, his appeal was for the mercy of God.

I don't care who you are or what you are, there is always a connection between true faith and a thorough understanding that mercy alone is what saves us. Folks, if you come before Christ with your righteousness in your hand, you come without faith; but if you come with faith you must also come asking forgiveness, because true faith always walks hand-in-hand with a deep sense of guilt before the Lord. This is true in every case. The faith of the beggar and the sinful woman was very similar.