Saving Faith Part 3
by John Lowe
(Laurens SC, USA)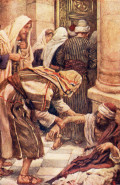 Now, look at the man. He was blind, but he could see a great deal more than the Pharisees, who said they could see. He was blind, however, the Spirit of God allowed him to recognize the King of the Universe, and then to declare it. He was a beggar, but he had a noble soul, and a strong determination which was not to be put down by those in the crowd or by the apostles. He began to cry out to Jesus and he wouldn't stop until he got what he wanted. He said, "Lord, that I might receive my sight." He was clear about his needs, and he asked the only person who could supply them. And you know what, he expected to receive it. He felt that he should never have to beg again. He was sure his eyes were about to be opened.

Last but not least, he was grateful for what he received, because we're told that he followed Jesus down the road, happy and content. It's amazing what wonderful creatures Jesus can make regardless of the physical and spiritual handicaps that people have.

Finally, we need to ask ourselves, WHAT DOES THIS TEACH US ABOUT FAITH?

It teaches us first of all that faith is all important. I pray for you every day; that you will have the faith that saves. Remember, there are not many things in Scripture that are called precious, but there is the precious blood, and along with it goes the precious faith. If you don't have that, you are lost; if you don't have that, your eternal destiny will be spent in despair. But if you have faith, and even if it is like a grain of mustard seed, you are saved. "Thy faith has saved thee."

Something that we need to learn is that the main issue in faith is the person that you believe in. Your faith must recognize Him as a person, and must come to Him as a person, and your faith shouldn't be centered in His teachings only, or his work only, but in Him.
Remember, He said, "Come unto me, all ye that labor and are heavy laden, and I will give you rest." He is a personal Savior for anyone!
Are you resting on Him alone? Do you believe Him? Folks, we do not all show our faith in the same way. I must not judge my faith by the standard of the faith of other men. Instead, I should ask, "Am I resting in Christ? Do I believe Him?

The last thing I want to do is sum up all is this. If we have faith in Jesus we are saved, and we ought to talk and act as if there was no question about it.

Jesus said, "THY FAITH HATH SAVED THEE."

If you have faith in Christ, you can be certain that's what saved you. Do not, therefore, go on talking and acting and feeling as if you were not saved. I know a congregation of saved people who say every Sunday, "Lord, have mercy upon us, for we are miserable sinners." But the truth is they are not miserable sinners, and if they are saved, they shouldn't say such things, because it takes away from Christ's work, which freed us from the guilt and penalty of sin. If they are saved sinners, then they ought to be rejoicing saints. It's a waste for some people to go about asking God to give them the mercy they have already obtained, hoping that one day they will receive what Christ assures them is already theirs. They talk to others like it was a legitimate question whether they were saved or not. Folks, it cannot be a proper question since, "Thy faith has saved thee."

Can you imagine the poor penitent woman turning around and saying to the Savior, "Lord, I humbly hope that it is true." There would have been neither humility nor faith in such a statement.

Can you imagine that blind man, when Christ said, "Thy faith hath saved thee," saying "I hope that's the case?" Folks, if you have believed, you are saved. Do not talk as if you were not. Folks, if the Lord says something to you by His Word, by His Spirit or when you pray please don't be suspicious; never doubt his promises, for heaven and earth and hell shall pass away, but not one jot or tittle of his word shall fail.

You would not spit in His face if he was here, however, your "ifs" and "buts" are an insult to His truth. You would not beat Him or whip Him, but your doubts displease him and put Him to shame? If He lies, don't believe him; if he speaks the truth, never doubt him. Then you will know, after you cast aside your awful unbelief that your faith has saved you, and you will go in peace, like the forgiven woman and the seeing beggar.

Amen.