Seven Sons of Sceva Part 3 of 3
by John Lowe
(Woodruff, S.C.)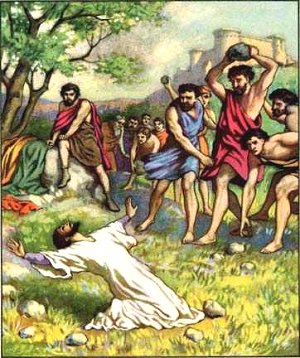 16 And the man in whom the evil spirit was leaped on them, and overcame them, and prevailed against them, so that they fled out of that house naked and wounded.

Take note of the clear line of demarcation here between "THE EVIL SPIRIT WHICH ANSWERED AND SAID" (19:15), and "THE MAN IN WHOM THE EVIL SPIRIT WAS" (19:16). The reality of such possessions could not be more clearly expressed.

"AND THE MAN IN WHOM THE EVIL SPIRIT WAS LEAPED ON THEM," by the power of the evil spirit, which by the permission of God acted in him with great agility and force (Matthew 8:28; Mark 5:4; Luke 8:29). Satan still retains his natural power, though he has lost his moral or spiritual power to do any good. We should thank God that his violence can go no further than the bounds which God had set for him—it was not for his lack of trying or the absence of wickedness, but because he lacked the power to do so.

Several similar instances are recorded of the extraordinary power and rage of those who were possessed with evil spirits (Mark 5:3; Mark 9:29; Luke 9:42). Demonic possession brought with it, as in the case of the Gadarene, the unnatural strength of frenzy,

"NAKED AND WOUNDED"—the first word does not necessarily imply anything more than that the outer garment, or cloak, was torn off of them, and that they were left with nothing but the short tunic (Matthew 5:40; John 21:7). The cloak is a loose outer garment, extending from the neck downwards, and commonly without sleeves. It is longer than a cape, and is worn both by men and by women. Whether the sons of Sceva were entirely naked, or merely stripped of their upper clothing, remains an undecided point.

"AND OVERCAME THEM, AND PREVAILED AGAINST THEM," though they struggled furiously against each other; but it ended when the "possessed man" laid hold on them, and beat and wounded them, and stripped them naked. He tore their clothes to shreds, and their bodies bore the marks of their vicious brawl. Thus we find that one man was more powerful than these seven brothers, which is a proof that he derived his strength from the evil spirit that dwelt in him?

The Alexandrian copy, Beza's most ancient one, and some others, and the Vulgate Latin version read, "and overcame both"; as if only two of these seven sons took part in this attempted exorcism; though the Ethiopic version reads, "and overcame them all"; all the seven sons. Here, then, we have an unusual deviation from the texts of the oldest manuscripts, which read, "both of them," a reading which seems to preserve for us the information that only two of the seven sons were present on this occasion. There is no objection to the acceptance of this old reading, despite the fact that other words in the verse referring to these brethren are plural, and not dual. Plural verbs and adjectives are frequently used for dual subjects.

Now the seven impostors were demoralized by the violent outbursts of the man's passionate rage, and they only wanted to get as far away as they could—men of that class being commonly more or less cowards—"SO . . . THEY FLED OUT OF THAT HOUSE NAKED AND WOUNDED"

It may be noted, as an indication of the truthfulness of the account that the narrative stops here. A writer inventing miracles would no doubt have crowned the story by representing the man who battled the impostors as healed by the power of the Apostle.


17 And this was known to all the Jews and Greeks also dwelling at Ephesus; and fear fell on them all, and the name of the Lord Jesus was magnified.

"AND THIS WAS KNOWN TO ALL THE JEWS AND GREEKS ALSO DWELLING AT EPHESUS." "These men, both Jews and Greeks that dwelt at Ephesus" is a bit easier to understand. Though it happened in a private house, yet there might be many spectators and witnesses, both Jews and Greeks, who spread this factual account about the city, and who, were to be depended upon to tell the truth. Exorcists were plentiful in Ephesus, and an event as unusual as this was would be looked on as a warning to those who dabbled in the supernatural.

"AND FEAR FELL ON THEM ALL, AND THE NAME OF THE LORD JESUS WAS MAGNIFIED"—The incident just narrated had shown that the sacred Name stood on quite a different level from that of the other names which exorcists had employed. It was a dangerous thing for men to use it rashly, men who lacked faith in all that the Name implied. Men thought more of the Name than they had before, because they saw the punishment that fell on those who had profaned it.

"FEAR FELL ON THEM ALL"; on the enemies of Christ and His Gospel; they feared—after this example of God punishing those that had taken His name in vain—to profane the name of Christ, and even more to blaspheme or speak evil against it.

"THE NAME OF THE LORD JESUS WAS MAGNIFIED," that is to say, He acquired increasing honor from them that believed in Christ, who thought and spake more highly of Him; and who believed more strongly in Him, and so magnified Him, and gave more glory to Him; Christ is great in himself, and he is magnified and made great, when he is declared to be so, and is treated as such.. The incident showed that the miracles performed in the name of the Lord Jesus by Paul were real, and were performed to confirm the truth of the doctrine which he taught. Impostors could not work such miracles; and those who pretended to be able to do it only exposed themselves to the rage of evil spirits. It showed that there was a real, vital difference between Paul and these impostors, and their failure only served to extend his reputation and the power of the Gospel.

These exorcists were treated more severely than that person, who was casting out demons in Luke 9:49-50: "And John answered and said, Master, we saw one casting out devils in your name; and we forbade him, because he follows not with us. And Jesus said to him, Forbid him not: for he that is not against us is for us." But the same persons, though not forbidden by Paul, yet by the very disaster which they suffered, helped the Christian cause (in spite of themselves). The harsh treatment cast on those who act in a menacing manner is subservient to the Divine glory, and to the assessment of the servants of GOD endowed with real power.