SHOULD CHRISTIANS BEAR ARMS?
by Charles Robey
(Trussville AL, USA)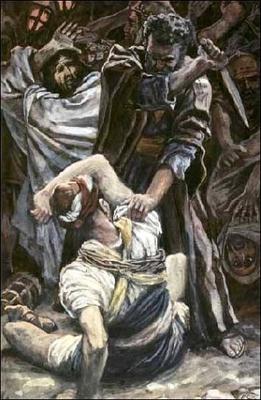 Peter cuts off ear of Malchus
One need only to pick up a newspaper, scan the TV remote or surf the internet, to realize the top subject these days is "gun control". And along with, and in conjunction with, this subject is a lot of talk homing in on the question, " should Christians bear arms "? As a Christian, I am bound to go to the only absolute Christian authority, which is "the word of God" ( Isaiah 40:8) and the principles taught by "Christ" ( Philippians 1:21).


The scripture was given by inspiration of God ( 2 Peter 1:21) and is the Christian's ( 2 Timothy 3:16). Even our Lord, when tempted by Satan, went to the scriptures for guidance ( Matthew 4:1-11).

As Christians, we are to have the uniqueness of the personal work of Christ. Our disposition and temper ought to always be that of Christ. In other words, we Christians should have the same mind and attitude as Christ Jesus. ( Philippians 2:5-11 ). Christ should be our sole example, in whatsoever we do.

So, as in all other aspects of our Christian life, I will uses these guidelines in my evaluation of Christians bearing arms.

To really understand the Bible and what it intends to say to present generations, it is necessary to understand the cultural context in which it was written. We must not forget its Middle Eastern/Israel-centric context ( Luke 4:14-21). Realizing, of course, the Bible is just as applicable today in it's inerrancy ( 1 Thess 2:13) , as when it was written by the inspiration of God for guiding our Christian walk (Psalms 34:17).

In looking at the time frame of the Bible, the important thing to remember is that when the Bible was written is not as important as what was written. However, the when is important also as we sense how God's presence persisted through the centuries and how His determined sovereign will is perfected in all aspects of our daily lives, ( Romans 8: 27-31 ) including the just and unjust laws of the land ( 1 Peter 2:12-15)..

So, we then must compare the mid-eastern secular demographics to those of today. The reference given then, when referring to the weapon of choice being a sword ( Luke 22:35-36), is just as applicable to today's weapons. And in comparing the ancient swords with the weapons used today, to effect injury or death, nowhere in the Jewish law did I find a rash political decision to register the swords.

Jesus, being God, ( John 1:1-2, ) ( John 8:58) had the same attributes as did God the Father. This means Jesus knew all (Matthew 11:21). He already knew that the Great Commission was going to be issued and His disciples would be sent all over the Roman Empire. Travel was a dangerous business during those days and any unarmed person was an easy victim for robbers and murderers. Just the appearance of a sword would have been a deterrent for any robber, just as a weapon is today. So then, Jesus also was aware ( Matthew 28:18) of this modern day highly contentious "Gun Control" controversy.

I understand the Christian community may be frustrated over this inclusive issue of "gun control". We are not privileged to know God's sovereign plans for our lives. God sometime uses good and evil or believers and unbelievers to effect His divine will or purpose, as He has an eternal purpose for all aspects of our lives.

He may just be using this particular "gun control" circumstance to band Christians together ( Galatians 5:13) , or maybe so that Christians may see this as an opportunity to witnesses of God's final eternal plans for this age.( Isaiah 55:11)

You see, this pending government action may just be playing into the "determined will" of God, which includes His unchangeable plans for the world. As the sovereign ruler, He is in total control— no government rises to power, or no government laws be enforced unless He allows it ( 1 Chronicles 29:11).

He is determined to carry out the plan that He developed long before creation. ( Acts 15: 18 ) Consequently, we should pray that this "gun control" crisis be concluded for the betterment of both believers ( Isaiah 30:21) and nonbelievers ( 1 Peter 2:15), as well.

Jesus often taught that all citizens, Christians and non-Christians alike, should obey the law of the land. In ( Matthew 22:21) Jesus sets the framework of how we Christians should think about Christianity and the state ( government) even today. The government does have certain lawful rights, to which
we owe our civil authority, our respect and the appropriate obedience. But this obedience is limited to what belongs to God. ( Acts 5:29 )
Contrary to some modern day thinking, the government is not God. Only God is God,.( Isaiah 45:11) and that makes the state subordinated and accountable only to the living God. Thus, government is accountable to God as to its treatment of mankind. And this decree has not changed, throughout history. ( Hebrews 13:8) Why then, would this same dictate not apply to the laws of our land including the Second Amendment to the U.S. Constitution?
I too believe that all law abiding citizens have the right, both from a scriptural and constitutional context, to protect the family from an unlawful criminal act.
As I commenced researching the scriptures, much to my amazement, the Bible actually had much to say on this subject, of government verses God.
In ( Exodus 22:2-4) the scripture addresses the Mosaic law's edict of a thief. If a thief was killed during a nighttime theft, the homeowner was not liable. However, if the thief broke in during the daytime, and the homeowner killed him, a murder had taken place with the home owner being guilty.
This shows me the early scriptural Jewish laws did not support the use of deadly force by individuals to defend property. It did, however, support the use of deadly force by individuals to protect the lives of family members.
One of the strongest scriptures I found was in ( Luke 22:36,38 ) where Jesus instructed his followers to sell some of their cloths and buy a sword, when they indicated they only had two swords among the twelve of them.
Jesus not only upheld His disciples right to carry a weapon, but also held them responsible for its use, as when Peter cut off the ear of the soldier who had come to take Jesus away ( Matthew 26:47-52). In doing so, Jesus also warned that those using a weapon took a great risk of escalating a conflict. Nonetheless, He didn't say they had no right to fight. He just explained that His eternal kingdom was not of this world ( John 18:36).
One verse, often times used to disclaim the early saints right to bear arms, is found in ( Isaiah 2:4 ). Does this verse refer to Christians not bearing arms ? I think not. This scripture refers to our future Millennial kingdom here on earth. Until we reach this perfect thousand year kingdom, maybe we should reverse this mind-set according to (Joel 3:10).
Conversely, did Jesus not tell us to turn the other check in ( Matthew 5:39 ) ? Yes He did, but He was not referring to a Christian using the necessary lethal force in the protection of his family.
Jesus actually meant we should be tolerant to the mistreatment or abuse used wrongly against us, rather than strike back against the evil doers. It had nothing to do with the argument of not using deadly force in protecting our loved ones.
Turning the other cheek is simply an orientalism, referring to a figure of speech that refers to one's response to a verbal blow. Two of The Twelve would not have been wearing swords on the night of Christ's betrayal if our Lord had been teaching pacifism for three and one half years.
Nor would our Lord, in (Luke 22:36) have suggested that believing Jews buy weapons even if they had to sell their coats to afford them. And what about the incident in ( John18:23), no mention of turning the other cheek.
In conclusion, we Christian are subject to abiding by the same laws as are the unsaved. Nonetheless, we all have certain inalienable rights, under the Second Amendment of the U.S. Constitution, to protect ourselves and our family against aggression. It was never the intent of Christianity to give up or die by means of an evil sword. So, as by law, we all do have the absolute right of self defense.
We all face difficult challengers daily, whether living for Christ Jesus ( James 1:2-4) or yielding to the trickery of Satan's influence ( Ephesians 6:12), which only leaves the streets and our safety in the hands of the criminals of evil direction. So, what do you think ? What is your choice ? ( Philippians 1:21) Regardless of one's spiritual standing, there is no Biblical basis for personal revenge, hatred or political persuasion.
Author's Note:
This is a condensed version of the original article. For the complete article, including added scripture, please email (ccrobey@charter.net)