Signs of Salvation Part 3 of 3
by John Lowe
(Woodruff, S.C.)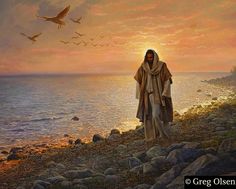 A LONGING FOR CHRISTS RETURN

In 1 Thessalonians 1:9-10, Paul wrote, "How ye turned to God from your idols to serve the True and living God, and to wait for His Son from heaven." Here is a true indication of salvation. Those who really love Jesus will love His appearing; and they will know they are the children of God, because the unsaved don't find any joy in such an expectation. Their attitude toward the "blessed hope of His return," will mark them as children of the evil one. To them, Christ's return will be a fearful and terrible thing, because all the goodness that flows from God's people will have left with them. For the unsaved, Christ's return will be like a thief who steals all hope for heaven; they are children of darkness. The true Christian is a child of the day, not of the night; he is watching and waiting for his Lord, just like someone who waits for morning.

Christians should be praying just like John: "Even so, come, Lord Jesus." Like Peter, the Christian should be testifying about the coming of Jesus; and like Paul, he should love it. Dr. George Dowkont, of New York City, said his seven-year-old boy asked him: "Papa, when is Jesus coming?" The father answered, "I do not know, my son, He may come at any time." "Then," the boy said, "You've got to be on the job all the time, don't you?"

That's a very smart boy, because the true Christian will always be watching. I read that the Scottish people in the ancient past used to stand by the ocean shores, and, holding up their hands toward France, would morn for their deceased king and cry: "Come back Charlie, come back Charlie." And those who believe in Jesus and His return, will be holding up their hands toward heaven and crying: "Come back Lord Jesus, come back."

Conclusion

Those are the signs of salvation. I hope that everyone here is saved, and that if you had any doubts about it, they have been replaced by a sure confidence you are a child of God. But if you still have doubts, you need to make sure of your salvation by giving yourself to Jesus, and receiving Him as Savior and Lord.