Sitting With The Lord. Part 2
by Jonathan Ike
(Badagry, Lagos, Nigeria)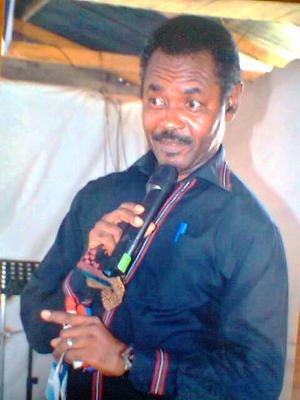 Pentecostal.

BUT THERE IS A CONDITION!

"To him that overcometh will I grant to sit with me in my throne." – Rev. 3:21a

This makes it clear that not everyone can come to His throne or share in the power of His throne!

Only to him that overcomes. Overcomes what?

There is a power, a force that resists us, desiring to bring us under its control. This brings us back to Psalm 1.

"Blessed is the man that walketh not in the counsel of the ungodly, nor standeth in the way of sinners, nor sitteth in the seat of the scornful." - Psalms 1:1 (KJV)

There is a combination of:

(1) "….the counsel of the ungodly."
(2) "….the way of sinners."
(3) "….the seat of the scornful."

These things, I call them "the joint forces of this world"; desire to kill us – the sons of God. They tried against Jesus whom they crucified. But He overcame them:

"And having spoiled principalities and powers, he made a shew of them openly, triumphing over them in it." - Col 2:15 (KJV)
And was raised by the Father,
"….according to the working of his mighty power, which he wrought in Christ, when he raised him from the dead, and set him at his own right hand in the heavenly places." - Eph 1:19-20 (KJV)

This is Resurrection Life! In Christ we all have resurrection life.
"And hath raised us up together, and made us sit together in heavenly places in Christ Jesus." - Eph 2:6 (KJV)

This is like the children of Israel whom God raised up out of Egypt. It was as though Egypt had buried them: no hope no life until with the mighty arm of God brought them out. Now they had life, but not all had power! It takes more than resurrection life to exercise dominion or rule with Christ from His throne!

Being born-again only lets you into another life; operating the power in this life is yet another thing!

How did He overcome, because Resurrection life is from the Father? Resurrection Life is the power of God at work, what did Jesus do?

"…..even as I also overcame." - Rev 3:21 (KJV)
He did something! He was involved in this victory! What did He do? Especially as He was raised from the dead by the Father.

"Which he wrought in Christ, when he raised him from the dead, and set him at his own right hand in the heavenly places." - Eph 1:20 (KJV)

"The LORD said unto my Lord, Sit thou at my right hand, until I make thine enemies thy footstool." - Psalms 110:1 (KJV)

By Sovereign ordination, we can say Jesus was given resurrection by the Father Who made Him sit.

(1) How did He overcome?

"And they overcame him by the blood of the Lamb, and by the word of their testimony; and they loved not their lives unto the death." -Rev 12:11 (KJV)

He overcame by agreeing totally with the Father's plan for Him to die for mankind! He agreed to the full thought and plan of God for Him.

"Sacrifice and offering thou didst not desire; mine ears hast thou opened: burnt offering and sin offering hast thou not required. Then said I, Lo, I come: in the volume of the book it is written of me, I delight to do thy will, O my God: yea, thy law is within my heart. I have preached righteousness in the great congregation: lo, I have not refrained my lips, O LORD, thou knowest." - Psalms 40:6-9 (KJV)

"Then said I, Lo, I come (in the volume of the book it is written of me,) to do thy will, O God." - Heb 10:7 (KJV)

He went all the way with the Father; not part.

"Who, being in the form of God, thought it not robbery to be equal with God: 7 But made himself of no reputation, and took upon him the form of a servant, and was made in the likeness of men: And being found in fashion as a man, he humbled himself, and became obedient unto death, even the death of the cross. Wherefore God also hath highly exalted him, and given him a name which is above every name." - Phil 2:6-9 (KJV)

He was not forced but did this Himself, willingly.

"Therefore doth my Father love me, because I lay down my life, that I might take it again. No man taketh it from me, but I lay it down of myself. I have power to lay it down, and I have power to take it again. This commandment have I received of my Father." - John 10:17-18 (KJV)

Caleb followed God fully. Shedrack, Meshach, and Abednego; with Daniel, followed God fully. What do we say about Paul who was ready to die just to fulfill God's plan for him?
Going the full length of God's plan will put us through the fire and through the den of Lions! That is the entry to ruling with Him on His Throne. Think about it, was it just those four Hebrew children that were in Babylon at that time? No! These did not shrink from the command of God, even when threatened with fire and the lions! We must not shrink or pull back as God takes no pleasure in them that draw back or compromise!

"Now the just shall live by faith: but if any man draw back, my soul shall have no pleasure in him." - Heb 10:38 (KJV)

"He that findeth his life shall lose it: and he that loseth his life for my sake shall find it." - Matt 10:39 (KJV)

The greatest temptation and challenge for us as Christians is the desire to save our lives.

(2) Where did He overcome?

The place where He fought the battle and won the victory was on the Garden of Gethsemane on Mount Olives.


"And when they had sung an hymn, they went out into the mount of Olives…..and they came to a place which was named Gethsemane: and he saith to his disciples, Sit ye here, while I shall pray." - Mark 14:26, 32 (KJV)

(3) When did He overcome?

On the Cross? No! He overcame for mankind on the Cross. But for Himself, He overcame before the Cross! That was what gave us the Cross. If He didn't overcome, He wouldn't have gone on the Cross! Not just the prayer at Gethsemane but at the time of self-denial when He said "not my will but your will be done" after the agony of a Soul filled with sorrow to the point of death! It is possible to pray all that prayer yet not submit to the will of the Father; certainly, mankind would still have been doomed. But despite what sorrow He began to feel, He still denied Himself, putting His will aside and resting on the will of the Father. This was when He overcame!

"Saying, Father, if thou be willing, remove this cup from me: nevertheless not my will, but thine, be done." - Luke 22:42 (KJV)

The time of submission to the Father is always the time of victory.

(4) What did He overcome?

He overcame the self-nature! The Adamic nature was not in Him, however, there is a gravitational pull on the soul of man not to do the will of God (bearing in mind Jesus was hundred percent Man and hundred percent God). He was not spared this battle, which is the reason for the agonizing sorrow of His Soul!

"And being in an agony he prayed more earnestly: and his sweat was as it were great drops of blood falling down to the ground." - Luke 22:44 (KJV)

The Mind, located in the Soul, is the battlefield. Paul recorded this battle in Romans 7.

"I find then a law, that, when I would do good, evil is present with me. For I delight in the law of God after the inward man: But I see another law in my members, warring against the law of my mind, and bringing me into captivity to the law of sin which is in my members. O wretched man that I am! who shall deliver me from the body of this death?" - Romans 7:21-24 (KJV)

Jesus overcame this gravitational pull, and we are expected to overcome it!

"And he said to them all, If any man will come after me, let him deny himself, and take up his cross daily, and follow me. For whosoever will save his life shall lose it: but whosoever will lose his life for my sake, the same shall save it." - Luke 9:23-24 (KJV)

You have to overcome this pull before you can even pick your cross!
"Therefore, brethren, we are debtors, not to the flesh, to live after the flesh. For if ye live after the flesh, ye shall die: but if ye through the Spirit do mortify the deeds of the body, ye shall live." - Romans 8:12-13 (KJV)

Note!!!
This very victory; there are seven of them of which this is the seventh; this victory does not come through groups or by associations! You win this victory when you are alone!

"And he went forward a little, and fell on the ground, and prayed that, if it were possible, the hour might pass from him." - Mark 14:35 (KJV)

"And he went a little further, and fell on his face, and prayed, saying…..." - Matt 26:39 (KJV)

Jacob overcame, "prevailed" when he was alone.

"And Jacob was left alone; and there wrestled a man with him until the breaking of the day." - Gen 32:24 (KJV)
Abraham did not receive the inheritance until Lot was separated from him.
"And the LORD said unto Abram, after that Lot was separated from him, Lift up now thine eyes, and look from the place where thou art northward, and southward, and eastward, and westward." - Gen 13:14 (KJV)
Elijah shunned Obadiah's suggestion of other prophets. He did not ask to see any or try to have a "prayer partner".
"Was it not told my lord what I did when Jezebel slew the prophets of the LORD, how I hid an hundred men of the LORD'S prophets by fifty in a cave, and fed them with bread and water?...... ….then said Elijah unto the people, I, even I only, remain a prophet of the LORD; but Baal's prophets are four hundred and fifty men." - 1 Kings 18:13-14, 22 (KJV)
Jesus had to teach Peter this aspect of leadership.
"Peter seeing him saith to Jesus, Lord, and what shall this man do? Jesus saith unto him, If I will that he tarry till I come, what is that to thee? follow thou me." - John 21:21-22 (KJV)
True leaders are, in a strange way, alone. They can work with people, yet they know that victory does not come when actions and decisions are based on general opinion. Learn to be alone sometimes, like Jesus. If you cannot pull yourself once in a while out of the crowd, you cannot have access to the Throne or rule with the Lord. Learn to walk alone, with the Lord!