"Slaves Vs. Sons" Page 1 of 4 (series: Lessons on Galatians)
by John Lowe
(Woodruff, S.C.)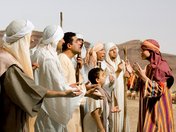 November 6, 2013

The Epistle of Paul the Apostle to the Galatians
Tom Lowe


Chapter III.B.2.b Slaves Vs. Sons (4.1-7)

Galatians 4:1-7 (KJV)

1 Now I say, That the heir, as long as he is a child, differeth nothing from a servant, though he be lord of all;
2 But is under tutors and governors until the time appointed of the father.
3 Even so we, when we were children, were in bondage under the elements of the world:
4 But when the fullness of the time was come, God sent forth his Son, made of a woman, made under the law,
5 To redeem them that were under the law, that we might receive the adoption of sons.
6 And because ye are sons, God hath sent forth the Spirit of his Son into your hearts, crying, Abba, Father.
7 Wherefore thou art no more a servant, but a son; and if a son, then an heir of God through Christ.


Introduction

In this passage the apostle explains their adoption, which is one of the blessings which Christian's experience. He told the Ephesian believers that God has "predestined us to adoption as sons by Jesus Christ to Himself, according to the good pleasure of His will" (Eph. 1.5). We don't enter God's family in the same way a homeless child enters a loving family in our society. The only way to get into God's family is by regeneration; being born again. "Jesus answered and said to him, 'Most assuredly, I say to you, unless one is BORN AGAIN, he cannot see the kingdom of God'" (John 3.3).

The New Testament word for adoption means "to
place as an adult son." It is all about our standing within the family of God: we are no longer little children, but full-grown, mature, adult sons with all the entitlements and privileges of Sonship. Unfortunately, all the Bible translations do NOT make a distinction between sons of God and children of God. We have been made children of God through faith in Christ; we are born into His family. But every one of His children are automatically placed into His family as a son, and as a son he has all the rights and privileges of a literal son. When a sinner trusts Christ for his salvation, and he is saved, as far as his condition is concerned, he is a "spiritual babe" and he needs to grow—"as newborn babes, desire the pure milk of the word, THAT YOU MAY GROW thereby, if indeed you have tasted that the Lord is gracious" (1 Pe. 2.2, 3). But as far as his position is concerned, he is an adult son who can draw upon his Father's wealth and power, and he can exercise all the wonderful privileges of Sonship. We enter God's family by regeneration, but we enjoy God's family by adoption. The Christian does not have to wait, nor does he have to grow and mature before he can enjoy the spiritual riches he has in Christ (v. 7). In this passage Paul will teach on the subject of adoption by reminding his readers of three facts:
1. What we were; children in bondage (vv. 1-3).
2. What God did; redeem us (vv. 4, 5).
3. What we are; sons and heirs (vv. 6, 7).