Soldier Of Christ
by William Gonzalez
(Woodstock Illinois )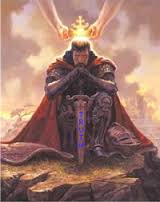 Put your life in the hands of God and eliminate your pride...
Wear God's armor and walk with Jesus and have the Holy Spirit on your side...

Battle evil on all fronts, with your body, mind and heart...
Be a loyal, faithful soldier, march boldly to do your part...

Be on guard at all times, beware of Satan's snares...
He'll disguise himself as a righteous person, someone who really cares...

Don't be deceived by evil lies, unsheathe God's mighty sword...
Speak the word with all your might, as if a righteous lion roared...

Don't be scared or fearful, don't be doubtful or afraid...
For it is in God's holy image that we are fashioned and we are made...

Have faith in our Lord and Savior, and cast all demons down to Hell...
Do your best to serve Christ Jesus and honor Him as well...

For the outcome of this war on evil is destined to be won...
By our One True God that reins in Heaven and Christ His begotten Son...