Spiritual Growth Series: Faith
by Dennis Michelson
(FaithBaptistOH.org)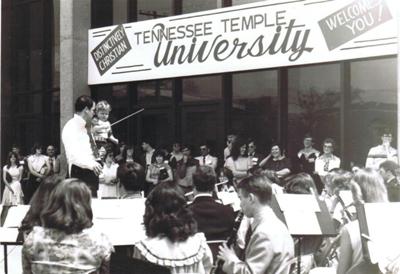 Dad and his firstborn son
Job 13:15 - Though he slay me, yet will I trust in him: but I will maintain mine own ways before him.

Introduction: On this Father's Day we look at the faith of a father who faced great difficulty and trials in his walk with the Lord. The way a father responds to the trials of life will determine the rate of spiritual growth in his own life, and the lives of his children who observe him.

1. Faith is Tested in Circumstances

Job proclaims "Though he slay me" indicating that no matter the extremity of the circumstances his faith was fixed upon God. Illustrations of this may be found in the life of Abraham in Genesis 22 and in the life of Asaph in Psalm 73.

2. Faith is Focused in its Concentration

"Though he slay me." Note the two personal pronouns and the order they occur. Job says "he" and "me." In life we will fail when the emphasis is primarily on the "me" to the exclusion of the "he." It is similar to what we find in the New Testament with "not I but Christ."

3. Faith is Strengthened by Confidence

"Yet will I trust in Him." Read James 1 and note that the testing/trying of faith produces endurance and that endurance gives greater confidence for the next trial.

4. Faith is Revealed by Conduct

Job says "I will maintain my ways before Him." Dr. Roberson would often speak of not "turning to the right or the left but going right down the line." As a father grows older he learns that it is not his talk but his walk that will ultimately influence his children.

5. Faith Matures Us by Contention (with God)

Job 40:1 Moreover the LORD answered Job, and said,
Job 40:2 Shall he that contendeth with the Almighty instruct him? he that reproveth God, let him answer it.
Job 40:3 Then Job answered the LORD, and said,
Job 40:4 Behold, I am vile; what shall I answer thee? I will lay mine hand upon my mouth.
Job 40:5 Once have I spoken; but I will not answer: yea, twice; but I will proceed no further.

Wrestling with God may leave us limping as with Jacob in Genesis 28 and 32 but our walk will be straighter.

6. Faith is Vindicated by its Conclusion

Job 42:12 So the LORD blessed the latter end of Job more than his beginning: for he had fourteen thousand sheep, and six thousand camels, and a thousand yoke of oxen, and a thousand she asses.
Job 42:13 He had also seven sons and three daughters.
Job 42:14 And he called the name of the first, Jemima; and the name of the second, Kezia; and the name of the third, Kerenhappuch.
Job 42:15 And in all the land were no women found so fair as the daughters of Job: and their father gave them inheritance among their brethren.
Job 42:16 After this lived Job an hundred and forty years, and saw his sons, and his sons' sons, even four generations.
Job 42:17 So Job died, being old and full of days.