SPIRITUAL NOODLES- TRY THEM- YOU'LL LOVE THEM
by CharlesRobey
(Trussville, AL USA)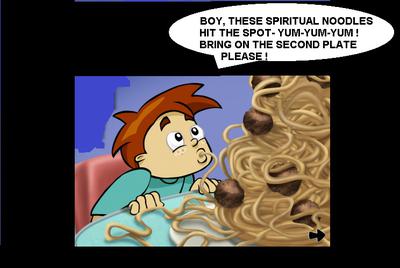 "As for the one who is weak in faith, welcome him, but not to quarrel over opinions. One person believes he may eat anything, while the weak person eats only vegetables. Let not the one who eats despise the one who abstains, and let not the one who abstains pass judgment on the one who eats, for God has welcomed him. Who are you to pass judgment on the servant of another? It is before his own master that he stands or falls. And he will be upheld, for the Lord is able to make him stand".(Romans 14:1-4)


"Spiralize Your Way To A Healthy Dinner"
( Name Brand ) Tabletop Spiralizer
• Creates uniform cut spiral noodles, from fruits and vegetables
• Ribbon Cut-Fettuccine Cut-Spaghetti Cut
• Suctions to countertops, for added stability
• Includes 3 blades, and storage case

This advertisement, flyer, which we received in the mail recently, caught my eye. It may just be a play on words, or an eye catching advertisement for a certain cooking utensil, but it surely carries with it the thought of how the world feels about spirituality. How light the populace must make of this word.

My curiosity then started running rampant, so I looked up the meaning of the word; Spirituality refers to certain kinds of activity through which a person seeks meaning, especially a "search for the sacred".-- It may also refer to personal growth, blissful experience, or an encounter with one's own "inner dimension."

The first part of this definition sounds reasonable for the Christian populace. However, the last part is one of self gratification. Maybe the second part of the definition was what the manufacturer of this kitchen utensil had in mind. However, I tend to relate to the first part. Is this not what the apostle Paul meant when he penned this scripture passage (1 Corinthians 10:31)?

Sad to say however, today's world seems to adhere to the last part of this definition. The citizenry values personal growth, blissful living, or one's self interest (1 Corinthians 2:14), above the things of God (Deuteronomy 29:29) and above the things of the kingdom (Matthew 6:33).

Today's popular secular mindset is kind of like burning those "fake fireplaces" often seen in the newer houses. You know the ones, with the realistic-appearing fake logs, with the fire light, the dancing flames. However, this fire is just a mirage, controlled by a remote device. Spirituality can be like that. It can have the appearance of spiritual fire but no one really gets burned or set on fire by hearing the
full gospel (1 Corinthians 15:1-4).
How may we who claim the name of Christ help solve this way of thinking, that of spiritual decay? Simple, by showing the witness of our lives (Matthew 6:33), by sharing the scripture with our family, our friends and our co-workers, as the opportunity presents (Luke 12:12). Remember the old cliché, "You are the only Bible some people will ever read". So, let them read it (Matthew 5:16).
We should pray that God will reveal His Spirit to us (1 Corinthians 2:11), that He will allow the divine authority of the Holy Spirit to guide us in the right direction in witnessing to others (2 Peter 1:21). Then be ready, as the Spirit leads, to talk to others about the Lord for the time is growing short (Matthew 9:37-38).
Much like the alleged satisfaction or pleasure one may gain by using this manufacturer's product which was the lead of this devotion, God has so much more in store for us. You see, God never leaves us where we are. With every effort we make to draw closer to Him, He will come closer to us (James4:8). God's word commands us to 'take delight" in Him (Psalm 37:4).
Did this manufacturer practice what they preached in this elusive ad? To be truthful, I'm not sure, as I failed to bite. No, I did not purchase this appliance. Nor did I succumb to the spirituality this utensil was advertised to produce. But one thing I am sure of and what amazes me most about God is the way He is able to work with our doubts and turn them into something positive (Isaiah 42:16), and by showing His faithfulness (2 Timothy 2:13).
So what is in a name or a word especially for those of us who know the Lord (Colossians 4:6)? It should always be that of praise for Him; a true praise, which is an active faith, that is greater than only emotion. In other words, our Lord is our manufacturer (Genesis 2:26-27). He gives us a perfect product, the full gospel (1 Corinthians 15:1-4). He gives us a lifetime guarantee never to leave us (Deuteronomy 31:6). And He stands behind His product, His Word (2 Timothy 3:16-17).
Well, go out, find this particular kitchen product and buy it if you wish. Then decorate your beef noodles, if you like. As for me, and my house, much like that "old time religion" cliché, we will make it simple by eating our noodles the "old fashioned" way, simply by twisting the noodles with our forks. Amen!