STAND UP AND BE COUNTED
by Charles (Chuck) Robey
(Trussville, AL USA)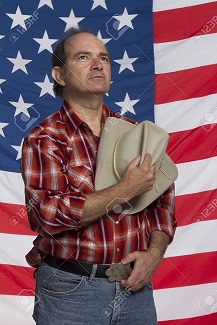 PRELUDE

A preacher was becoming terribly distracted by a man who came to worship every Sunday and proceeded to sleep through the entire sermon. One Sunday he decided to do something about it. As he began to preach, the man, true to form, fell fast asleep. Whereupon the preacher said quietly,
"Everyone who wants to go to Heaven, stand up."

The entire congregation immediately stood up, except the sleeping man. When they sat down, the preacher shouted at the top of his voice,
"Everyone who wants to go to hell, stand up!"

This startled the dozing man. Still half asleep, he jumped up, looked around to see what was going on, then said to the preacher,
"I don't know what we're voting on, but it looks like you and I are the only ones in favour of it."

( the-scriptures.co.uk/youth-studies/teenage-bible-lessons/stand-up-and-be-counted/)

I remember my favorite grammar school teacher's famous communications by-line, "Ok class, those of you who want a picnic, please stand up and be counted." Then, later on in life, when attending our city council meeting, the council president's famed by-line was, "All in favor of this resolution, please stand up and be counted."

In today's socially charged environment, in order to make one's opinions or beliefs publicly known especially when such action may be controversial it's time for all American's, who care about the important political issues of the day, to bravely stand up and be counted. (I Corinthians 16:13)

In other words, If you say that someone should stand up and be counted, you meanthat they should say publicly what they think, and not hide it or be ashamed of it. Are you ashamed of your Christian political beliefs, America? I surely trust not. (Romans 1:16)

America cannot afford not taking a Biblical stance, or experiencing a Biblical breakdown, due to society's progressive evil mindset. We simply cannot let this socialistic culture bug bite us, with respect to focusing on that important topic of political freedom.

Even though oftentimes I tend to get a little discouraged because of all the negative political press, I really feel the need to continue hacking away. America's politics is too important to let go. Our freedom as red-blooded Americans is in dire jeopardy. If you don't believe it to be so, simply tune into any number of media outlets. Listened to any political debates lately?

It's simply a matter of good versus evil. And believe me, Satan's evil agenda is alive and well in today's world. For you see, we are in an all-out spiritual war, as Satan knows his time is short. (Ephesians 6:12)

And as far as new ideas are concerned, God's principles never get old. (I Peter 1:25) Those are principles that have stood the true test of time from the very beginning of earth's creation.(Psalm 19:9)

Thus I have written this blog. I trust its writing will be an inspiration to all. Please click on the many highlighted Scripture references as you read through the blog. May God Bless!

STAND UP AND BE COUNTED

"He saved them from the hand of him who hated them, and redeemed them from the hand of the enemy." (Psalms 106:10)

Have you tuned into the news media lately? If so, you can't help but notice how maliciously hate-filled America's social order has become. One communal splinter group against another, one cultural faction hating another, one political group spewing fake, hateful half-truths about another, and so on. We could easily get the impression that our culture actually enjoys the concept of hating each other.

Being older than dirt and twice as gritty, I have been a loyal devoted follower of politics ever since my favorite little judge, George Wallace, put his independent hat into the presidential political ring.

However, I've never, in my decades of living, seen anything like today's political schemes; either in the newspaper, on TV, on radio, in neighborhood gossip and even in church. I don't remember ever seeing an election where as many negative catchphrases have inspired social media so.

The sad fact is, the more aware the populace is of this mindset, the more normal it seems and the more these fake insinuations seem to become reality. Such buzzwords as racial bias, hatred of the poor, religious favoritism, and many other evil preconceptions are rapidly floating through the nation's news media outlets.

Remember the old saying, "If you repeat a lie often enough, people will believe it, and you will even come to believe it yourself"?

Nonetheless, no matter how
many times you repeat a lie, it never becomes true. No matter how many people believe it, it does not become true. It is still a lie.
And now, one of the main buzzwords of the day for those who love and insist on spreading fake untruths, has become "Impeachment." Impeaching this politician, or that public official; maybe even a religious leader or two, simply over one official's personal untruthful whims. Sounds ridiculous, for a free country such as America, but some wicked officials will try anything to have their distorted way with the public.
Yes, fake discourse, if stretched far enough, can surely get under one's skin, to the degree of causing freedom's dialogue to go against all the principles of God. This causes the insurgency of the doubt syndrome.
Nonetheless, we all have a choice. We may all realign our thoughts with respect to politics, to the tune of God's love. Or we can jump on the band wagon of perverted truths. It's our free choice. (II John 1:7-11)
I remember when just a mere lad, if I didn't get my way at play, I would just pack up my toys and head home. This was what was referred to as a childish temper tantrum, a childish outburst or fit of temper for not getting my way.
Now I ask you, has America not grown out of the childhood stage? It seems as if a certain segment of our population has regressed back into that of a childhood temper tantrum by using such a word as "impeachment."
Thus, what do we stand to lose if this negative political dialog continues? Will it basically be America's move to a record prosperity? The gaining of respect around the world? Promises being kept? Regaining a lost peace of mind? And most importantly, regaining our religious insight? Stand up and be counted. (Colossians 1:7)
My search of the Holy Scriptures does not uphold any form of negative politics or politicians. (Romans 13:1-7) So why all the fuss? And what's the answer to all this unholy social gossip? Why, the Scriptures, of course. (II Timothy 3:16) Reasonable and justifiable politics is simply God's will for the people (I Timothy 2:1-2) (I Peter 2:13-17)
If only we as a nation, would take (II Chronicles 7:14) to heart, what a difference we would make . What a revival we would see.
So, I ask you my friend, will you stand up and be counted ? Will you be counted among His people? Are you spending the much-needed time in prayer for our nation and its leaders? Simply put, are you talking with your heavenly Father? (Psalm 27:8) And if so, are you thinking positive or negative?
Now, simply put down that newspaper, turn off that TV, and stop searching the social media. Simply and prayerfully open that old family Bible. Amen! And don't forget to be registered to vote !
POSTLUDE
I can understand why so many Americans have become rather cynical with American politics. Understandably, the state has certain obligations and so do we, when it comes to politics. Fortunately, we live in a democracy whereby we have the freedom of voting for those who will govern us. However, we should seek the truth and make our assessments based on Biblical principles.
We should pray for more Gospel-focused people who will seek and serve in government with integrity and godly purpose.
Conversely, are today's ungodly political plans of action simply precursors to the end times? If so, my dear Christian friend, get ready for the progression into the Bible's evil end times prophecy. (II Timothy 3:1-9, 13) (II Timothy 4:3-4) Apostasy has arrived. (I Timothy 4:1-2)
I understand the conduct of today's ungodly mindset and that this attitude will have its ungodly teachers and followers. (II Peter 2:1-3) But we would do well to pay attention to the Gospel truths. (II Peter 1:19) For the Scripture is God's Word, inspired by God Himself (II Timothy 3:16) and written by ordinary people, (II Peter 1:20-21)
Nonetheless, we also have those who do not believe the forecast of things to come. (II Peter 3:3-4) But regardless of the outcome, God is still in control of this old world. He is in control of both good and evil, both the just and the unjust politicians and His divine sovereign plan will be obeyed. (Daniel 2:19-23)
So as Christian believers, we should never be ashamed of the Gospel. (Romans 1:16-17) We should never give up the Gospel ship. Amen!