Stephen Brought Before a Council Part 1 of 6
by John Lowe
(Laurens SC, USA)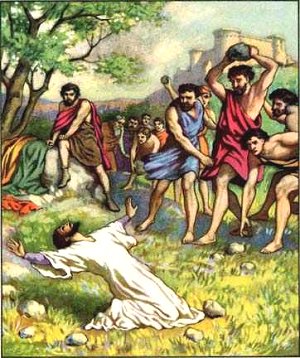 December 30, 2013

Acts of the Apostles


Lesson II.E.1: Stephen Brought Before a Council (6:8-15)


Acts 6.8-15 (KJV)

8 And Stephen, full of faith and power, did great wonders and miracles among the people.
9 Then there arose certain of the synagogue, which is called the synagogue of the Libertines, and Cyrenians, and Alexandrians, and of them of Cilicia and of Asia, disputing with Stephen.
10 And they were not able to resist the wisdom and the spirit by which he spake.
11 Then they suborned men, which said, We have heard him speak blasphemous words against Moses, and against God.
12 And they stirred up the people, and the elders, and the scribes, and came upon him, and caught him, and brought him to the council,
13 And set up false witnesses, which said, This man ceaseth not to speak blasphemous words against this holy place, and the law:
14 For we have heard him say, that this Jesus of Nazareth shall destroy this place, and shall change the customs which Moses delivered us.
15 And all that sat in the council, looking stedfastly on him, saw his face as it had been the face of an angel.


Introduction

Stephen was a poor, uncultured layman who was honored with the office of deacon because he was "full of the Holy Ghost and wisdom"; and as such he was permitted to sweep the floor, and light the lamps, and collect money for the support of widows and the poor. And like all of the disciples in the Apostolic age "Those who had been scattered preached the word wherever they went" (Acts 8:4)., he preached the Word of God. He did not have to get a license; the apostles didn't have one, nor did anyone else. The short-sighted clergymen who invented license had not yet been born. Stephen is identified with those Hellenistic synagogues in which the Greek language is spoken, and he goes about preaching in them with all his might. The representatives of these synagogues had been dispersed to live in all heathen lands, but they had come to Jerusalem to attend the great Jewish feast of Pentecost. By divine intervention, this Pentecost was miraculously and unexpectedly transformed into the most memorable revival the world ever saw and is memorialized by the incarnation of the Holy Ghost, and the dawn of the Gospel message. The representatives (or delegates) of these synagogues were the Libertines, namely, the freed people, consisting of Jews who had been transported to Rome as slaves, but afterward liberated by the Emperors. The noteworthy Libertines were Cyrenians from Cyrene, a large city in northern Africa, on the coast of the Mediterranean Sea, where there were many Jews; the Alexandrians, from the city of Alexandria, the capital of Egypt, where the Jews dwelt in great numbers and were greatly encouraged by Ptolemy Philadelphus, who had the Hebrew Bible translated into Greek, known as the Septuagint, for the benefit of his Jewish subjects; and the Greek-speaking Jews from Cilicia and Asia.


Commentary

8 And Stephen, full of faith and power, did great wonders and miracles among the people.

And Stephen, full of faith and power,
Stephen, who was the first of seven men chosen for the office of deacon, had a strong faith (confidence in God), by which he was enabled to do extraordinary things. Those who are full of faith are full of power, because, by faith, the power of God is engaged for us. The remarkable death of this first Christian martyr, which occurred soon after the remarkable events that took place on the Day of Pentecost, prompted the sacred writer (Dr. Luke) to give a detailed account of his character, of his faith and miracles, of his elocution and wisdom, of his courage and daring, of his faithfulness, and of his suffering and of the circumstances which led to his martyrdom. He is said here to be full of faith, just as before ". . . They chose Stephen, a man full of faith and of the Holy Spirit; also Philip, Procorus, Nicanor, Timon, Parmenas, and Nicolas from Antioch, a convert to Judaism" (Acts 6:5.. He had an uncommon share of faith; it was exceedingly abundant in him; he had a sufficient amount of it for the service and sufferings he was called to: and he was full of power to preach the Gospel, and teach it the people, which he did with authority; to defend it, and oppose the adversaries of
it; to endure rebuke and indignities for it, and even death itself; and to do miraculous works for the confirmation of it.
Up till now, the opposition of the Jews had been confined to threats and imprisonment; but now it burst forth with furious rage that could only be satisfied with blood. This was the first in a series of persecutions against Christians which filled the church with blood, and which ended the lives of thousands, perhaps a million, who were involved in the great work of establishing the gospel on the earth.
It should be pointed out that some good translations have "grace" instead of faith—the Alexandrian copy, and four of Beza's copies read, "full of grace"; and so do the Vulgate Latin and Syriac versions; the Ethiopic version reads, "full of the grace of God":
Did great wonders and miracles among the people.
Stephen "did great wonders and miracles among the people"—and they were done openly, and in the sight of all, for he, like Christ, didn't fear even the strictest scrutiny of his miracles. We don't need not wonder how Stephen, though not an apostle, was able to do these great wonders; for the gifts of the Spirit were divided among the disciples as God pleased: and the power of working miracles was a gift distinct from that of prophesying or preaching, and was bestowed on some to whom the latter was not given
"to another miraculous power, to another prophecy, to another distinguishing between spirits, to another speaking in different kinds of tongues, and to still another the interpretation of tongues. All these are the work of one and the same Spirit, and he gives them to each one, just as he determines" (1 Corinthians 12:10-11)
. And our Lord promised that the signs of miracles should not only follow them that preached, but them that believed
"And these signs will accompany those who believe: In my name, they will drive out demons; they will speak in new tongues" (Mark 16:17)
.
No record of specific signs has come down to us; but the fact that they are called "great" proves that they were miracles of the first magnitude. Stephen was a man with a very noble character and the mightiest ability, and he is said to be "the morning star who ushered in the dawn of St. Paul's ministry!" This verse provides the first indication of miracles worked by any (of our Lord's followers) except the apostles of the Lord Jesus. Even these signs, however, were not done entirely apart from the apostles, because it was through the laying on of their hands that Stephen had received such powers.
Evidently, a man like Stephen would not confine his "ministry" to "serving tables." He was called in Acts 6:5 "full of faith and the Holy Spirit." He was a sudden whirlwind of power operating in the very realm where Peter and John and the rest.
"Wonders" is one of the words commonly used in the New Testament to denote miracles, such as speaking with divers tongues, healing diseases, casting out devils, etc.
9 Then there arose certain of the synagogue, which is called the synagogue of the Libertines, and Cyrenians, and Alexandrians, and of them of Cilicia and of Asia, disputing with Stephen.
Then there arose certain of the synagogue.
The Jews were scattered throughout the known world, and in every place they lived they spoke the language used in that country, and wherever they were present in sufficient numbers there would have been synagogues. It's probable that there would be enough foreign Jews residing at Jerusalem from each of those places to maintain the worship of the synagogue in their native tongue; and at the great feasts, those synagogues adapted to Jewish people of different nations and languages would be attended by those who came up to Jerusalem to attend the great feasts. It is certain that there was a large number of synagogues in Jerusalem. The common estimate is, that there were four hundred and eighty in the city (Lightfoot; Vitringa). But observe that it says Synagogue, not Synagogues, which implies a single place frequented by the various persons mentioned below; but whether there was one or many Synagogues involved in this episode is "of no special importance."
"Certain" men who belonged to that synagogue and were opposed to him, being filled with indignation at the doctrine of Stephen, and envious of his miracles, rose up in great wrath, and hotly opposed him.